| | |
| --- | --- |
| Christmas comes early as Tigers get 5-star commitment | |
---
| | |
| --- | --- |
| Monday, December 14, 2015 5:50 PM | |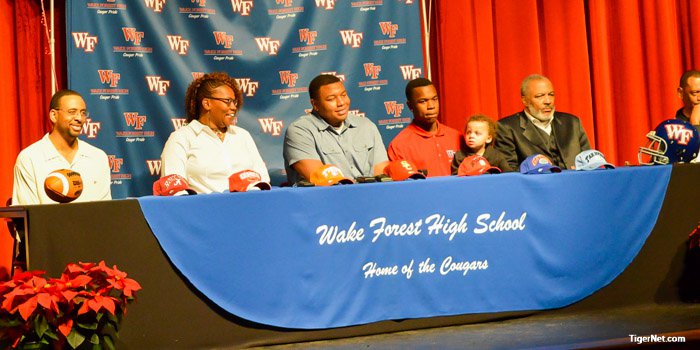 WAKE FOREST, NC – Number one picked up number two Monday afternoon.
Top-ranked Clemson picked up the nation's number two prospect (according to Rivals) when 2016 5-star defensive tackle prospect Dexter Lawrence committed to the Tigers over Alabama, Florida, UNC and North Carolina St.
Clemson head coach Dabo Swinney met with the media in the WestZone shortly after the announcement and held up Lawrence's financial aid papers in his hands. Lawrence will enroll in school in January and participate in spring practice. Once he enrolls, he will become the program's highest-ranked signee since signing 5-star defensive lineman Da'Quan Bowers (also No. 2 nationally according to Rivals but number one in some services) in the 2008 class.
Lawrence held the commitment ceremony at his high school, and once his coaches and teachers said a few words, the lights were turned off. Once they came back on, Lawrence was wearing a Clemson hat.
"I just feel like it will be the best place for me. It's where I fit in," Lawrence said. "When I think about Memorial Stadium and rubbing the rock I knew that was the place for me. When I walked down the steps in Memorial Stadium I knew. I get along with all the coaches pretty well. I enjoyed it every time I went up there. It was just a good experience."
Lawrence said that Clemson's perfect season didn't play a major part in his decision – Clemson just felt like home.
"That had a little role, but it just felt like home when I went there," he said, "I felt like I just fit in with everything they did. The coaches always treated my mom well, that was the biggest thing, and also treated me well."
The decision was shortly after Clemson's last in-home visit last week, despite the fact that he took another visit to N.C. State this past weekend. He let the Clemson coaches know on the visit that it was probably going to be Clemson, but held onto the final decision as a surprise.
"I decided about a week ago maybe. It was after the Clemson coaches came in and did the in-home visit with me. I knew, then. It was hard because State is the home school," Lawrence said. "I could have been a hometown hero. I got a feel there, but it just wasn't as good as of a feel as I got at Clemson. I told the coaches when they were here but I really didn't let them know for sure until today."
Future position coach Dan Brooks also played a part in the decision.
"Coach Brooks is a great guy. I am looking forward to him coaching me," he said. "I talked to some of the guys on my official and they told me that (Coach Brooks) would study you so hard, more than you can study yourself. He's already told me what he is going to do with me as far as coaching and how hard I am going to work. He's going to work me hard and love me at the same time. And that's exactly what I wanted."
No one had a strong opinion on where Lawrence was headed, something the 6-4, 330-pounder did on purpose. He also had to make sure his family was on board with the decision.
"It was stressful. I was just trying to stay out of the media because I honestly didn't know until a week ago," Lawrence said. "I have been just trying to pray about it and thank God for helping me out. I was still trying to weigh out those pros and cons. I was still trying to take it to the end and weigh out the pros and cons. I didn't want to leave any doubt. My family feels good about the decision. They left it up to me. I told them when I knew they would know, and I told them last week."
Swinney said that Lawrence is Clemson's kind of player.
"I can't wait for spring practice to get here," Swinney said. "He is an unbelievable talent. He is our kind of guy. He will show up here as a mid-year guy and be ready to go. This is Christmas coming early."
Lawrence is also high on his future head coach.
"I love Coach Swinney. He is one of the best coaches in the country and he's always smiling," Lawrence said. "He always talks about family and God and knowing where you come from. That was important to me."