| | |
| --- | --- |
| Checkers, chess and football: Dorian O'Daniel breaks it down | |
---
| | |
| --- | --- |
| Wednesday, March 18, 2015 7:01 AM | |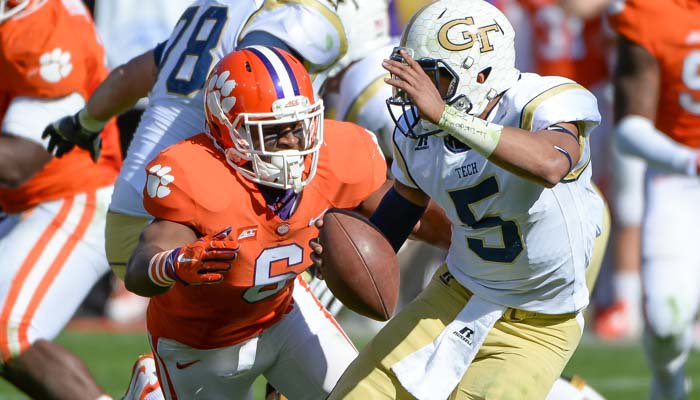 CLEMSON – Dorian O'Daniel says that making the jump from playing running back in high school to playing linebacker at college football's highest level took a period of adjustment and even said the difference in competition was like making the jump from checkers to chess.
O'Daniel came out of high school in Maryland as the No. 3-rated player in that state by ESPN, and was named first-team all-state and all-conference as a running back after gaining 1,307 yards on 190 carries and 18 touchdowns in 10 games as a senior. He also played linebacker, tallying 33 tackles, but played most of his snaps in the offensive backfield.
O'Daniel arrived at Clemson in 2013 and red-shirted his first season while trying to not only adjust to the college game, but adjust to playing linebacker full-time. It's something he continues to work on.
"Just working on my technique and becoming a student of the game. Just playing running back in high school I relied on a lot of instincts and natural athleticism, but once I got to college I realized I couldn't use any of that," O'Daniel said recently. "There was a lot of technical stuff, a lot of gaps and a lot of details. The best way I can describe it is high school football is kind of like checkers, and college football is a lot like chess. Because of that, I really turned the table and wanted to become a student of the game."
He started out his career at the weakside (or WILL) linebacker spot, but defensive coordinator Brent Venables

Brent Venables
Def. Coordinator / Linebackers
View Full Profile quickly found a new home for the Maryland native at Nickel/SAM.
"I think the Nickel/SAM position is the best fit for me. When I came in I was actually at the WILL, and it was difficult for me because of the run fits and stuff like that," O'Daniel said. "So Coach Venables suggested I move to the Nickel/SAM, and because of my skill set and athleticism I thrive at that position. I like covering, I like running and I like tackling. Being able to get on the field, I think that Nickel/SAM position is the best fit for me. I like coming down on angles and chasing guys down and not letting them get the corner on me. It's really an adrenaline rush for me."
O'Daniel had 31 tackles, one tackle for loss, one sack and one caused fumble in 87 snaps over 12 games (one start), but had his coming out party against Georgia Tech in early November. He replaced an injured B.J. Goodson

B.J. Goodson
RS Sr. Linebacker
#44 6-0, 240
Lamar, SC
View Full Profile early in the game and had a team-high 10 tackles, one sack and a caused fumble in 41 snaps and was named team co-defensive player-of-the-game.
He said it was a game he was prepared to play.
"Coach Swinney does a good job of having the 'next man up' policy and what that means is whenever one man goes down the next man has to be ready," O'Daniel said. "During the week B.J. was telling me I had to be ready and I practiced as if I was the starter. It was funny, because I saw B.J. get hurt during the game, but the coaches didn't see it. I kind of saw him limping, and I was strapping on my helmet and I was like, 'alright, this is about to happen.' He comes out and the coaches were looking for me and here I am strapped up. They called my name, and when I went out there of course I had butterflies. Once the first snap was over with, the butterflies went away and I knew I had a job to do and everyone else was counting on me."
O'Daniel has added weight and now checks in at 6-2, 217 pounds. He considers that the ideal weight for the Nickel/SAM.
"Maintaining weight is hard to do because of all the running we do," he said. "I don't want to get too heavy and lose my speed, but I do want to keep some weight because I have to take on pulling linemen and guards and things like that."
O'Daniel said he will continue to learn, and it's only once in a while he thinks about what could have been as a running back.
"My freshman year when I redshirted, they asked guys to step in and give guys a good look on the scout team," he said. "During Georgia week I was actually playing Todd Gurley, and that was a flashback back to my glory days. But don't get me wrong, I miss running back and I think about it all the time, but linebacker is something that is growing on my and I really enjoy it."