| | |
| --- | --- |
| Chalk Talk: Clemson commit a Tiger despite big-time offer | |
---
| | |
| --- | --- |
| Wednesday, March 18, 2015 2:07 PM | |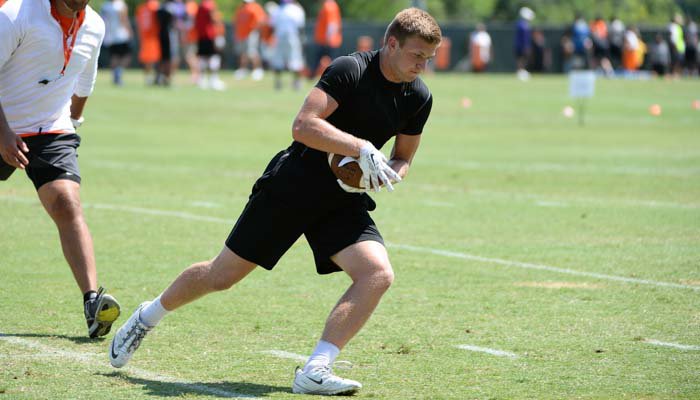 There is no school that could take J.C. Chalk

J.C. Chalk
Tight End
6-4, 221
Argyle, TX
ESPN:


View Full Profile away from Clemson.
Not even Alabama – the school that the Argyle (TX) tight end and Clemson commit grew up dreaming of suiting up for.
Chalk committed to Clemson last June and since then his recruitment has exploded with offers from Ole Miss, Nebraska, Oklahoma State, Texas A&M and most recently Alabama.
Despite every new offer and all of the increased attention, Chalk remains a Tiger and told TigerNet that his answer is always the same no matter who is on the other end of the phone.
"I kind of say the same thing every time, even to the reporters from the schools," Chalk told TigerNet Tuesday night. "It's always that I'm very solid to Clemson. These offers are a blessing but the only way that there would be a chance for me to come to your school is if the coaching staff at Clemson were to get up and walk away. I tell all of the schools that so they don't feel like I'm leading them on or anything.
Even if it's Alabama head coach Nick Saban, the head coach at the school that Chalk's grandfather – Gene Stallings – coached for from 1990-1996.
"It's kind of funny, actually. When I talked to Coach Saban on the phone today he said that they decided they were going to offer me last week and he said that he just realized who my grandfather was yesterday," Chalk said. "My parents were excited about it just because when I was in fifth grade if you would've asked me if I could play school anywhere, where it would it be, it would have been Alabama. They think it's funny how much my mind has changed about that kind of stuff."
Chalk said that while he appreciates the new offers, his only interest in the recruiting process at this point is helping Clemson bring in the best class possible.
"It's exciting but the way I've been looking at is hopefully it will help my ranking with the recruiting services, so hopefully it will help our class at Clemson be ranked higher," he said. "That's the way I've been looking at it. Each offer has been a blessing."
The 3-star has been busy on the camp circuits and said that he hopes his hard work will pay off and he will be awarded with a higher ranking and invite to the nation's most prestigious camp.
"I'm .1 away [from getting the fourth star]. I would think that the camps would help, especially if I get an invite to The Opening,' he said. "I talked to one of the guys after the camp and he said that there's a chance that I would, but they have to wait for all of the other camps and see after that."
On the Clemson front, Chalk said he hears from the Tigers' coaching staff quite often.
I talked to [tight ends] Coach [Danny] Pearman yesterday," he said. "It's just building our relationship better and better each time. Sometimes it will be about important stuff - me coming to visit - but most of the time is just about making our relationship stronger."
Chalk made the trip to Clemson for the elite junior day in January and said he plans to come back to campus next week to take in a spring practice.
"Two months ago was the last time I was in Clemson. I'm probably coming down Friday for practice," he said. "There's nothing that I need to see but I'm looking forward to seeing how the new offense is with the two new offensive coordinators. It's not going to be different, but I want to see if they are keeping it totally the same and stuff like that."