| | |
| --- | --- |
| Carlos Hyde, Braxton Miller to challenge Clemson's defense | |
---
| | |
| --- | --- |
| Thursday, December 12, 2013 6:21 PM | |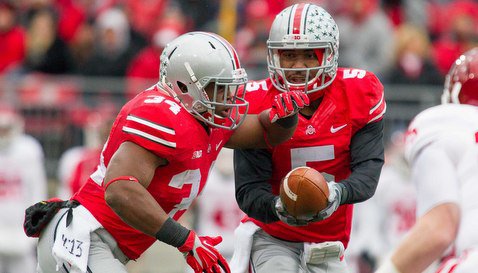 Brent Venables

Brent Venables
Defensive Coordinator / Linebackers
View Full Profile was visibly angry following Clemson's loss to South Carolina a few weeks ago, and much of his anger focused on the Tigers' inability to stop Gamecock quarterback Connor Shaw from scrambling for big yards on third down.

A trip to the Orange Bowl against Ohio St. will help soften the blow of that loss, but the Tigers now have to figure out a way to stop the two-headed monster of Buckeye quarterback Braxton Miller and running back Carlos Hyde.

Miller threw for 1,860 yards and 22 touchdowns and rushed for 1,033 yards and an additional 10 touchdowns this season. Clemson head coach Dabo Swinney

Dabo Swinney
Head Coach
View Full Profile calls Miller a running back playing quarterback.
"First of all Braxton Miller is a great winner," Swinney said. "He has lost one game in two years. He wins. He's a very capable thrower but he's like having a running back. He's fast, he's powerful and I've seen him play on several occasions. He's just outstanding and can beat you in a lot of different ways. It's why they ran the ball so well this year."
Shaw had plenty of success against Clemson and the Tigers have struggled over the last few seasons in stopping running quarterbacks. According to defensive tackle Grady Jarrett

Grady Jarrett
Jr. Defensive Tackle
#50 6-1, 290
Conyers, GA
View Full Profile , Miller is on a different level than Shaw. Add in Hyde, who rushed 183 times for 1,408 yards, a 7.7 yards per carry average, and the Buckeyes are hard to stop.
"Both are great players. But I would say this is a step up to another level with Braxton," Jarrett said. "We are looking forward to going against him, and this will be a great challenge going against Braxton and the Ohio St. Buckeyes. It's similar to South Carolina with Mike Davis. I feel like we have to change our approach – we stopped Davis but Shaw squeaked out of there some. We just have to work hard and have a great gameplan. Shaw has good speed, but Miller has great speed. He throws the ball pretty well, too. It's a little different, but a little bit of the same, too."
Jarrett said that Clemson's defense has proven, however, that it can stop a premier running back.
"I just think it's the same song, different day," he said. "We've gone against a lot of good running backs this year – Todd Gurley, Andre Williams and Mike Davis. Now it's Hyde. I know he is a great player, but I don't think it will be that much of a difference, but he's still one of the best running backs in the country and we have to prepare for that."
Safety Robert Smith

Robert Smith
Jr. Safety
#27 5-10, 210
St. George, SC
View Full Profile said he was watched Miller with interest during his collegiate career.
"He's a baller. Everybody knows that," Smith said. " I've watched him since high school because we were in the same class, and I kind of looked at the quarterbacks that were in my class. He's been doing his thing since day one. I've watched them a couple of times in the hotel and I've had a chance to watch some film, already. I saw some highlights. They are a very good team. Very good team."
Smith said that the combination of Miller and Hyde will present a special challenge.
"Both of them are thousand-yard rushers, and any time you have a quarterback that can run that is always another factor," Smith said. "Plus they have the running game with Carlos Hyde. When you have a running game like that, you have to be more cognizant of the passing game, too, because you have to respect the running game so much. They are well-balanced. They are good in every category. They are a couple of plays away from playing in the national championship."