| | |
| --- | --- |
| Behind Enemy Lines, Notre Dame...Can the Irish win in Death Valley? | |
---
| | |
| --- | --- |
| Wednesday, September 30, 2015 12:44 PM | |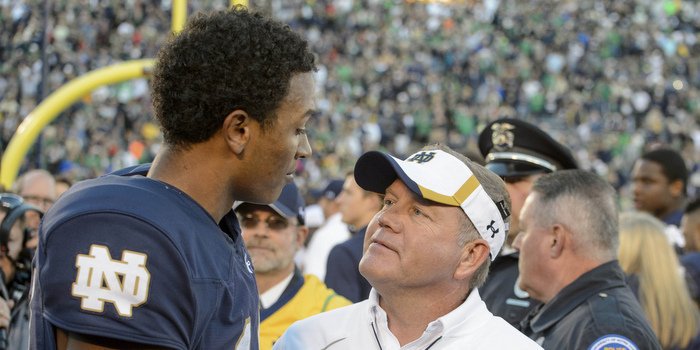 Saturday's home game against Notre Dame is a big one, for both teams, and with that in mind TigerNet reached out to one of Notre Dame's top beat writers to get a feel for this Fighitng Irish team.
The Tigers and Irish kick off a little after eight p.m. Saturday on ABC and in front of a sold-out Death Valley crowd.
Mike Vorel covers Notre Dame football for ND Insider and the South Bend Tribune. He has previously covered the University of Missouri and University of Wyoming football programs. You can find his work at NDInsider.com, and he gives TigerNet some great insight for what to expect from Notre Dame Saturday night.
*Q......What is the biggest factor behind Deshone Kizer's success? He looked a little shaky at first, but that drive to beat Virginia looks like it gave him confidence.
A: I think what's most important, and what you'll hear from Notre Dame coaches and players again and again, is Kizer's composure. The kid has yet to look the least bit rattled, even when he was asked to replace injured starter Malik Zaire on the road and resurrect a victory in the final minute over Virginia. He's a big, strong kid (6-5, 230) who is hard to bring down and has the arm to make all the throws, though he has struggled with accuracy at times during the last few weeks. But he has taken command of the team, despite only boasting two career starts, and that's rare for a young quarterback.
*Q......Who are two players - other than Kizer and Will Fuller - that Clemson fans need to be watch for on offense?
A: It might surprise Clemson fans to know that, despite all the talk of Notre Dame's wide receiver corps heading into this week, that Fuller is not the best player on the Irish offense. Right now, that's senior running back C.J. Prosise. Prosise has rushed for 600 yards, 8.1 yards per carry and six touchdowns through four games, averaging 150 rushing yards per game. It helps that he's running behind an experienced, dominant offensive line. And speaking of that line, senior left tackle Ronnie Stanley has also excelled early this season and looks to be a first round pick in next year's NFL Draft. If Clemson's defensive ends can beat Stanley off the edge, that would be a first this season.
*Q.....Who are the players to watch on defense?
A: Junior linebacker Jaylon Smith might be the best defensive player in college football right now, and he won't be hard to find on Saturday. Smith is an athletic anomaly, can play a multitude of positions and currently leads the Irish with 29 tackles and 4.5 tackles for loss. Graduate student middle linebacker Joe Schmidt is the brains of the operation, and Clemson fans will hear his voice barking out calls repeatedly on Saturday. On the inside, senior defensive tackle Sheldon Day has also been a disruptive force.
*Q......What has allowed this coaching staff to keep this team afloat despite the injuries?
A: Brian Kelly said prior to the season that this is the most depth he has had with a team at Notre Dame, and that statement has been tested early and often thus far. After getting whipped by Alabama in the national title game in 2012, Kelly was determined to get deeper and faster, and this team is certainly better suited to match up with SEC (or, in this case, ACC) speed. However, every team has a breaking point, and if Notre Dame continues to lose starters at key positions, the ship will inevitably sink.
*Q......Clemson will obviously be a new place for these Irish players...how do you think they will handle the environment?
A: I don't think Notre Dame will be enormously affected by the environment, since this is the definition of veteran team that has seen these type of stages before. Some of these players participated in the national championship in 2012. Most of them came one controversial penalty away from defeating Florida State on the road last season. The biggest question mark, when it comes to handling the atmosphere, is Kizer. He has yet to see anything like Death Valley (no offense to Virginia).
*Final....How do you think this one will play out?
A: This will not be a 17-13 game. I think both teams will score in bunches. Notre Dame's running game has yet to be slowed down, and I'd expect that group to have some success yet again. On the other side, the Irish have struggled to pressure quarterbacks, and their pass defense has also been exposed at times. That should provide plenty of opportunities for Clemson quarterback Deshaun Watson

Deshaun Watson
So. Quarterback
#4 6-2, 207
Gainesville, GA
View Full Profile . Notre Dame has the athletes to win on the road against a premier opponent, but I need to see it to believe it. Until then, I'll take Clemson, 31-27.