| | |
| --- | --- |
| All Eyes on the Quarterbacks | |
---
| | |
| --- | --- |
| Monday, March 2, 2015 7:01 AM | |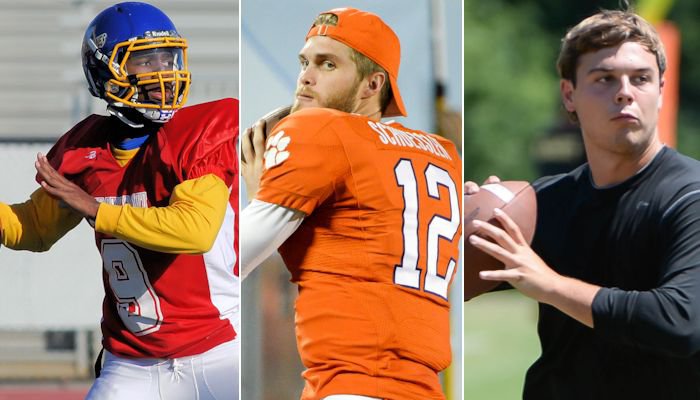 CLEMSON – Clemson's 2015 spring football practice will get underway about 4 p.m. Monday at the practice fields and indoor practice facility, and the media will be allowed to watch the first three periods or so of practice. Where will they congregate? The same place they were last spring – right in front of the quarterbacks.
Freshman Deshaun Watson was the subject of intense interest last spring, but with Watson on the shelf this spring the attention will turn to veteran Nick Schuessler and two freshmen – Kelly Bryant

Kelly Bryant
Quarterback
6-4, 205
Piedmont, SC
ESPN:


View Full Profile and Tucker Israel

Tucker Israel
Quarterback
6-0, 195
Orlando, FL
ESPN:


View Full Profile .
During his pre-spring press conference Friday, head coach Dabo Swinney

Dabo Swinney
Head Coach
View Full Profile said in many ways the Tigers will be starting over at the quarterback spot because of the freshmen.
"Well, we got two guys who don't know left from right. Literally, they're driving the machine," Swinney said. "So we can only go at their pace. So when you talk about starting over, we're starting over. We've got a ton of work to do with Tucker and Kelly in particular. Nick's got to take another step as far as his leadership, command and precision in this offense. He knows it. And I think he will. We're going to really push him this spring because we really need Nick to assert himself."
Swinney said that the coaches don't need for Watson to just be an interested bystander, saying Watson needs to be involved as if he was playing.
"Even though Deshaun's not out there, everybody respects Deshaun," he said. "But we still need him to lead this spring. He can do that. In that quarterback room, on the practice field, in the dining hall, in the locker room. That can't just stop and let's pick that back up in the summer."
Adding to the "new" feel of the offense is the fact that Chad Morris

Chad Morris
Offensive Coordinator / QBs
View Full Profile has left for SMU and the Tigers have co-offensive coordinators in Jeff Scott

Jeff Scott
Asst. Coach (WR) / Recruiting Coord.
View Full Profile and Tony Elliott

Tony Elliott
Assistant Coach / Running Backs
View Full Profile . Throw in new quarterbacks coach Brandon Streeter

Brandon Streeter
Quarterback Coach
View Full Profile – who has never worked with Israel or Bryant – and it might take a while for things to get sorted out.
'It's going to be a huge spring for Tucker and Kelly. I'm excited about Brandon and watching him get off to a good start as far as bowl practices," Swinney said. "But he hasn't coached Tucker and he hasn't coached Kelly. We've got 15 days. All I know is they're both really talented young players. We've got to get one of them or both of them ready to play. Just look around the country: Ohio State played their 3rd-team guy and won the national championship. So we've got to get all four of our guys ready to win the league for us. That's our ultimate goal and it starts this spring."
Swinney reminded the media and fans to not get too caught up in the early returns of the spring.
"Deshaun got off to a slow start last spring, and boy, really came on at the end of the spring. He took that into the summer," Swinney said. "Came back 20 pounds heavier when fall camp started, and just a different guy mentally. Will Kelly and Tucker make that same progression? We'll see. Will they work like Deshaun did? Will they respond? They'll certainly get a ton of opportunity, and we need both those guys to rise up. That's why we recruited them."
He then said that he couldn't wait to get out on the field and see what they have in the two youngsters.
"We haven't coached them yet. Until you get out there, you don't really know. Listen, Kelly Bryant, with what they do over at Wren, they do a phenomenal job coaching and teaching their system, and they do a lot of the same things we do," he said. "He's seen more as an athlete; but he has all the tools to be a great quarterback. He has a huge ceiling. I think he has so much room to improve, it's going to be fun to watch him. He's a hard worker, great young man, excellent student, the kind of guy you want at that position. I think his potential is unlimited. We'll see where he is, but he's been exposed to more than people give him credit for.
"Tucker on the other hand, I mean, he came out of the womb slinging it. He's thrown a million passes. I don't know that he's handed the ball off. That's going to be a new concept for him. 'Oh, there's a running back? How do I do that?' Because that's what their school and their coach was committed to. He has a very high IQ in the passing game and for coverages, getting rid of the ball. He's a little like Kyle Parker in that regard. He reminds me a lot of Kyle. As you get to know him a little bit, you're probably going to have that same sense. Free spirit's probably not the word for him, but he's a little bit of a loose guy, not really overwhelmed. But he's not going to overwhelm you athletically, but he'll shock you. Like KP shocked you. He's got good instincts as far as moving in the pocket, and the next thing you know he's moving the chains on you. But he can spin the football."