| | |
| --- | --- |
| Danny Manning brings dangerous Wake Forest to town | |
---
| | |
| --- | --- |
| Friday, January 23, 2015 6:59 PM | |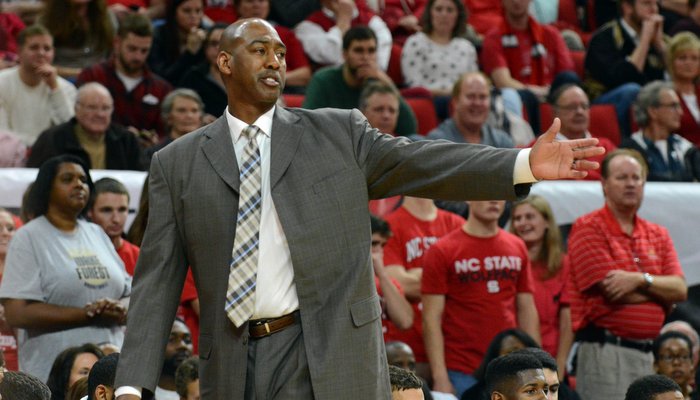 Wake Forest is a young team with a new coach and a new style of play, but the Demon Deacons aren't to be taken lightly.
The Clemson Tigers (10-8 overall, 2-4 ACC) are set to square off against a dangerous Wake Forest (9-10, 1-5) team Saturday at noon in Littlejohn Coliseum. The Demon Deacons are coached by former Kansas and NBA star Danny Manning.
GAME SETUP
Clemson (10-8, 2-4 ACC) vs. Wake Forest (9-10, 1-5 ACC)
Date: Saturday, Jan. 24
Tipoff: 12 p.m. ET
Arena: Littlejohn Coliseum (10,000)
Radio: CTSN (Tony Castricone-pbp; Tim Bourret-color)
TV: ACC Network (Bob Rathbun-pbp; Dan Bonner-color)
Clemson head coach Brad Brownell

Brad Brownell
Head Coach
View Full Profile told the media that Manning has the Demon Deacons pushing the ball up and down the court.
"Very fast. I think they play the fastest pace of anybody in our league right now - push it on makes and misses. Codi Miller-McIntyre is terrific in the open court. He's one of the biggest, strongest point guards that you'll see. Devin Thomas inside is a terrific center. He's really a post driver and scores in a variety of ways - with his back to the basket but can also step out to 15 feet and drive you. Great hands and rebounding. Great young players.
"I think they're playing hard and have had a very difficult start in the league in terms of the schedule they've played. Most of the name teams in our league, they've already played and took a bunch of them to the wire - Duke, Louisville especially. We'll have our hands full getting them slowed down and under control defensively. As everything with us, we've got to be better than we were on Monday night."
Clemson had a chance to even its league record at 3-3 with a win over Florida St. earlier this week, but a desperate comeback fell short. Brownell said the coaching staff has used the practice time this week to work on the offense.
"We were off Tuesday and then Wednesday we watched film on our offense against Florida State and it was not very good and then we worked on our offensive execution," he said. "Yesterday we watched film of our defensive mistakes and a couple of good defensive plays and worked primarily on improving our defense while mixing in some offensive schemes and beginning to get ready for Wake Forest. We'll do the same today."
The Demon Deacons post a sub-.500 record and are just 1-5 in league play, but have two of the league's more dynamic scorers –Miller-McIntyre is the only ACC player who, during conference play, ranks among the league leaders in scoring (16.3; 7th), rebounding (6.5; 16th) and assists (4.3; 8th). He also ranks seventh in field goal percentage. In conference play, Devin Thomas ranks third in the ACC in rebounding (9.5 rpg) and fifth in scoring (17.5 rpg). Thomas and Duke's Jahlil Okafor are the only players to rank in the top five in both categories.
"They're playing a lot of young players and I think just like everybody they're getting comfortable with the level. They've got two outstanding players," Brownell said. "When you've got two outstanding scorers that can go for 25 points, it makes them very dangerous. They play in a way that they can score. It always make for a dangerous team to play. They're probably energized with a new coach and a new style."