| | |
| --- | --- |
| Brownell on playing at Cameron Indoor: "There is no pressure on us" | |
---
| | |
| --- | --- |
| Friday, February 20, 2015 2:39 PM | |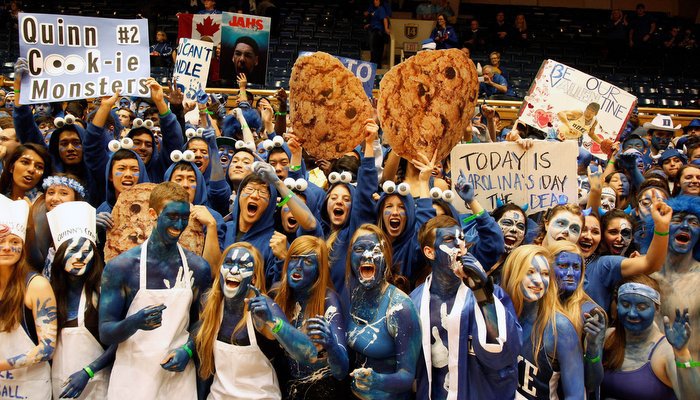 CLEMSON – Clemson is in search of its first win at Duke since the 1994-95 season, a 75-70 victory by Rick Barnes' first team over a ninth-ranked Blue Devils team – but might have to play without leading scorer Jaron Blossomgame

Jaron Blossomgame
RS So. Forward
#5 6-7, 215
Alpharetta, GA
View Full Profile .
Head coach Brad Brownell

Brad Brownell
Head Coach
View Full Profile told the media Friday in Littlejohn Coliseum that Blossomgame – who leads the Tigers in scoring at 12.9 points per game – sprained his ankle during Thursday's practice and didn't practice Friday morning.
Brownell said he was "concerned" that Blossomgame might not be able to play when the Tigers take on Duke Saturday at 4 p.m. in Cameron Indoor Stadium.
"It will be painful," Brownell said. "Will he warm up and play the first five minutes and then it doesn't feel right? He will want to play, but we don't want to risk further injury. Will the adrenaline of the game be enough to keep him going? I don't know. Is he able to play and play effectively? We don't know."
Clemson hasn't fared well at Duke - the Tigers' best chances to win since the 1994-95 season were in 1998, when Clemson missed a game-winning shot attempt, and in 2007, when the Blue Devils scored a layup as time expired to give Duke a 68-66 win after Clemson had just tied the game.
GAME SETUP
Clemson (15-11, 7-7 ACC) vs. Duke (23-3, 10-3 ACC)
Date: Saturday, Feb. 21
Tipoff: 4:10 p.m. ET
Arena: Cameron Indoor Stadium (9,314)
Radio: CTSN (Tony Castricone-pbp; Tim Bourret-color)
TV: ESPN (Dave O'Brien-pbp; Dick Vitale-color)
Brownell said the Blue Devils – who have four players averaging in double figures – are playing as well as any team in the country. He then said it starts with freshman center Jahlil Okafor, who averages 17.9 points per game. Okafor sprained his ankle against North Carolina earlier this week but Brownell said he fully expects Okafor to play.
"Obviously they are hard to guard because they have great players. It starts with Okafor inside - he is hard to handle one on one," Brownell said. "But you double him and you are creating offense for other players. You don't double him and he scores on almost everybody he plays against and he fouls guys out. You have to do different things against him. Their pace is very good. Quinn Cook (15.1 ppg) is having a great year and they play with two point guard type of players (Cook and Tyus Jones). They are both combo guards who can score 20 and score points under pressure.
"That's one of the reasons why they are very good. Their other pieces I think are really good. (Amile) Jefferson is an underrated player and if he played on another team would score more points and get more baskets. And (Justise) Winslow is a pro, too. He is a guy that can play two positions and handles the ball like a guard but plays like a power forward. They are as talented as anybody you will play and they are playing really well right now. It's a great opportunity for us. I am really looking forward to it. Really, there is no pressure on us. We can just kind of go there and play. But if you're in this kind of game you just want to go up there and have fun with it."
Brownell said that coaching in an environment like Cameron Indoor – known for the student section's "Cameron Crazies" – is something that he embraces.
"You wanna be in those kinds of environments," Brownell said. "And that's what is great about college basketball is because they are all different. You don't want them all to be cookie cutter and to be the same. I think it's neat you have some that are 9,000 (seats) and some that are 19,000. Different colors, different things about each place and each fan base that make them unique and special. And all of these guys growing up watching college basketball, that (Cameron) is a place you want to play and a place you want to coach. Just being brand new doesn't make something great - the atmosphere is what makes college basketball great and they have maybe the best in college basketball."