| | |
| --- | --- |
| Weekend baseball wrap: Lack of clutch hitting dooms Tigers in series loss | |
---
| | |
| --- | --- |
| Sunday, February 15, 2015 6:33 PM | |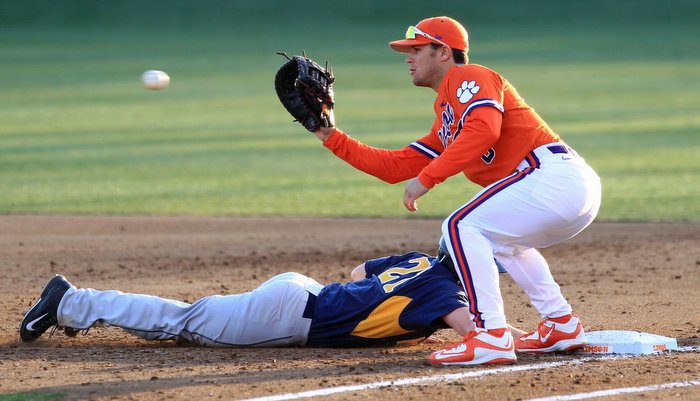 CLEMSON – The



# 0, 0
,
View Full Profile good news for the Clemson baseball program is that it's early, way too early to draw any definitive conclusions about the 2015 baseball team and how the lineup and hitting will look by season's end.
The bad news – especially for a fan base looking for a reason to get behind head coach Jack Leggett

Jack Leggett
Baseball Head Coach
View Full Profile – is that the early version of this year's team looks a lot like what we saw last season – a lack of clutch hitting and a team that will scramble to score runs at times.
West Virginia won the season-opening series Sunday, capturing a 6-1 win over the Tigers at Doug Kingsmore Stadium, winning two of three in the series and leaving the Tigers with more questions than answers.
Clemson ended last season on a three-game losing streak and wound up hitting just .196 with runners in scoring position in those three games. Clemson's 2014 batting average with runners in scoring position was .324 in victory but .172 in defeat, and this weekend didn't give anyone watching the warm fuzzies.
Clemson finished the series 10-for-45 with runners on base (.222) and 3-for-19 with RISP (.158). Needing a win Sunday to salvage the series, Clemson had only four at-bats with runners in scoring position. The five runs in the series is the fewest Clemson's scored in its first three games in the 22 years under Leggett. It also marked the first time Leggett has lost a season-opening series at home.
On the flip side, Clemson's pitching in the series was solid. Matthew Crownover

Matthew Crownover
Jr. LH Pitcher
#44 6-0, 210
Ringgold, GA
View Full Profile threw six shutout innings Friday night, Zack Erwin

Zack Erwin
Jr. LH Pitcher
#33 6-5, 195
Duluth, GA
View Full Profile gave up just one earned run on four hits in six innings pitched on Saturday. Drew Moyer

Drew Moyer
So. RH Pitcher
#20 6-3, 215
Gilbert, SC
View Full Profile also picked up his first save Saturday despite giving up three hits and an earned run.
Sunday, Clemson's defense committed three errors which led to three unearned runs. Tiger starter Brody Koerner

Brody Koerner
Jr. RH Pitcher
#19 6-2, 200
Concord, NC
View Full Profile (0-1) suffered the loss despite allowing just one run on three hits with a career-high eight strikeouts in four innings pitched.
Leggett told the media that this weekend wasn't the kind of start he had envisioned but that there were bright spots.
"We hit into three double plays today and we didn't get the big hit," Leggett told the media after the game. "I think we've got enough arms to make this a very good season before it's all over, but we just have to get our hitting together and get some hits with men on base. Other than one inning I thought we played good defense all weekend long, and I thought we pitched well. But we have 53 games left, and we are going to be a pretty good team before it's all said and done. We just didn't have a chance to get anything going offensively."