| | |
| --- | --- |
| Tigers are California Dreamin' | |
---
| | |
| --- | --- |
| Monday, May 25, 2015 5:07 PM | |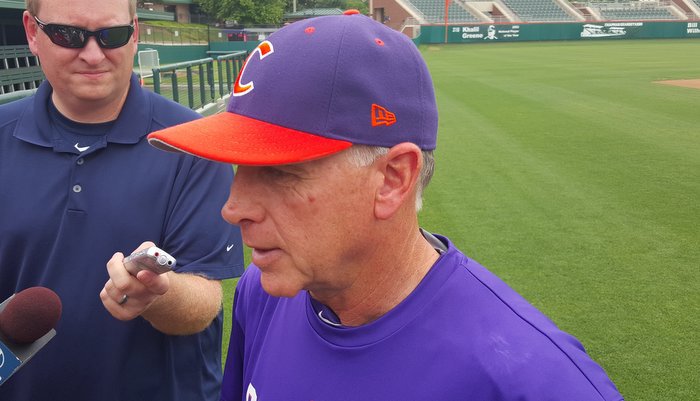 CLEMSON – The songs drifting out of the speakers at Doug Kingsmore Stadium Monday afternoon had a definite California twist to them, with everything from California Dream' by the Mamas and the Papas to Hotel California by The Eagles.
It was California Dreamin', however, that turns out to be the perfect song choice for a Tiger baseball team that will travel across the country this week to California – Clemson was selected to the NCAA Tournament on Monday afternoon and will play in the Fullerton (Calif.) Regional beginning Friday at Goodwin Field.
This will be Clemson's first trip to California to play a game since 1993, when the late Bill Wilhelm's final team played six games in a regular-season tournament in Fresno. Clemson played six games in that same tournament in 1988 as well. Those are the only games the Tigers have played in the state of California. Clemson was 3-3 in both tournaments.
Clemson's RPI was 54 and with a record of 32-27 many wondered if Clemson had enough of a resume to get in. However, the Tigers also had a fairly strong finish, going 7-3 in their last 10 games. That closing stretch included a three-game sweep at then No. 8-ranked Florida State and a win against No. 4 Louisville in last week's ACC Tournament.
Now that all the guess work is done and the Tigers have a location and foe – they will play against No. 2 see Arizona St. Friday at 6 p.m. EST – they can breathe a sigh of relief and concentrate on this weekend's games.
"It's a nerve-wracking time, you know? Whether you are in or out or going someplace, there is always some anticipation," Clemson head coach Jack Leggett

Jack Leggett
Baseball Head Coach
View Full Profile said. "But it's always an exciting time for our team to be able to see it in the McFadden building there. You could tell they were excited about getting the chance and an opportunity to get in and play. They deserved it.
"They have worked hard for Clemson, the baseball program and each other. We've had their backs against the wall a lot during the course of the season and come out fighting every time. I am proud of how hard they worked and how they finished at the end, beating Florida St. and then playing well in the ACC Tournament. The last two months we've played pretty good baseball and I'm excited to get another chance."
Leggett then said the Tigers biggest concern isn't travel or the competition – it's making sure the team plays well in all phases of the game.
"Our biggest concern right now is to just go and play our best baseball and play like we can play and try to get all three phases of the game going - the pitching and the hitting and the defense all together and maintain it for three or four games in a weekend," he said. "I think we've proven this year that if we can do that we can play with anybody. It's just a matter of us going out there and playing our best."
Outfielder Reed Rohlman

Reed Rohlman
RS Fr. Outfielder
#26 6-0, 210
Moore, SC
View Full Profile said he didn't care where the Tigers played in a regional, but he was looking forward to the trip to Southern California.
"It was a great feeling seeing our name up there, and we are hoping we can go to California and do some damage," Rohlman said. "Even this morning, we were talking about the selection show and that is all that has been running through our minds for the last three days or so. I've never been to California. I am looking forward to it. It should be a good challenge and I am looking forward to it. This is exciting, and this is what we came to Clemson to do. This is the best time of the year to get hot. But this is a business. We are excited to be going but we need to take care of business."