| | |
| --- | --- |
| Clemson unveils improved Doug Kingsmore this weekend | |
---
| | |
| --- | --- |
| Thursday, February 12, 2015 9:01 AM | |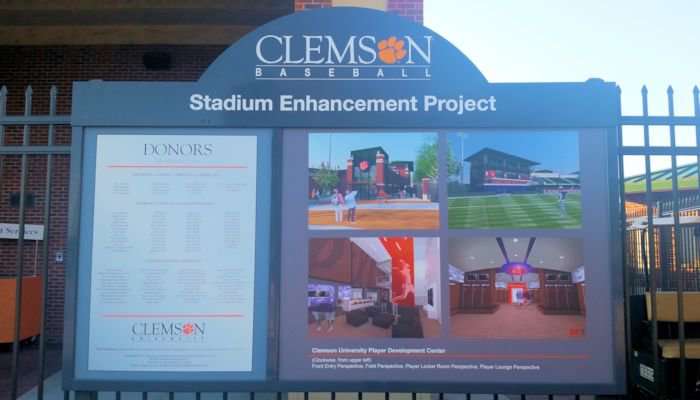 CLEMSON – Fans



# 0, 0
,
View Full Profile who take a trip to Clemson and Doug Kingsmore Stadium this season to take in a little Clemson baseball will notice some changes to "The Doug."
Joe Simon, associate athletic director for facilities, met with the media Wednesday at Doug Kingsmore to update the upgrades at Doug Kingsmore Stadium. The stadium has upgrades to the dugouts (Simon called them the largest in the nation) and a premium seating area with 150 seats.
Simon said the facility, which will be on par with the best in the nation, will be completed by the end of the season.
"Obviously, the focus was to make sure we could play here in a couple of days," Simon said. "The focus was on the premium seats and the dugouts and that kind of thing. If you look behind me the complex behind me is over 20,000 square feet. Really, what has taken some time is the work you don't see. There are over 200 pilings under the ground, and some go 30 and 40 feet deep. That is what has taken a lot of time - when you build in this area and as close as you are to the lake and that kind of thing you have to make sure you have a solid structure underneath there.
"So in the coming weeks you are going to see steel going up and the building will continue to take shape. We knew when we started the project the building itself wasn't going to be done until the end of the season. We are pushing every day to make sure it will be done by the end of the season."
Simon also took the time to describe the new baseball operations facility.
"When you come in the front lobby, it will be a lobby and a museum honoring the great history and tradition of Clemson baseball," he said. "And as you walk through that area you are going to have a team area - there will be a team lounge, a study area and more of a comfortable couch or game-type area. There will also be a dining area in there. As you continue through that space into the back, you will get into the team operations area - the locker room and the showers. Once you get to the second level, which is primarily a team meeting room. There will be a pretty large balcony off of that. The third level will be the coaches' offices. The last piece, on the third level there will be a balcony off each coach's office."
Simon said the $9 million project is still on budget, and while fans will notice the construction there shouldn't be too many changes that will affect fans attending games. However, he cautioned that while fans can still enter through the front gates it will be better if they enter through the left field (or Chapman Grandstand) side. He also said if you enter through the front gates, you won't be able to access the Cajun Café area.
Clemson head coach Jack Leggett

Jack Leggett
Baseball Head Coach
View Full Profile seemed pleased with the changes.
"It's nice. The dugouts are the most spacious in the country," Leggett said. "You could throw a bullpen in the back of this one....they are really nice. They are spacious. They are a lot better than most of the places we go. The premium seats behind home plate I think give our fans gives our fans an opportunity to get closer to the field as do the dugouts which is really what it is all about. All those that have supported us by buying seats behind home plate and making that a premium area, it's awesome. I think that's going to be a real exciting view for those that are down there and exciting thing for others to see that we are closer to the field."
Construction photos from Clemson Baseball:
Recent construction progress at Doug Kingsmore Stadium, including new seats at field level! #Clemson pic.twitter.com/FeBztUQnOk

— Clemson Baseball (@ClemsonBaseball) February 10, 2015