| | |
| --- | --- |
| Wednesday update: Swinney says Miami a "BYOE" game | |
---
| | |
| --- | --- |
| Wednesday, October 21, 2015 7:34 PM | |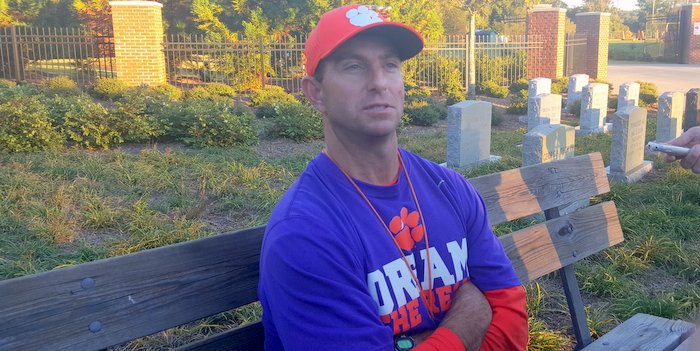 CLEMSON – The next great Dabo Swinney acronym has been born in the days leading up to the Tigers' trip to take on Miami this weekend: BYOE, or Bring Your Own Energy.
Clemson's head coach talked about the Tigers' win over Notre Dame earlier this month was a BYOG – or Bring Your Own Guts – kind of game. This weekend, the Tigers will take on Miami in sleepy Sun Life Stadium, a place not known for raucous or large crowds. The noon kickoff won't help the energy of the crowd, making it a BYOE kind of game.
Swinney said he started preaching the mantra to his team Monday.
"When you go on the road, you have to bring your own energy," Swinney said after Wednesday's practice. "I told the team on Monday that anytime you go on the road you have to bring your own energy. The energy in the stadium is against you, regardless of how many people are there. We talk about that all the time. We just have to get focused on making a great play every play and not focus on that other stuff."
Swinney said that while he wants his younger players to play with emotion against the Canes, he doesn't want them to be emotional, especially the younger players from the Sunshine State.
"I hope we're mature enough to just go play the game, but it's something you'll address because this one for some of them might be a little more personal than others just because they've got some relationships with some of those guys and know them," Swinney said. "You try to talk to them about, 'Hey, just play the game. Don't get caught up.' I thought that's what Mackensie (Alexander) did in the Notre Dame game. I thought he got distracted. It's okay to play with emotion, but don't be emotional. There's a difference. Emotion is a part of the game, but when you get emotional in the flow of a game then you lose your focus and now all of a sudden you're not dialed into what the call is. You're more dialed into competitive rivalry or something. It's something we talk about, but I think these guys understand, and we've grown past that."
Defensive tackle D.J. Reader has been back at practice this week, and Swinney Reader is getting back into football shape.
"He looks good, he really does. He got a little more into the mix today," he said. "He is getting used to those knee braces again, and playing football. When you are off for a while, you have to get back into the rhythm of it. He did a nice job of maintaining himself, and he's had his mind made up and preparing to get back when he felt it was time. We are glad to have him with us again."
Other notes
If the forecasted heat worries him
"Have you been here in August? I go down to South Florida in the summer, and it's cooler there than it is here. I always look at my phone, and it's 89 here and 94 in Clemson. One thing we don't have an issue with around here is humidity. It has been cooler up here this week than it probably is down there, but we've got no excuses. We'll be ready to play."
"He can play, but I still don't think he's quite a 100 percent, so we'll play him if we have to. He's gaining confidence every single day, cutting, changing direction, bending, and really grinding on it. He'll go in as the backup, and if we get the opportunity to get him in there we will. If we need him we'll play him, but we don't have a set plan going in that we want him to play x amount of plays and that type of stuff. It will be more of a reaction to what's going on in the game. He's been in green all week. He's done all of the team work as far our scout work. He has not done any of the good on good work. We've kept him out of that."
"He's had a good week. He's worked his way back in. He's ready to go."
Miami
"They throw the ball. They lead the ACC is passing. The quarterback has the most attempts and the most yardage and the least interceptions, so it's all hands on deck for this guy. That's what they do. They throw the football."
Swinney on midseason awards – Bryant Award
"Do they give you half a trophy for halfway through the year? Do I get a little miniature bobblehead or something? That would be great. That just means we've had a good first half, but I'm just focused on trying to be great in the third quarter because that's what happens on Saturday. We start the third quarter of our season, and that's my focus."
The offensive line being on Moore quarterly honor roll
"I think that's a good thing. That means they've played well through the first six games. It's better than being on the not so good list. I think that's a positive. I think everybody here (in the media), their biggest question was the offensive line coming into the season, and those boys have done pretty good and are just going to get better. It's a really good group. They like to play. They're developing the type of toughness and the mentality and the passion for what they're doing. I'm really, really pleased with them. They haven't been perfect, but they've been pretty doggone good."