| | |
| --- | --- |
| Watson: "Clemson is the place I want to be" | |
---
| | |
| --- | --- |
| Tuesday, June 18, 2013, 3:27 PM | |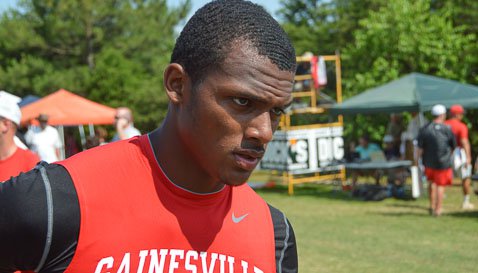 DUNCAN – Clemson quarterback commitment Deshaun Watson admitted late Saturday afternoon that he was tired, and so was his arm.
Watson spent two days at Dabo Swinney's camp last week before spending Friday and Saturday with his Gainesville High teammates at the Byrnes 7-on-7 tournament. Watson, who is trying to build chemistry with several new receivers, said the 7-on-7 time was invaluable for a team that has dreams of repeating as Georgia state champs.
"It was good. We are just out here trying to get into a rhythm," Watson told TigerNet late Saturday after his team was eliminated. "This was a good learning experience for us, and we are trying to learn from our mistakes. I have been throwing for 10 days straight, and my arm is kind of dead, but I wanted to get out here and help my teammates."
The 2014 prospect - labeled by many to be the top recruit out of the state of Georgia in the next recruiting cycle – said he also enjoyed his time with offensive coordinator Chad Morris and the Clemson coaching staff last week in Clemson.
"It is always good to work out with Coach Morris," he said. "We just did the regular stuff – the throwing and the footwork drills. Hopefully, I am going to be working my entire college career with him."
During last Thursday's final session of the day, Watson was spotted riding around the practice fields with Clemson head coach Dabo Swinney. Watson told us Saturday that the two were just catching up.
"He was just telling me about his summer plans and asking me about mine," Watson said. "He was telling me about his kids and asking about my mom and my family. We just talked. He knows I am committed to Clemson. That was all we talked about."
Watson said that despite the constant pressure from the coaches of other programs, he is happy and satisfied with his Clemson decision.
"I know I don't need to take any more visits," he said. "There is just no desire there. Clemson is the place I want to be, and I can't wait to get up there."
In his role as the unofficial "leader" of Clemson's 2014 recruiting class – a role Chad Kelly embraced two years ago with big results – Watson has been helping recruit other players.
"It is pretty cool, being able to do that," he said. "We are going to try and get all of the guys we can get. At the same time, you can't get frustrated, because you can't get everybody and everybody doesn't see the same things you do. But I think this is going to be an awesome class."
He spent time hanging out with several other quarterbacks at Clemson's camp, and came away impressed with 2016 prospect out of Texas – Bowman Sells, who got an offer from Morris earlier this spring.
"It was good to hang out with all of those guys," he said. "I got to hang out a lot of with Bowman. He is going to be a really good quarterback. I think he was probably the best quarterback I saw during my camp session."
Watson gets a little time to rest, then heads to Beaverton, Oregon, from June 30-July 3 to participate in Nike's The Opening.
As a junior, Watson connected on 305-of-434 passes (70 percent) for 4,011 yards, 50 touchdowns and eight interceptions. He also rushed for 1,430 yards and 24 touchdowns in leading Gainesville to the AAAAA State Championship.
As a sophomore, Watson connected on 229-of-337 passes for 3,221 yards with 41 touchdowns, the most in the state of Georgia. Watson rushed 156 times for 1,073 yards and 16 touchdowns, leading the Red Elephants to a 12-2 record.
As a freshman, Watson led Gainesville to a 10-3 mark, passing for 2,100 yards, 17 touchdowns and five interceptions. He added 500 rushing yards and five touchdowns.