| | |
| --- | --- |
| Top OL commit details first Death Valley game experience | |
---
| | |
| --- | --- |
| Monday, November 23, 2015, 7:09 PM | |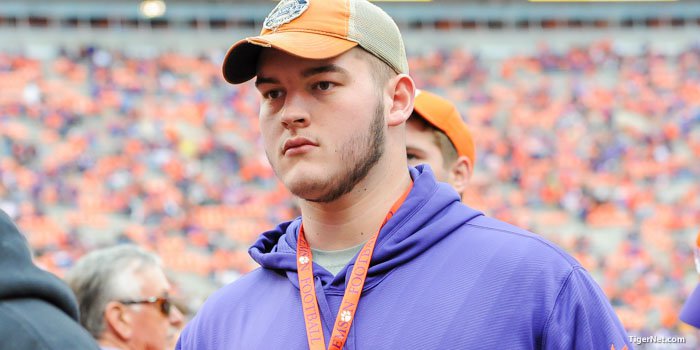 Noah DeHond took one visit to Clemson back in early August and knew that it was the place for him, but what he experienced Saturday in Death Valley was unlike anything else.
The 4-star Highstown (NJ) The Peddie School offensive lineman chose Clemson over 15 other schools from the ACC, Big Ten and SEC before he had ever seen a game live and in person, but that all changed Saturday afternoon as DeHond and his family traveled to Clemson for the Tigers' final home game against Wake Forest.
DeHond – who is number 270 in the ESPN Jr. 300 – told TigerNet Sunday afternoon that the game and the atmosphere were different than anywhere else he had ever been.
"It was crazy. It was great to see them play. I had a great time," DeHond told TigerNet recently. "I wouldn't say that there was really one thing that stood out to me. It was just a different atmosphere than I had ever seen. The tailgating was ridiculous. 80,000 people in orange and purple is pretty cool to see."
The 6-7, 325-pounder said he paid special attention to Clemson's offensive line, especially the youngsters.
"I watched the offensive line both as a lineman and as a fan," DeHond said. "I thought they played pretty well, especially for having so many young guys - Jake Fruhmorgen and Mitch Hyatt. Both of them played pretty well. I thought they played alright."
DeHond spent time with head coach Dabo Swinney and offensive line coach Robbie Caldwell, and he said their message was simple.
"They just told me that I'm part of the family now and they were proud of me," he said. "They said that they couldn't wait for me get here and that they want me to keep working hard, and all of that kind of stuff."
This was the 2017 prospect's first game of the season, but his family was able to see just how far the Clemson family extends as they made the trip to Syracuse earlier this month.
"They loved it because it was only an hour drive for them from Rochester (NY). My mom and my brother went," he said. "I couldn't go because I had finals this week, so I had to stay at school and study. It was cool for them to go and experience that and to see how many Clemson fans still came out for a game that's 14 hours away their home stadium."