| | |
| --- | --- |
| Time to play: Stoops and Swinney hold final pregame press conference | |
---
| | |
| --- | --- |
| Sunday, December 28, 2014 1:50 PM | |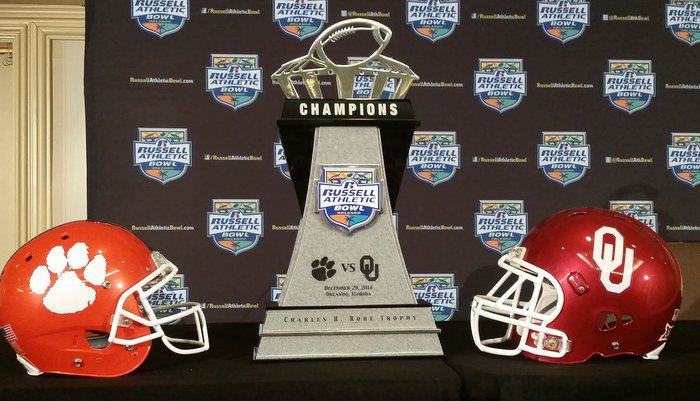 ORLANDO, FL – Clemson head coach Dabo Swinney

Dabo Swinney
Head Coach
View Full Profile and Oklahoma head coach Bob Stoops met with the media Sunday morning in the final press conference for both teams before Monday's Russell Athletic Bowl matchup.
The following is an edited transcript of Swinney's press conference, with a few quotes from Stoops:
Opening statement
"I just want to thank the entire Russell Athletic Bowl staff. This has been a great trip for our guys. I just came out of a senior meeting and I think these guys have had a great time. This has been a fun bowl. Obviously, there's a lot to partake in here in Orlando. We've tried to keep a good balance and allow our guys to enjoy what Orlando has to offer – the parks and all that involves – but at the same time have great focus when we go to work. I think we've been able to accomplish both. The guys feel really good about it. We've had some of the best practices that we've had since I've been around it. We may get our butts kicked tomorrow night but we've really practiced well.
I'm really looking forward to this game. I think this a game that a lot of people will watch. It's a really good matchup. It's a great opportunity to play a team like Oklahoma - a team that is probably a few plays away from being in the College Football Playoff. We feel we are kind of in the same boat. Both teams are coming off of BCS wins last year and I think will provide great entertainment tomorrow night."
What have these seniors meant to this program?
"This has been a special group. They are just good people, first of all. We've got some highly recruited guys in this group like a Stephone Anthony

Stephone Anthony
Sr. Linebacker
#42 6-2, 244
Polkton, NC
View Full Profile and Tony Steward

Tony Steward
Sr. Linebacker
#7 6-1, 236
Hastings, FL
View Full Profile and then we have some guys that nobody really knew anything about – Robert Smith

Robert Smith
Sr. Safety
#27 5-11, 211
St. George, SC
View Full Profile , Grady Jarrett

Grady Jarrett
Sr. Defensive Tackle
#50 6-1, 290
Conyers, GA
View Full Profile , Kalon Davis

Kalon Davis
RS Sr. Offensive Guard
#67 6-5, 340
Chester, SC
View Full Profile , Sam Cooper

Sam Cooper
RS Sr. Tight End
#86 6-6, 250
Brentwood, TN
View Full Profile , Adam Humphries

Adam Humphries
Sr. Wide Receiver
#13 5-11, 193
Spartanburg, SC
View Full Profile . It's really been a fun group to go to work with. They've not only led on the field but they've led off the field. All of these guys are going to have their degrees. I think we have three guys that have to come back for the spring semester out of 34 seniors, including our walk-ons , to graduate. I'm really proud of the standard that they've set for the guys behind them. They are the winningest class in school history. They all came here four and five years ago just buying into what we were doing as a program. I've been here six full years and here we are trying to get our fourth 10-win season. Those players deserve all of the credit. These players have to buy in and they have bought in from a recruiting standpoint and the process that they have to go through as players at Clemson. It's going to be special. It's an honor to be able to take the field with them one more time tomorrow night. Hopefully we can find a way to win and send them out with a 42nd win."
Thoughts on Samaje Perine
"As coaches, you just don't ever really know until you get out there and go to work. We don't have preseason games like the NFL. We just have real bullets. You go with guys that are experienced and have been there. There are a lot of unknowns with freshmen. That young man responded in a way that made them go, 'Ok, we've got something special here.' He was able to handle more and more as they went throughout the season…He's special. He's 240-plus pound bowling ball. He's hard to tackle…He's a load for sure. He's something special. They have a great offensive line. They are massive men that can move."
With new offensive coordinators and the layoff since the last game, are you concerned about establishing a rhythm?
"That's always part of the bowl season for everybody. There's always that transition getting into that game mode. Hopefully our practices have allowed them to stay game ready with the way we structure practices. We mix in a lot of live work to create that game tempo. We'll adjust quickly. We've got an experienced football team and it will come down to what it always does. Hopefully, we'll be able to get those jitters out early and can settle down and have a good game."
Thoughts on Brent Venables

Brent Venables
Def. Coordinator / Linebackers
View Full Profile ' impact at Clemson
"All we've done is get better. He's impacted us tremendously. It's been fun. Brent and I didn't really know each other. We knew of each other but didn't really know each other. We had a change at defensive coordinator after the 2011 season and he was a guy that we really wanted to talk to. A short phone conversation turned into a three hour phone conversation and we just kind of connected. The next step for him was to come out and see if it was a fit. I think he fell in love with the place when he came there. It was the right timing for him. He has tremendous respect and love for Oklahoma. I think it was a great opportunity for him and for us as a program…Brent was a great addition in every regard. He's helped us get better. From a defensive standpoint, he took a young group and now we're the number one defense in the nation. I'm really proud of the job that he's done. If Brent were sitting here, the first thing he'd tell you is how good of a coach Dan Brooks

Dan Brooks
Assoc. Head Coach / Def. Tackles
View Full Profile is and Marion Hobby

Marion Hobby
Co-Defensive Coordinator / Defensive Ends
View Full Profile and Mike Reed

Mike Reed
Assist. Coach / Defensive Backs
View Full Profile . We've got a great defensive staff. He'd also tell you that we have players that buy in. If you're around Brent you know that he's a tough dude. He's no nonsense and about his business. He's high intensity all day every day. He's a when it's time to work, let's work kind of guy and players have to buy into that. I'm really proud of the job that he's done."
On the decision to have surgery for Deshaun Watson
"We are really content. Just look at him now. He's already walking without crutches and all that kind of stuff. He's a guy that's going to respond really well. He and Stanton Seckinger will kind of buddy up and go through the process together. He's doing well. He's had a good week of rehab down here and then when we get back on the seventh, when they start classes, he's really going to be a lot further ahead. I'm glad that we're not dealing with it when we get back and we have to start the process fresh from there. He's going to be a lot farther along for us especially this summer in particular."
Bob Stoops' opening statement
"I'm really pleased with the way our team - the way we've gone through meetings and practices, the way our players have conducted themselves off the field. Everything we've done, the players have done a great job. We're excited to play a great football team in Clemson - a team that has excellent skill on both sides of the ball. They have excellent speed. Defensively, they've got some really exceptional players. Offensively, they've got some really dynamic guys with speed on the edges - receivers and running backs. It will be a challenge and we understand that but it will be exciting as well. Our players have done a great job through the week to get ready for it. We're excited to play tomorrow."
Stoops on Cole Stoudt
"He's a guy that can run. He doesn't run it quite as much as the other guy but he's still capable of running it when the opportunities are there. I've seen him make a bunch of good throws and passes and win a lot of games. He's played a lot of football for them. We've got great respect for him. I'm more sentimental towards him because I'm a guy that grew up in Youngstown, Ohio and knew all about his dad Cliff. I loved the way he played at Youngstown State and at Pittsburgh and I followed him forever. I think Cole has done a really good job when he's had his opportunity."
What jumps out at you about Clemson when you watch the film?
"I don't know one thing but the speed offensively and then defensively you can tell the experience and the speed and the excellent play from a bunch of good players."
Can you talk about Clemson's speed on offense?
"Mike Williams, Artavis Scott and Wayne Gallman all of exceptional speed and the do a lot of jet sweeps or plays that they're getting to the perimeter with those guys, so we've got to do a good job of containing them and guarding them down field."

Tags:
Sam Cooper
,
Kalon Davis
,
Adam Humphries
,
Grady Jarrett
,
Robert Smith
,
Tony Steward
,
Stephone Anthony
,
Brent Venables
,
Marion Hobby
,
Dan Brooks
,
Mike Reed