| | |
| --- | --- |
| Tigers hit bottom in 34-13 loss to South Carolina | |
---
| | |
| --- | --- |
| Sunday, November 27, 2011 12:36 AM | |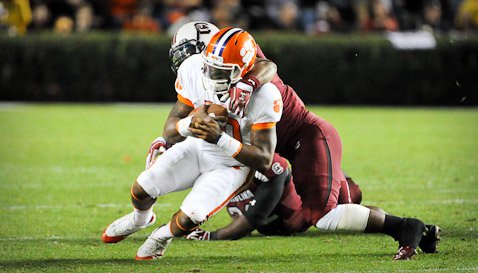 COLUMBIA – All of the goodwill and excitement surrounding an 8-0 start and top ten national ranking is gone. Even an appearance in next week's ACC Championship Game rings hollow.
The South Carolina Gamecocks defeated the Clemson Tigers for the third consecutive year – the first time that has happened since 1968-70 – in dominating fashion Saturday night at Williams-Brice Stadium. The Gamecocks ran their way to a 34-13 win in a game in which the defense looked confused and soft, the offensive line was abysmal and the quarterback looked lost and overwhelmed.
This is not a great South Carolina team to be sure, but they did enough to overwhelm the Tigers, who now must figure out how to regroup after a third embarrassing loss in four games on national television.
"This is obviously very disappointing," Clemson head coach Dabo Swinney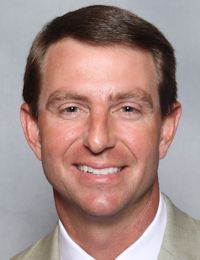 Dabo Swinney
Head Coach
View Full Profile said. "It's the highest of the highs and lowest of the lows. We are just really disappointed in how we played. Dropped a touchdown early, gave up sacks and we can't protect our quarterback. It is really disappointing and that affects your ability to score."
For the Gamecocks, the offensive gameplan was simple – run the quarterback. The Gamecocks knew the zone read was coming, the fans knew it was coming, the people watching at home knew it was coming and yet Clemson still couldn't stop Conner Shaw, who wound up with 107 yards on 19 carries on the ground and still managed to hit 14-of-20 passes for 210 yards and three touchdowns.
"Defensively, the quarterback beat us and that is the most disappointing thing to me coming out of this, that we let the quarterback beat us," Swinney said. "We knew exactly what they were going to do, and we couldn't stop it. Really poor on third down, and then gave up some big plays at some tough times."
The offense was just as bad – 153 total yards and 12 first downs. Left tackle Phillip Price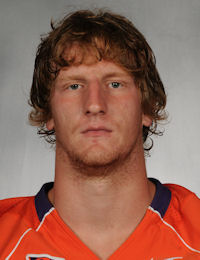 Phillip Price
RS Sr. Offensive Tackle
#79 6-5, 315
Dillon, SC
View Full Profile started the game but was pulled after the first series and the offensive line never recovered as Boyd was pressured all night.
Boyd said learning to react to the pressure is where he needs to improve his game.
"That is where I have to become wiser and more composed," he said. "I just need to be more confident in my guys and not immediately run out of the pocket. We just need to work harder and get better."
The Gamecocks ran 17 plays and had a 10-0 lead before the Tigers ever converted a first down. The Tigers' third drive appeared to change the momentum somewhat, with Boyd capping the drive with a nine-yard touchdown pass to tight end Dwayne Allen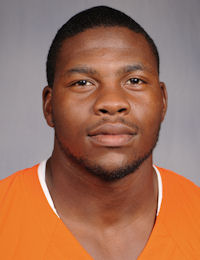 Dwayne Allen
RS Jr. Tight End
#83 6-3, 255
Fayetteville, NC
View Full Profile .
Clemson tied it at 10 on the next drive on a Chandler Catanzaro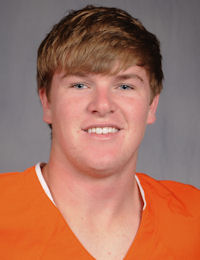 Chandler Catanzaro
RS So. Punter / Kicker
#39 6-2, 200
Greenville, SC
View Full Profile 32-yard field goal, but kickoff specialist Spencer Benton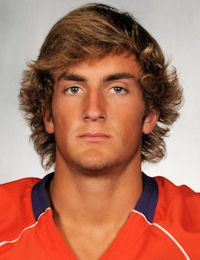 Spencer Benton
RS Jr. Punter / Kicker
#13 6-2, 195
Myrtle Beach, SC
View Full Profile kicked the ball out of bounds and South Carolina started the next drive at the 40-yard line. Nine plays, 60 yards and a fourth down conversion later Shaw had rumbled 15 yards for a touchdown, swinging all the momentum back to South Carolina's side as the Gamecocks took a 17-10 lead into the half.
Clemson was unable to mount much of a threat in the second half – getting a lone Catanzaro field goal in the second half – as Shaw and the Carolina offense continued to stay on the field while Clemson's offense never could get in gear enough to help the defense.
Now the Tigers have to figure out how to move past this disappointing five week stretch in time for next week's ACC Championship Game against Virginia Tech and their imposing running game with quarterback Logan Thomas and running back David Wilson.
Swinney said the run defense has to improve if the Tigers are to have a chance to win that game, and admitted that the team as a whole needs to get better.
"It can get better next week – it has to get better," Swinney said. "At times we did some good things. In the second half, I thought we did a better job. We had a really, really, really poor first quarter defensively. We did a better job in the second half. It is just disappointing to let a quarterback beat you. This is what happened tonight defensively. Offensively, we don't make plays. You can't go play for them. You can't tackle them. We had guys in the right position several times and then we had some busts. You have to take the good with the bad, and we have had a lot of bad the past couple of weeks."
Tight end Dwayne Allen said the team has to immediately focus on Virginia Tech.
I'm already past it," Allen said. "We didn't come out to play and do the things necessary to win. We have a very good Virginia Tech team coming up, and we need to get ready to play."
Score by Quarters     1  2  3  4   Score


-----------------    -- -- -- --   -----


Clemson.............  0 10  0  3  - 13       Record: (9-3,6-2)


South Carolina...... 10  7  7 10  - 34       Record: (10-2,6-2)



Scoring Summary:


1st 10:23 SC - Jay Wooten 47 yd field goal, 10-48 4:37, CU 0 - SC 3


    06:36 SC - Bruce Ellington 49 yd pass from Connor Shaw (Jay Wooten kick), 7-75 2:52, CU 0 - SC 10


2nd 11:32 CU - ALLEN 9 yd pass from BOYD (CATANZARO kick), 12-61 4:38, CU 7 - SC 10


    06:14 CU - CATANZARO 32 yd field goal, 5-11 1:01, CU 10 - SC 10


    01:55 SC - Connor Shaw 15 yd run (Jay Wooten kick), 9-60 4:19, CU 10 - SC 17


3rd 09:52 SC - Rory Anderson 2 yd pass from Connor Shaw (Jay Wooten kick), 5-66 2:18, CU 10 - SC 24


4th 13:48 CU - CATANZARO 40 yd field goal, 8-13 2:39, CU 13 - SC 24


    06:26 SC - Jay Wooten 37 yd field goal, 14-50 7:22, CU 13 - SC 27


    05:20 SC - Alshon Jeffery 18 yd pass from Connor Shaw (Jay Wooten kick), 2-19 0:41, CU 13 - SC 34



                                     CU       SC


FIRST DOWNS...................       12       19


RUSHES-YARDS (NET)............    30-70   53-210


PASSING YDS (NET).............       83      210


Passes Att-Comp-Int...........  30-11-1  20-14-0


TOTAL OFFENSE PLAYS-YARDS.....   60-153   73-420


Fumble Returns-Yards..........      0-0      0-0


Punt Returns-Yards............     2-30      0-0


Kickoff Returns-Yards.........    5-149     2-22


Interception Returns-Yards....      0-0     1-26


Punts (Number-Avg)............   6-37.8   3-34.3


Fumbles-Lost..................      0-0      0-0


Penalties-Yards...............     5-25     3-40


Possession Time...............    22:43    37:17


Third-Down Conversions........  6 of 17  8 of 18


Fourth-Down Conversions.......   1 of 2   2 of 2


Red-Zone Scores-Chances.......      3-3      4-4


Sacks By: Number-Yards........     2-16     5-34




RUSHING: Clemson-ELLINGTON 13-66; BELLAMY 3-19; WATKINS 2-9; HOWARD


1-minus 1; BOYD 11-minus 23. South Carolina-Connor Shaw 19-107; Kenny Miles


21-71; Brandon Wilds 7-24; Damiere Byrd 3-19; TEAM 3-minus 11.

PASSING: Clemson-BOYD 11-29-1-83; HOPKINS 0-1-0-0. South Carolina-Connor


Shaw 14-20-0-210.

RECEIVING: Clemson-WATKINS 4-39; HOPKINS 3-24; ELLINGTON 2-5; ALLEN 1-9;


JA. BROWN 1-6. South Carolina-Bruce Ellington 3-71; Kenny Miles 3-26; Rory


Anderson 2-57; Alshon Jeffery 2-29; J. Cunningham 1-16; Ace Sanders 1-7; D.L.


Moore 1-4; Brandon Wilds 1-0.

INTERCEPTIONS: Clemson-None. South Carolina-D. Holloman 1-26.

FUMBLES: Clemson-None. South Carolina-None.

Stadium: Williams-Brice Stad.  Attendance: 83422


Kickoff time: 7:45 pm   End of Game: 10:57 pm  Total elapsed time: 3:12


Officials: Referee: Tom Zimorski; Umpire: Keith Roden; Linesman: Michael Kelley;


Line judge: Tim Graham; Back judge: Delbert Bell; Field judge: Mike Cullin;


Side judge: Watts Key; Scorer: Ryan Johnson;


Temperature: 64        Wind: ENE 1mph  Weather: Cloudy