| | |
| --- | --- |
| Tigers elevated from wild card to contender after 4-star's visit | |
---
| | |
| --- | --- |
| Wednesday, April 29, 2015, 7:01 AM | |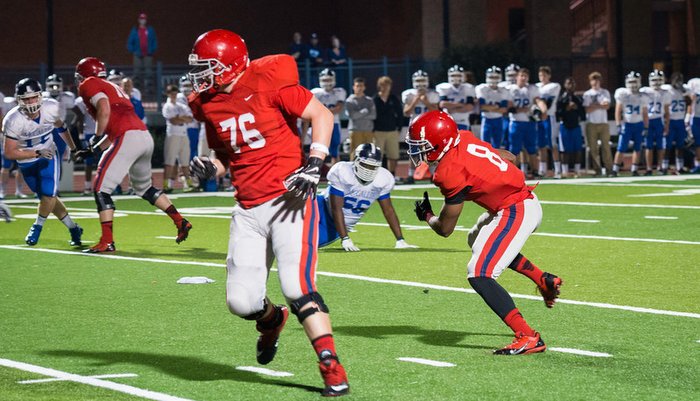 Bryce Mathews

Bryce Mathews
Offensive Tackle
6-6, 275
Brentwood, TN
ESPN:


View Full Profile has always heard great things about Clemson, but needed to see for himself what the fuss was all about.
The 4-star Brentwood (TN) Brentwood Academy offensive lineman recently visited Clemson with teammate and 2018 quarterback Gavin Schoenwald, spending time with Clemson head coach Dabo Swinney

Dabo Swinney
Head Coach
View Full Profile and offensive line coach Robbie Caldwell

Robbie Caldwell
Assistant Coach / Offensive Line
View Full Profile .
The visit was the first for the 2016 prospect, but it was a return trip for Mathews' father – Jason Mathews, former Texas A&M offensive lineman – and he told TigerNet Tuesday evening that the trip was one that he's been wanting to take for a long time.
"I've been wanting to get over there for a while because I've heard a bunch of great stuff about it," Mathews told TigerNet recently. "My dad had been there before. He's a coach for my team - he's our o-line coach - so he's been there before with the coaching staff and said it was a great place. Our defensive staff actually went there a few weeks ago and loved it. I'd always heard great stuff about it and I finally had some time to get over there for a visit. We brought a rising sophomore quarterback, Gavin Schoenwald. He's interested and wanted to see the place as well, so we brought him along. We enjoyed it. It was a good trip."
The highlight? Mathews (6-6, 275) was able to learn about Swinney's vision for the Clemson program, as well as get to know Caldwell – his position coach should he choose the Tigers.
"I got to sit down with Coach Swinney for about an hour and talk to him," Mathews said. "It was a great conversation. I loved what he had to say. I liked how he presented a Christ-like atmosphere about the place. We heard how that's important to him. It's unique to find a place like that in college football. He had a lot of good things to say and he's about morals and about the right things and about building his program the right way. There was just something intriguing about that.
"He [Caldwell] was the one showing us around for pretty much the whole day. I love Coach Caldwell. He's a great dude. He's funny. It's fun to hang out with him. My dad loves him, too. Everybody says he's great. He seems like he's a good coach. His players love him. We got to talk to a former player and he had nothing but praise for him. I know he's good guy and I'm sure he will get after you when he's coaching. He'll love you off the field whenever the coaching part is done."
Going into the visit, Mathews viewed Clemson as a wild card team, but the trip elevated the Tigers to one of his favorites.
"I loved it. It was a great visit. It was probably better than I expected it to be," Mathews said. "It definitely moved into one of my top schools after being a wild card before because I had never been there for a game or anything. After visiting there, it definitely changed my opinion. I really enjoyed it and it will be a place that I want to look at it again soon."
Mathews has 11 offers – Alabama, Clemson, Louisville, Ole Miss, Northwestern, Ohio St., Tennessee, Texas A&M, Vanderbilt, Virginia and Wisconsin – and he said that he's looking for a place that is the total package on and off the field.
"I want to find a place where I fit into the atmosphere," he said. "I feel like that's going to be a big part of it for me. I want to find a group of guys that I can surround myself with and spend the next four or five years with. It's got to be a place that is the right fit for me and a place that I feel comfortable and don't have to conform to something that I'm not."
With plenty of time before National Signing Day 2016, Mathews is taking his time to make sure he finds the perfect school.
"I'm hoping to start narrowing down some schools this summer and then best case scenario, I'd like to choose a place before my senior season starts but the time has to be right and I've to make sure it's where I want to go before I make a decision," he said. "That's the plan and how I hope it's going to go."