---
| | |
| --- | --- |
| Monday, June 2, 2014 9:44 AM | |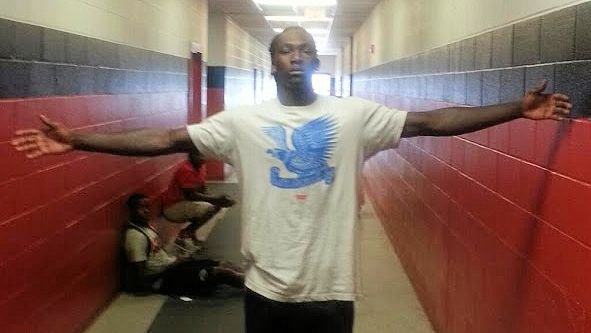 The Freak has only played two years of high school football, but Kevin Crosby knew from an early age that he was coaching a special player.
LaSamuel Davis (6-5, 218) has been nicknamed "The Freak" by his coaches and teammates because of his tall, lanky stature, his raw athletic ability and the player that he has become on the field and Crosby – the Bamberg-Ehrhardt head coach – said that he knew during Davis' freshman year that he could be the next great Bamberg defensive end.
"We knew when he was young," Crosby told TigerNet last week. "He got hurt his 10th grade year during the first game of the season. We kind of knew going into the spring of his ninth grade year that he had a good chance to be pretty good and then he got hurt in his 10th grade year. We knew he was going to be a special kind of kid. Last year he dominated some spots at d-end, standing up at outside linebacker. He showed some freak of nature and we knew he was going to be pretty decent."
Davis announced his commitment to Clemson Saturday morning at his church, and Crosby said that it was Davis' work ethic that allowed him to follow in the footsteps of great Bamberg defensive ends like Da'Quan Bowers and Ricky Sapp

Ricky Sapp
Defensive Line
# 6-4, 240
Bamberg, SC
View Full Profile .
"Da'Quan was a special player. He was bigger than this kid. Ricky was, too," Crosby said. "This kid is more developed that Ricky was at that time. He squeezes blocks well and runs to the football. His motor doesn't stop. If he's at right end, he's going all the way to the left side. That's the difference between him and Ricky and Da'Quan. His motor doesn't stop. It's go, go, go. He's very close to the things that Ricky and Da'Quan did. Those guys set the standard at Clemson. It's hard to compare those guys. He's on the same level as those guys. Those guys were five stars, and he's a three-star guy right now. A lot of people don't know about him right now, but to me personally he's one of the best d-ends in the state."
Unlike Bowers and Sapp, Davis is just a three-star, but Crosby said the rating isn't indicative of his playing abilities.
"He isn't one of these guys that wants to go on the camp circuit or on the combine circuit," Crosby said. "He's one of these guys that doesn't shoot for the stars. He's a guy that gets better where he needs to get better and will continue that in college. One star, two star or three star, it doesn't matter. That's kinda of how he looked at it. He's a player. He's an overall player and a natural football player."
Defensive end is a position that is specifically reserved for the best at Bamberg and Davis has taken pride in knowing that he has an opportunity to move on to bigger and better things.
"That's one of our positions that we talk about," Crosby said. "We've got to be good up front to stop the run and play the pass and we stress that. We put our best athletes at d-end. A lot of people put them at free safety, we put ours at athlete at d-end. They know that that's a spot that we coach up hard and the kids believe in it. Coach Crosby and Coach Travis Wilson - they do a great job of developing these guys. The kids right now, they take pride in it saying that, 'I want to be the next guy. I want to be the next d-end that comes out of Bamberg.' Like Sammy [LaSamuel], he lifts weights every day starting off in December and all the way until the season starts he's in the weight room. Our kids take pride knowing that if I've got my grades right and I'm playing good football at d-end that I'm going to have a chance to get out of here."
However, with a good strength and condition program along with sound nutrition, Crosby thinks that Davis can play multiple positions on Clemson defense.
"If he can get up to 245, which we know he can, he can play with his hand down and coming of the edge or he can play standing up at outside linebacker and drop into the flats," Crosby said. "He can do several things. He's a special kid. He played receiver for us. He runs well. He catches the ball well. He plays the run really well. He squeezes off blocks. He's 218 right now, but if he can get up to 245 in a good program and eating right, he will be an every down end."