| | |
| --- | --- |
| Observations from Byrnes 7-on-7 | |
---
| | |
| --- | --- |
| Saturday, July 12, 2014, 5:40 PM | |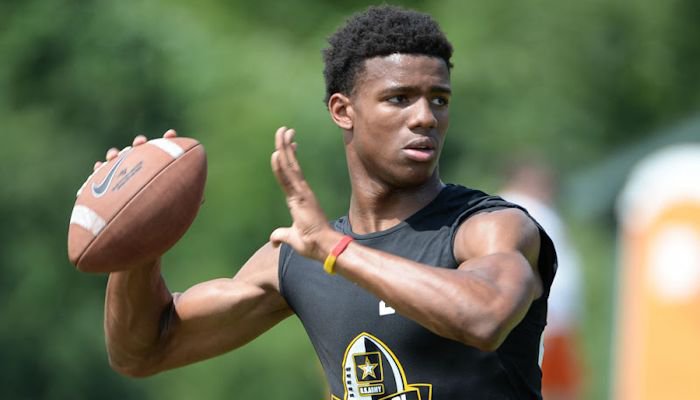 DUNCAN – A few Clemson prospects and one Clemson commit were on hand at the Byrnes 7-on-7 Palmetto Showdown Saturday afternoon.
Clemson 2015 quarterback commit Kelly Bryant

Kelly Bryant
Quarterback
6-4, 205
Piedmont, SC
ESPN:


View Full Profile of Piedmont (SC) Wren was on hand with the Hurricanes, and he told TigerNet he was beginning to get back in shape after losing almost 40 pounds dealing with Crohn's Disease.
In February, he was hospitalized with stomach pains that were thought to be caused by the medication he takes, and he later had surgery to remove an infection. His weight subsequently dropped from 205 to 167.
"I am feeling better and my weight is coming back," Bryant said Saturday. "Right now, I am weighing about 191 pounds, and my goal is to get back up to about 210 by the time the season starts. But I am feeling good, and right now I am just working on my mechanics and getting my rhythm back. I am just working on my chemistry with my receivers."
We will have more of an in-depth interview with Bryant that we will run on Sunday.
*We took the time to watch 2016 quarterback prospect Jarrett Guarantano of Oradell (NJ) Bergen Catholic. Guarantano has a Clemson offer – the Tigers were his second offer after Rutgers – and he told me Saturday afternoon that the Tigers are in his top five.
"I love what they do with their offense," he said. "They are also one of the top academic schools in the country, and they aren't just about football. They are definitely in my top five. I am hoping I can get back down at some point this season for a game. I came down back in the spring and loved it."
We watched Guarantano during a couple of games, and while it's hard to really tell a lot from a 7-on-7 where there isn't a rush, it looks like he can make all of the throws and his mechanics are more than solid. He looks a lot to Colin Kaepernick from a build and body standpoint – obviously not as muscular – but the way he stands tall in the pocket reminds me of current Clemson quarterback Cole Stoudt.
One of the opposing high school coaches told me that Guarantano was one of the stars of the tournament.
*We spent some time with 2016 receiver Bryan Edwards

Bryan Edwards
Wide Receiver
6-3, 185
Conway, SC
View Full Profile out of Conway (SC), and he just pops out at you during the passing skeletons. He has size (6-3, 205) and speed and seems like one of those prospects who just can't miss. However, it wasn't until I spoke with Conway head coach Chuck Jordan that I learned that Edwards won't turn 16 until after this season. Jordan said that Clemson really likes Edwards as a receiver, but he said that Edwards can also play safety and might even grow into an outside linebacker. For this season, Conway's plan is to use Edwards as an inside receiver.
Edwards' older sister is a sophomore at Clemson, and his grandfather played for the Tigers back in the 1970's. He told us that while his family definitely loves Clemson, they realize it's his decision.
"They know I have to make the best decision for me," he said. "I love Clemson, and I hope I can make it back up there for a game this season. Right now, if I had to say a top three, it would be Clemson, South Carolina and maybe Georgia. But I am thinking I am going to wait until the beginning of my senior season to make a decision."