| | |
| --- | --- |
| Observations: Nike's The Opening Charlotte Regional | |
---
| | |
| --- | --- |
| Monday, May 11, 2015 7:01 AM | |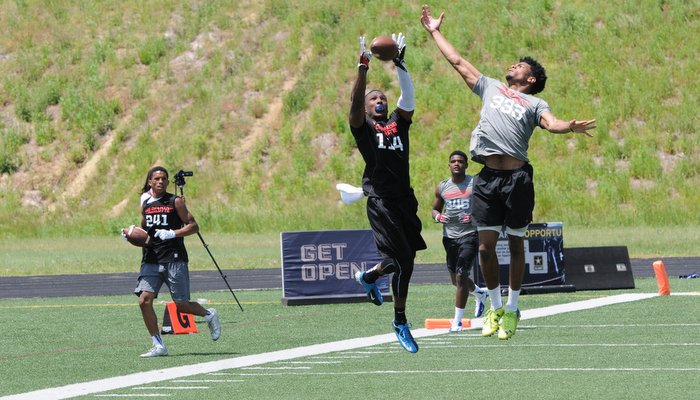 CHARLOTTE, NC – Nike's "The Opening" Charlotte Regional took place under sunny and warm skies at Mallard Creek High School Saturday, and there were plenty of top-flight performers on hand.
Due to the fact that there were so many great players – including Clemson commits and prospects – we are going to break up our observations piece into two parts, and we'll go with the offense today.
Let's jump right into it:
*We talked to 2016 offensive line commit Sean Pollard

Sean Pollard
Offensive Guard
6-5, 295
Southern Pines, NC
ESPN:


View Full Profile prior to the event, and he said that he wanted to test himself against some of the region's top competition. He got that and more Saturday, facing off against the likes of Notre Dame commit Julian Okwara

Julian Okwara
Defensive End
6-4 , 220
Charlotte, NC
View Full Profile , Florida St. commit Josh Brown
Josh Brown
Defensive End
6-3, 210
Charlotte, NC
View Full Profile and others.
During one of the 1-on-1's Okwara used his hands to get inside Pollard and you could tell that Pollard was irritated at losing the battle. However, he came over to where I was and told me the problem right away, then went out and dominated the rest of the session.
I was asked by one observer there to describe Pollard with one word, and the word that I thought best suited him was "tough." He just wants to win every battle, and he doesn't mind mixing it up. Making the performance even more impressive was the fact that he was playing left tackle, a position he hasn't really played. However, he got better with each rep and eventually earned an invite to The Opening in Beaverton, Oregon, later this summer.
One other quick thought on Pollard, and this probably only interests those of us who still have a bit of the kid in them – dude can belch with the best of them. I was shooting a series of photos near the offensive lineman and he let one loose that cracked up the whole bunch. Later on, my back was turned as a group of players walked behind me, and I heard another roaring belch – I grinned and thought "Pollard." Sure enough. He later told me that he developed quite the burping proficiency while spending time with his grandfather.
*There was an impressive group of wide receivers on hand, and I took advantage of the rules to get right in the middle of the action during the drills and 7-on-7's. Athlete Mecole Hardman

Mecole Hardman
Wide Receiver
5-11, 175
Elberton, GA
ESPN:


View Full Profile – in my opinion – was the best of the group of receivers on hand and in many respects it wasn't even close. The Elbert County (GA) prospect told us beforehand that he had Georgia and Tennessee as his top two, but that Clemson was still very much on the radar.
He is, of course, related to Clemson running back Tyshon Dye and he said that Dye is always in his ear about Clemson. Hardman said that he has gotten busy taking visits and needs to get back on Clemson's campus, something that should happen by the end of June. Hardman told us he sees what Artavis Scott accomplished in Clemson's offense last season and he feels like he could do the same.
Once the drills started, Hardman quickly showed his speed and whenever he would step to the line the rest of the receivers would shout, "speed kills!" During one play Hardman faked right and then went left so fast the defender fell down. Once Hardman got back to the line I said, "Meco, I think you broke his hip." He grinned a big grin and said, "I don't think anybody here can cover me."
Another receiver that I spent a lot of time watching was 2016 Clemson commit Cornell Powell

Cornell Powell
Wide Receiver
6-1, 185
Greenville, NC
ESPN:


View Full Profile out of Greenville (NC) Rose. We spoke to Powell when he first arrived and he said he was going to use the combine to try and get a fifth star. He didn't disappoint in any way – he caught everything that was thrown his way, and he looked more polished as a receiver than I thought he would. He came out of his breaks clean, had a good burst off the line, didn't mind punching the defender to gain separation and showed fantastic speed on the long routes. Keep in mind – a lot of times a receiver at these events looks only as good as the quarterbacks who throw them the ball and there were some really inaccurate balls thrown what seemed like every time Powell's turn came up.
As a result, Conway's Bryan Edwards

Bryan Edwards
Wide Receiver
6-3, 205
Conway, SC
ESPN:


View Full Profile got the opening invite (and make no mistake about it, Edwards was smooth and did everything right, also looking polished) and Powell didn't. However, if I had to rank all of the receivers I saw it would be Hardman, Powell, Crestview (FL) receiver Marquis McClain and then Edwards. I tried to watch the entire route – from beginning to end – and not worry about whether the quarterback was accurate.
Also, Powell looks like an NFL receiver right now in terms of how he looks physically. Dude has some guns and doesn't mind throwing a quick punch at a defender to create separation.
Another receiver we watched was Diondre Overton

Diondre Overton
Wide Receiver
6-5, 195
Greensboro, NC
View Full Profile out of Greensboro (NC) Page. Overton told us he hears from Clemson or calls the Clemson coaches almost every other day, and when I gathered the three Clemson commits (Pollard, Powell and J.C. Chalk

J.C. Chalk
Tight End
6-4, 221
Argyle, TX
ESPN:


View Full Profile ) together on the sideline for a quick pic, Powell and Pollard both screamed, "This is a picture for Clemson guys, Diondre, get over here!" Overton grinned a big grin and came over to get in the shot….you make your own deductions out of that.
Overton told us that Clemson would like to use him in the "9-man" receiver position that was played by DeAndre Hopkins, then Sammy Watkins his last season and Mike Williams last season. Already 6-4 and over 200 pounds, Overton is a perfect fit for that position and he showed his raw talent on the field Saturday.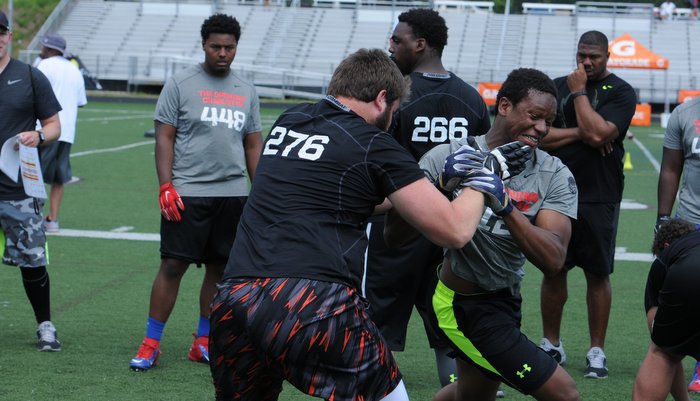 He is flat out explosive in his cuts and he can jump with the best of them – the one real issue we saw Saturday was a tendency to not catch everything. If I had to tell you where he stands – at least at this point – he seems to be better than Martavis Bryant at the same point and maybe a smidge behind where Williams was. Get past the catches, however, and his talent just jumps out at you.
*Finally, we can talk about J.C. Chalk, the tight end out of Texas who has been committed to the Tigers since last summer. I asked him why he would come to the event all the way in Charlotte, and he smiled and said he didn't have anything better to do and he thought he would come up and spend some time with some future teammates. Pollard has taken on the mantle of recruiter – held by linebacker Chad Smith last year – and he spent a good deal of time with Chalk.
During the drills, Chalk appeared to be a tad faster than I remembered from last year's camp at Clemson and he looks more college ready. He has good hands and doesn't mind getting physical with a linebacker or defensive back coming off the line. Sporting a pair of Clemson socks, he showed nifty footwork in the cone drills. During the passing drills, I didn't see any of the younger quarterbacks in his group really get a pass near him, but I still liked the way he ran his routes.
**Clemson safety Van Smith was on hand – along with his dad and NC State quarterback Jalan McClendon – to watch the event. Since the end of Clemson's spring practice, Smith has been working out with his old 7-on-7 teammates in an effort to stay in shape.
Also on hand was former Spartanburg, Auburn and Washington Redskins running back Stephen Davis, who was there to watch his son. Stephen Davis, Jr., has a Clemson offer, and we will have more on him in the next installment.
*Another notable visitor in the middle of the drills was former South Carolina defensive back and current Buffalo Bill Stephone Gilmore. I asked Gilmore how well he got along with Sammy Watkins, and he laughed and said they have a great rivalry in practice. One can only imagine the trash talk between those two.
Congrats to the 9 newest invites to #TheOpening Finals 2015 from #TheOpening Charlotte. #GOTOPEN pic.twitter.com/E9IEiFRVBJ

— The Opening (@TheOpening) May 9, 2015