---
| | |
| --- | --- |
| Sunday, October 26, 2014 1:53 AM | |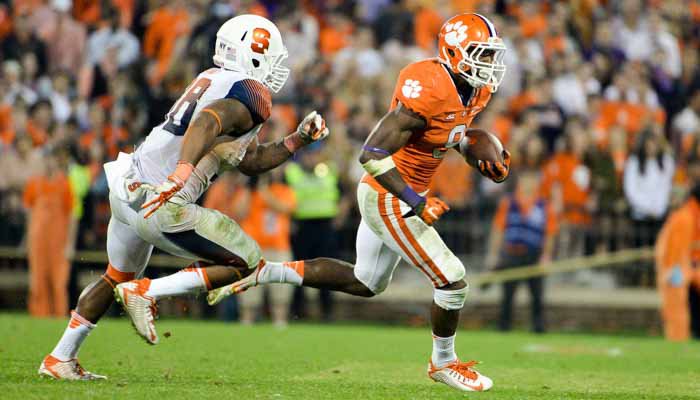 CLEMSON – Clemson's offense has been beset by injuries this season, but offensive coordinator Chad Morris isn't going to use that as an excuse for the Tigers' offensive malaise.
The offense has scored just three touchdowns in the last 12 quarters, and Saturday's effort in a 16-6 win over Syracuse was desultory at best. Four turnovers didn't help, but the offense found enough of a rhythm late to run the last eight minutes off the clock and seal the victory.
Morris said that with all the injuries – and suspensions – the offense is having trouble finding any kind of a groove.
"It's hard to get into any kind of rhythm but our guys - they aren't complaining, they aren't making any excuses and we're not making excuses for them," Morris said after the game. We've got to get it done. Our job is to put points on the board. We've got guys on scholarship, too, and they fill in.
"Outside of listening to music, I don't know if there is much rhythm right now. That's tough. We did that with a backup center - Reid Webster

Reid Webster
RS Sr. Offensive Tackle
#77 6-3, 300
Woodstock, GA
View Full Profile . Reid Webster has played right guard, right tackle and now we asked him to play center. I'm very proud of those guys. Our guys are fighting as hard as we've ever fought. We just don't have many to fight with right now but we're going to keep fighting."
Morris said the Tigers have just enough pieces left to get the job done.
"Going with what you got is our motto. We ain't got much but we've got all we need," he said."These guys have got to take that mentality and come together and keep growing together. We're going to get guys back over the next few weeks that will provide depth and add life to us and give us a breath of fresh air. That's coming but until then we're still winning. Our defense is playing hard and playing well but we've got to generate momentum early in the game."
The Tigers were able to run out the last eight minutes of the game clock, using 15 running plays to seal the win.
"I thought our tempo wore them down. I thought it wore them down early in the game," he said."I thought we played with really good tempo but when you're tempoing you got your guys, too. They're telling me, 'Stay with the tempo, coach. Stay with the tempo.' We got into a rhythm right there. One of the things that really helped right there was some key runs by Cole. They were doing some things that the only answer was a quarterback run. I wasn't going to throw the football. I wasn't going to put it in the air. We were going to to run the football. I told them that, 'We are running the football and Cole is going to have to make some plays.' He did that in some critical situations which was key."
Morris said he's never seen a season where a team has been marred by as many injuries.
"When you lose your starting tight end during pregame warmups at Georgia - he breaks his leg running a route against air - you probably should've known something then and you better hang on," he said. "I will say this - those that know these guys and know what they're going through and know the work that they put in - my hat is off to our guys. They don't gripe. They don't complain. We've changed the way we practice and they keep up and they keep responding.
"Now, I'm very disappointed in the way we performed the first half. Everybody is waiting on somebody else to make a play. Everything you see coming into halftime - everybody is waiting on someone else to make a play. That was our challenge at halftime. I was very disappointed in them - turning the ball over. Our challenge is somebody in that room - and it can't be a coach because they can't play - somebody has to come together and make a play. Let's get somebody a hot hand and stick with it. That was our challenge. These guys are giving great effort. For whatever reason, the depth that we have is a challenge right now to these guys but they are working their tail off.