---
| | |
| --- | --- |
| Monday, October 17, 2011 11:23 PM | |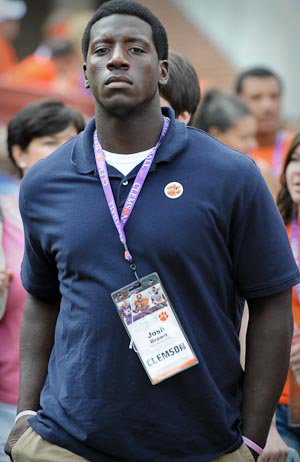 The Clemson Tigers picked up commitment number 20 for the 2012 recruiting class Monday evening, getting a player who describes himself as "old school."
South Aiken defensive tackle Josh Brown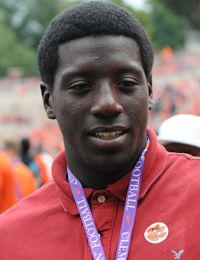 Josh Brown
Defensive Tackle
6-5, 290
Aiken, SC
View Full Profile , a 6-5, 281-pounder who was offered before Clemson's season opener against Troy, told TigerNet Monday evening that he decided the time was right to make a decision after talking with his family and coaches.
"I talked to my coaches after practice today, and then I talked to my family," he said. "I told them I had made a decision, and they told me they were proud of me. I tried to reach Coach [Dan} Brooks first, and then I tried Coach [Charlie] Harbison. I talked to him first, and then I talked to Coach Brooks and Coach [Kevin] Steele, the defensive coordinator. They were all happy. And then I talked to Coach Swinney about 10 minutes ago, and we talked about everything. Clemson is the only school that would talk to me about things other than football, and that is one of the things I liked."
Brown said he had been thinking Clemson was the place for a while.
"I have had Clemson on my mind for a long time," he said. "I keep hearing from players like Martin Aiken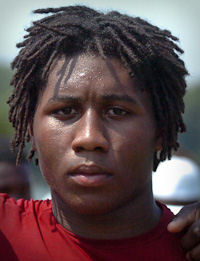 Martin Aiken
Defensive End
6-3, 250
Bamberg, SC
View Full Profile , and then I heard Friday night about Carlos Watkins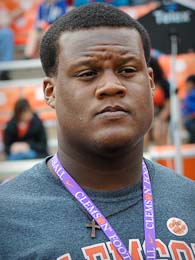 Carlos Watkins
Defensive Line
6-4, 285
Forest City, NC
View Full Profile committing, and I said, 'Okay, this is good. I think it is the place for me.' I didn't really expect to commit this soon, but I am glad I got it out of the way. I can definitely see myself at Clemson, and I am ready to work hard and see what I can do. I want to see what my true calling is. This is basically a new step for me, a new breath of air, and I am ready to see what I am capable of."
He said that he has a great relationship with Brooks, and feels like he is the type of player Brooks wants.
"We have a great relationship, just because he is so honest," he said. "I am old school, and I have been taught that if you don't do it right, then don't do it all. He says he is an old school football guy. I am used to somebody pushing me to be better – that is my whole lifestyle. I think he can make me better."
He said that he also feels at home at Clemson.
"I love the family atmosphere they have there," he said. "It is just one big family."
He also likes the fact that he is joining a solid class of defensive linemen.
"It is great that we have all of those guys, because we are going to come together as one and we should be a force," he said. "My coach told me, 'Now that they have you and that other defensive tackle, you should be destroying people.' I don't know what will happen, but I feel blessed. I don't deserve this nor have I earned this. I shouldn't even be in this recruiting class, but I am and I feel blessed."
Brown picked Clemson over Georgia State, PC, and VMI. He was reportedly on the verge of adding offers from Kentucky and North Carolina State.