| | |
| --- | --- |
| Clemson's Iron Man Dishes on Okey | |
---
| | |
| --- | --- |
| Sunday, February 2, 2014 11:50 AM | |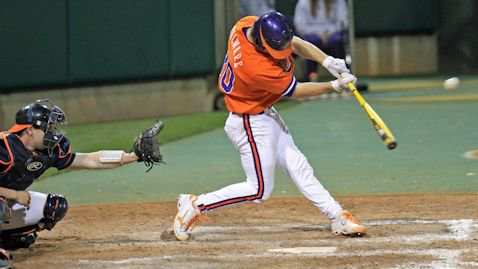 CLEMSON –The tools of ignorance.
Any player donning the protective head gear, face mask, chest protector and shin protector required to sit behind the plate and catch blazing fastballs and wicked curves for nine innings is said to have put on the tools of ignorance.
According to legend, the phrase was coined by Muddy Ruel or Blll Dickey sometime in the last century. The usage was meant to be ironic, contrasting the intelligence needed by a catcher to handle the duties of the position with the foolishness needed to play a position hazardous enough to require so much protective equipment.
Clemson's Garrett Boulware

Garrett Boulware
Jr. Catcher
#30 6-1, 210
Anderson, SC
View Full Profile wore those tools with pride last season, but there was no doubt that by the time the Tigers' season ended in the NCAA Regionals, Boulware was running on fumes. And with good reason - he started 60-of-62 games, ranking third on the team in plate appearances (257).
Boulware had a standout season at the plate, leading the Tigers in home runs (8), RBI (45) and slugging percentage (.476), while ranking second-best in average (.308). He also had 12 doubles and a triple, but admitted that he began to wear down in the heat of the early summer while playing almost every inning of every game behind the plate.
Enter Chris Okey

Chris Okey
Fr. Catcher
#25 6-0, 180
Mount Dora, FL
View Full Profile , one of the nation's highest-ranked catching prospects. The Clemson coaches hope that Okey (out of Eustis, FL) is enough of a force offensively and defensively to give Boulware a breather.
"Garrett Boulware and Chris Okey are two real quality catchers," Clemson coach Jack Leggett

Jack Leggett
Baseball Head Coach
View Full Profile said last weekend. "Garrett's arm is getting better and offensively, they both swing the bat well. One of them will be catching and the other will be DHing, at least in the beginning."
Okey was rated as the No. 4 high school catcher nationally following his senior season, and was the highest-ranked catching prospect to not sign a professional contract. He was drafted in the 31st round (#928 overall) by the San Diego Padres.
Leggett said having an extra catcher – especially one of Okey's caliber – is a blessing.
"It helps a lot," said Leggett. "They're both really competitive and both really good leaders for us. They've both got the personality. We'll figure out who our top guy is when it's all over, but now we could play either one of them and feel really good about it."
Boulware said the competition should make both of them better players.
"I see the positives," Boulware said. "He's good, and he requires me to play at the top level. I cannot slack-off, because if I do, he's not. It pushes us to become better baseball players, and it's comforting to know that if you're not in the game, you've got a kid back there who's just as good as you are.
"He's a very good catcher, and a very good baseball player. It's exciting to have that, even if it keeps you a little on-edge. It'll be fun."