| | |
| --- | --- |
| Artavis Scott on reaching milestones: "I've got bigger goals than that" | |
---
| | |
| --- | --- |
| Saturday, December 20, 2014 2:01 PM | |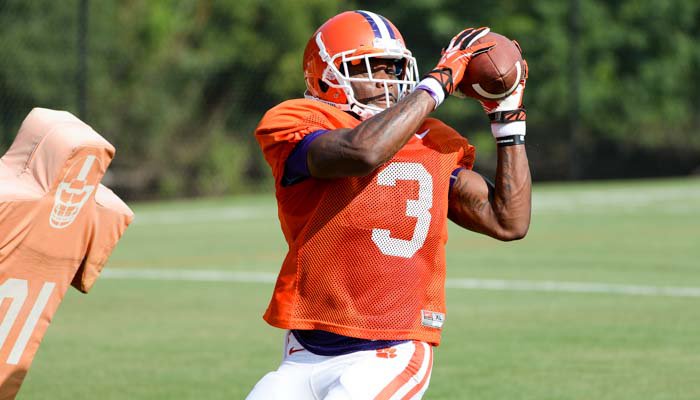 CLEMSON – Artavis Scott

Artavis Scott
Fr. Wide Receiver
#3 5-11, 190
Oldsmar, FL
View Full Profile had one of the best freshman seasons in Atlantic Coast Conference history, but don't expect the Florida native to rest on his accomplishments.
The freshman led all Atlantic Coast Conference rookie receivers in receptions, yardage and touchdowns – numbers that helped him be named to two first-team Freshman All-America teams this week. Scott has 68 receptions for 851 yards and seven touchdowns this year. His reception total is third best in the nation among freshmen and ranks second in school history for a freshman.
Only Sammy Watkins

Sammy Watkins
Wide Receiver (2011 - 2013)
#2 6-1, 205
Fort Myers, FL
View Full Profile ' 82 receptions in 2011 rank higher among Clemson freshmen. Scott leads the Clemson team in touchdowns this year, and Clemson fans will long remember Scott torching the South Carolina defense with seven catches for 185 yards and two touchdowns in Clemson's 35-17 win over their rivals late last month. It was the most receiving yards in the history of the rivalry by a Clemson player, and the most in any game by a Clemson freshman.
Don't expect him to be satisfied, however.
"It's a big accomplishment," Scott said earlier this week after practice. "But I've got bigger goals than that."
Clemson head coach Dabo Swinney

Dabo Swinney
Head Coach
View Full Profile says Scott reminds him of Watkins – because of his work ethic – and expects him to get better.
"A lot of guys want to get results, but they don't want to do the work," Swinney said. "He's put the work in and he's gotten the results. I'm really happy for him. It validates why you pay the price. And he's just going to get better. He's going to get stronger, he's going to get faster, and he's going to get more confident. He's got some experience now and that's going to take him to another level next year. He's a guy who takes a lot of pride in his performance and trying to be a consistent performer. "Every day at practice, every drill, he's one of those guys who stays after practice and works on the little things. When you have those qualities, to go with that talent, you get a good player."
Scott was one of three freshmen receivers to show up last January – along with the since-departed Demarre Kitt

Demarre Kitt
Fr. Wide Receiver
#8 6-1, 183
Tyrone, GA
View Full Profile and Kyrin Priester

Kyrin Priester
Wide Receiver (2014)
#17 6-1, 186
Lilburn, GA
View Full Profile – and he said that an early arrival made a big difference both in the classroom and on the field.
"Coming in early was a big benefit," Scott said. "Getting a jump on things was critical. It gave me a chance to get my school (classes) right and learn the offense and pick up on some things. I knew I'd be able to come out here and do what I had to do. I knew I was a baller. It happened a little quicker than I thought it would, but coach put me in the right position."
Coming out of high school, many wondered whether Scott would be the next Sammy Watkins, and while many cautioned that Scott lacks Watkins' top-end speed he still wound up with four touchdown plays of 50 yards or more, showing an explosiveness reminiscent of Watkins.
Don't ask Scott if the comparison is valid, however.
"You always pay attention to great players – they show you a lot," Scott said. "It's big to pick up on their games and watch film and see what they've done and how they set themselves apart from everybody else. But I'm my own person. I've never looked at somebody else and said, 'Hey, I want to be him.' Now some of the things that they do I would like to be do, but I never said that I want to be that person. People compare me to other players all the time, but that doesn't matter to me. I'm just going out and playing my own game."
Despite the fact that Scott is continuing a legacy that includes Watkins and Nuk Hopkins – both first round draft picks – he still thinks the best is yet to come.
"We've had some great receivers who came before us, but our standard is not set," Scott said. "We have to build on what we have as a person and as a team. We've still got a lot to prove."