| | |
| --- | --- |
| 5-star LB Rahshaun Smith details Clemson visit, says "Clemson is special" | |
---
| | |
| --- | --- |
| Monday, November 9, 2015 10:09 PM | |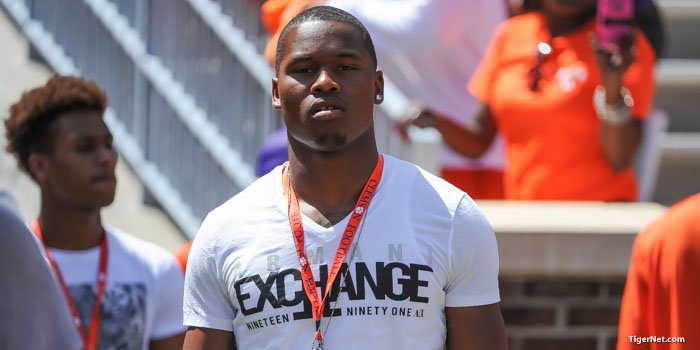 The biggest target left on Clemson's recruiting board for the 2016 recruiting cycle might just be 5-star linebacker Rahshaun Smith, and Smith was on Clemson's campus this past weekend to watch the Tigers defeat Florida St. 23-13.
It was a visit he won't soon forget, and he told TigerNet in a rare interview that Clemson is a place he can see himself playing.
"It was definitely a good visit. It's always a good time going to Clemson," the Bradenton (FL) IMG standout told TigerNet. "There's a lot of love there. You definitely feel like you're at home. The fans know me. The coaches always show love when I go. The game atmosphere was second to none. It was pretty loud the whole game. The defense did a good job of stopping Dalvin Cook. It definitely left a good impression and I could see myself there."
We asked Smith if he watched Clemson linebackers Ben Boulware and B.J. Goodson during the win, and he said yes while showing off his knowledge of Clemson's defense.
"All game. Those two are dynamic players," he said. "It's hard to fill the shoes that Stephone Anthony and Tony Steward left. They're doing a good job playing their part. B.J. Goodson was consistent all game and played real well. Ben Boulware had some hiccups in the first half, and he came out in the second half and made up for it. He made up for everything that he lost in the first half and made some heads up plays and showed why he's one of the top linebackers in the country."
Prior to the Tigers rubbing the rock and running down the hill, some recruits were allowed to watch the proceedings from the side, and the experience stood out to Smith because of the way he was treated by the students and fans.
"That was my second time doing that. I did it when I went to the game last year against Syracuse," Smith said. "This time when I did it and I was running through the field, when I got over by the student section there was eight thousand plus in the student section and they all started clapping and cheering. They were cheering me on and saying my name. When I was running up the hill all of the fans were reaching out for me and calling my name. That definitely gave me chills. That definitely meant a lot to me and showed me my value at Clemson."
Smith said Clemson's coaches didn't pressure him during the visit; instead they told him to just have fun, something that meant a lot.
"They just wanted me to enjoy myself and enjoy the visit. I think the whole Clemson staff is a confident staff," he said. "They have never put too much pressure on me. One of the main things I like is that they've always supported me in everything I did. When I was committed the first time, they always supported me in my recruitment. When I committed they still supported the same way. Now that I'm decommitted they still support me and encourage me to take my visits. We still talk often. They ask me how my visits are going. They've always been good coaches, and they want what's in my best interest."
The Baltimore native has national offers from Alabama, Arkansas, Boston College, Clemson, Connecticut, Florida, Florida State, Georgia Tech, Indiana, Iowa, Kentucky, Maryland, Miami, Michigan, North Carolina, North Carolina State, Notre Dame, Ohio State, Oklahoma, Oregon, Oregon State, Penn State, Rutgers, South Carolina, Tennessee, USC, Virginia, Virginia Tech, Wake Forest, Wisconsin and others.
Smith committed to Clemson in March, choosing the Tigers over LSU, Alabama, Florida State, Miami, and others. However, he ended that commitment in August so he could take other visits. He's already taken a visit to LSU and will visit Clemson in December (he rode up with T.J. Chase this past weekend). Next up is an official to see Auburn and Alabama in the Iron Bowl at the end of the month, his school in early January and early enrollment.
"I'm going to Auburn for the Iron Bowl the weekend of the 27th. Right now, I'm just getting into my offseason swing of things because my season ended pretty early, so I'm just adjusting to that again and getting ready to sign," he said. "Wherever I end up come January, I'm going to go in there and hit the ground running. I'm going to announce my decision on January 2nd at the Under Armour game. Everything is still open. My top kind of narrowed down itself to the schools that I'm taking officials to. I'm still open. I'm open to hear what coaches have to say."
Smith said his list of leaders is easy to recognize – the places he's taken official visits – but did detail why the Tigers have stayed in the conversation.
"I appreciate the support of the staff and the love they've always showed me and how they've always treated me. Clemson is special," Smith said. "A lot of people hear Coach Swinney talk about how special Clemson is, but not a lot of people get to experience that. Me being a recruit and being back a couple of times I've gotten to experience how special it really is and things like that. If I end up at Clemson, I will have a chance to play early."