| | |
| --- | --- |
| Sons Bowl Rosters Announced | |
---
| | | |
| --- | --- | --- |
| Friday, April 10, 2015, 11:38 AM | | |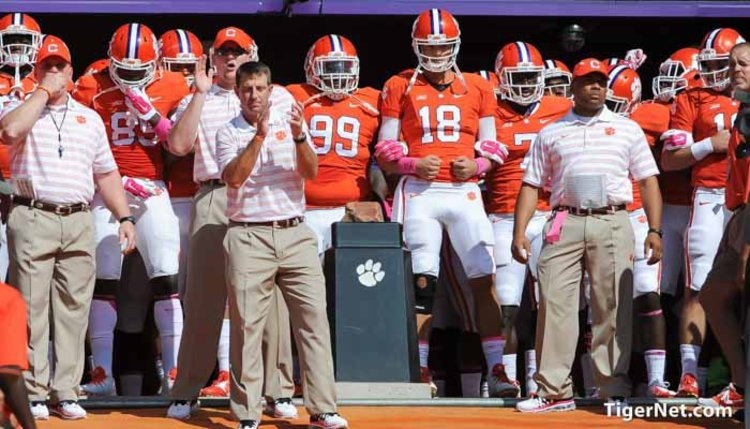 CLEMSON, S.C. — Rosters for the 2015 Sons of Clemson Bowl have been announced. The annual flag football event pits an orange team against a white team, and features various alumni from several generations of Tiger football.
Three players who were All-ACC performers are slated to compete in the Sons Bowl, led by 1981 National Championship quarterback Homer Jordan. One of the coaches for the white team is 1973 graduate Bobby Johnson, who went on to serve as head coach at Furman and Vanderbilt from 1994-2010.
The event gets underway at 12 noon on Saturday and precedes the Orange & White spring football game in Memorial Stadium. Following the event at approximately 2 p.m., members of the Sons of Clemson Bowl will sign autographs in Section T.
Orange # White #
Larry Keys (coach) 79 Frank Cox (coach) 68
Wayne Mulligan (coach) 56 Bobby Johnson (coach) 87
Michael Allen 10 William Bell 42
Ben Anderson 25 Tee Carrigan 59
Mitch Belton 32 Chris Chancellor

Chris Chancellor
Defensive Back
# 5-9, 163
Miami, FL
View Full Profile 39
Richard Butler 19 Harold Coleman 35
Airese Currie 1 Bradley Flowers 22
Jason Greene 88 Rashard Hall

Rashard Hall
Safety (2008 - 2012)
#31 6-2, 210
St. Augustine, FL
View Full Profile 31
Scott Higgins 96 Tyrone Hill 8
Donnie Jewell 1 Clayton Kerr 70
Homer Jordan 3 Rush Lowther 11
Lee Kendall 31 Gary Massey 24
Kevin Kreis 61 Reggie Merriweather 33
Chuck Lynch 18 Reid Murdock 27
Cary Palmer 43 Jimmy Ness 7
Timothy Parr 60 John Price 70
Jon Peterson 72 Bernard Randolph 95
Lane Price 88 Joe Don Reames 16
George Rabon 84 Patrick Sapp 3
Sam Van Gieson
Sam Van Gieson
Long Snapper (2008 - 2012)
#56 5-9, 185
Greer, SC
View Full Profile 56 John Thompson 44
Mike Webber 82
Rick Wyatt 28