| | |
| --- | --- |
| Wednesday night news and notes | |
---
| | | |
| --- | --- | --- |
| Wednesday, March 13, 2013, 8:36 PM | | |
CLEMSON – The big news coming out of Wednesday's practice appeared to be the continued emergence of defensive end Vic Beasley
Vic Beasley
RS So. Defensive End
#3 6-3, 225
Adairsville, GA
View Full Profile , who had a big scrimmage in the Tigers' last practice before a 12-day break for spring break.
However, that was before Clemson head coach Dabo Swinney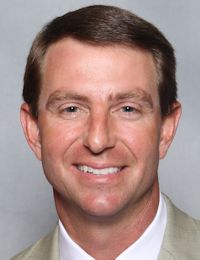 Dabo Swinney
Head Coach
View Full Profile – at the prompting of Sports Information Director Tim Bourret – announced that linebacker Justin Parker
Justin Parker
Jr. Linebacker
#8 6-1, 235
Port Royal, SC
View Full Profile 's playing days were over.
Swinney said that Parker met with him on Monday, and informed him of the decision.
"It was, literally, out of left field. He's healthy, as far as his body goes," Swinney said of Parker, who red-shirted last season after groin surgery. "He said that he just can't do it anymore with his left knee. Justin is one of the most respected guys with this team. Never been one issue with him, has handled himself the right way. He's kept a lot to himself. He's been playing with pain - said he wakes up with pain every day.
"He's been playing a long time. It's something he's dealt with since high school, with his left knee. He's just got bone on bone. He's just been doing a lot of thinking. He said he can't do it anymore. The last thing I want is a guy taking Advil every day, just to get through the day."
Swinney said he hated to see Parker's career end, but respected the decision.
"I hate it for him. He's a very mature young man," he said. "I appreciate his efforts and all that he's done. I hate to see his career cut short. It happens too often in this game. But that is something that will happen for all of us. One day, it will just be over."
Swinney said Parker will stay with the team as a student coach, will keep his scholarship but it won't count against the 85.
*Swinney said the Wednesday practice included certain scrimmage situations, and he hopes the team will be ready for a full scrimmage when they get back together after spring break.
"We covered a lot of situations in the half scrimmage we had today," he said. "When we come back, we'll ramp up that Monday, Wednesday, and Friday to get ready for that first big scrimmage."
*The team practiced in full pads for the first time this past Saturday, and Swinney said he was more than pleased with the effort.
"It was outstanding, very physical," Swinney said. "We're going to open up with a top five, top 10 team and we've tried to create that atmosphere in practice."
*The head coach continued to brag on his defensive front seven, and said that the group doesn't have a "miss" in the group along the front.
"There's not a miss in that group. Corey Crawford
Corey Crawford
So. Defensive End
#93 6-5, 270
Columbus, GA
View Full Profile , Shaq Lawson

Shaq Lawson
Defensive End
#90 6-4, 240
Central, SC
View Full Profile , Ebo Ogundeko, Kevin Dodd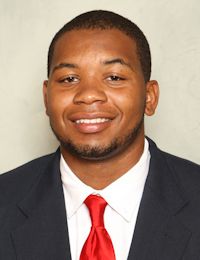 Kevin Dodd
Fr. Defensive Tackle
#98 6-5, 280
Greer, SC
View Full Profile , Martin Aiken
Martin Aiken
Fr. Defensive End
#53 6-2, 255
Bamberg, SC
View Full Profile , those guys can play," he said. "Every one of them can play. What I see happening there is what I think will happen in the secondary when all those pieces get here in the summer."
*Swinney said that if he had to pick a leader in the battle for backup quarterback, it would be incumbent Cole Stoudt
Cole Stoudt
So. Quarterback
#8 6-5, 205
Dublin, OH
View Full Profile .
"Cole's probably had his best five practices [this spring] since he's been at Clemson," Swinney said. "If I just had to pick someone, it would be Cole. He has been very, very impressive these first five days."
*Beasley picked off a Tajh Boyd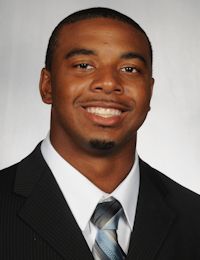 Tajh Boyd
RS Jr. Quarterback
#10 6-1, 225
Hampton, VA
View Full Profile pass during the scrimmage and returned it for a touchdown. It was the second pick-six for Beasley this spring, and he told us that he read Boyd's eyes and put himself in position to get the interception.
Swinney said Beasley has improved tremendously since last season.
"Last year, Vic Beasley was like a science project that we hoped would work. He's got a chance to be pretty doggone good."
*He said that the Tigers have been thin at defensive back all spring, and with injuries to Jadar Johnson and Travis Blanks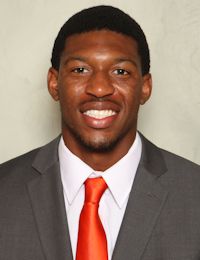 Travis Blanks
Fr. Defensive Back
#11 6-1, 190
Tallahassee, FL
View Full Profile early in camp, an already-thin group has become even thinner. Swinney said that he can't see a scenario where the incoming freshman defensive backs won't play this season.
"They're not all going to be ready. You just never really know," Swinney said. "Who you think is going to be ready, he'll come in and he won't be ready. Who you think, 'That guy will never play as a freshman.' He'll shock you. You just never know. They're all talented."
*Swinney said that defensive back Garry Peters
Garry Peters
RS So. Defensive Back
#26 6-0, 195
Conyers, GA
View Full Profile , who has missed the first part of spring practice after being suspended by Swinney, will probably miss another practice or two after the break before returning to the team.
*Blanks "got his bell rung pretty good" in Monday's practice, and Swinney said it was a "slight concussion, whatever that is." However, Blanks should be cleared to play following the break.
* Bashaud Breeland
Bashaud Breeland
RS So. Cornerback
#17 6-0, 195
Allendale, SC
View Full Profile was not at practice today. He was with family after his grandfather suffered a stroke.

Tags: Clemson Football
,
Bashaud Breeland
,
Cole Stoudt
,
Corey Crawford
,
Dabo Swinney
,
Garry Peters
,
Justin Parker
,
Kevin Dodd
,
Martin Aiken
,
Shaq Lawson
,
Tajh Boyd
,
Travis Blanks
,
Vic Beasley