| | |
| --- | --- |
| Swinney talks new hire, final bowl preparation | |
---
| | | |
| --- | --- | --- |
| Friday, December 21, 2012, 2:01 PM | | |
CLEMSON – The Clemson football team held its last practice before the Christmas break Friday morning, and head coach Dabo Swinney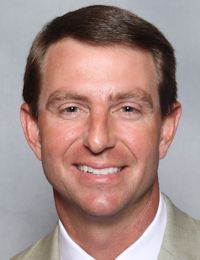 Dabo Swinney
Head Coach
View Full Profile met with the media for the last time before the team reassembles after Christmas for the bowl game.
The following is an edited transcript:
Opening statement
"No earth shattering news today. We wrapped up practice and we had good preparation. We had a really good few weeks of work in combination and balance of trying to prepare for LSU and work on ourselves. A lot of good competition. But the hay is in the barn at this point. The game plans are done. The guys are going to get out of here this afternoon and enjoy Christmas with their families, and we will get back together Christmas night and start back to practicing the 26th and have a normal game week from a preparation standpoint. We are excited and looking forward to it. Health wise, we are in good shape."
On the physicality of recent practices
"You have to prepare your team for what you are going to see."
"You have to prepare for your team for what you are going to see. It doesn't do any good – if you play Georgia Tech – to not cut them in practice. That is not something you see all the time. If you don't cut [block] them in practice and don't simulate it, when you get in the game it's a nightmare. You have to simulate that. From time to time you have to make adjustments. One of the biggest improvements we made as a defense was when went live to the ground for two weeks. Nobody does that. It was the only way we were going to improve as a team. We had veteran players last year and didn't do that. If you have Andre Branch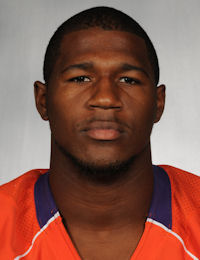 Andre Branch
Defensive End
#40 6-5, 260
Richmond, VA
View Full Profile and you go live, he is going to kill somebody. But we improved in a lot of areas we needed to improve. To prepare them for what they are going to see [against LSU] we went good on good and did a lot of Oklahoma drills."
On if there are any academic casualties
"I don't have that yet. I was hoping to have something before I met with you guys. There is something in that certification process they still have to do."
On the hire of new secondary coach Mike Reed
"I can't comment on any personnel decisions right now. I am really excited about the direction we are about to go in. But there is a process from a university standpoint that has to be done before I can comment on any hires. I think we will have a great guy on board, hopefully sooner rather than later.
On if Reed could be hired officially before the bowl game
"I don't know. I do know that at some point it will be done before we get back out on the road recruiting."
.