| | |
| --- | --- |
| Mid-year enrollees already "about their business" | |
---
| | | |
| --- | --- | --- |
| Saturday, February 8, 2014, 11:08 PM | | |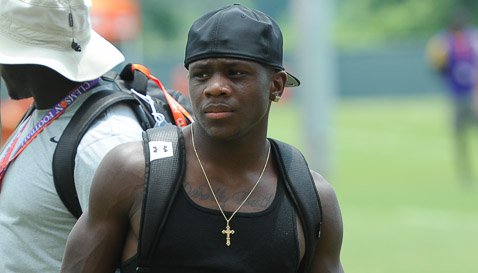 CLEMSON – The learning curve for college freshman athletes is steep, and many newcomers need a year to acclimate to the college environment, the structure of a new team and their newfound freedom.
Those invaluable years are call redshirt years, and unless a player is one of the ones that can help out right away or is mature beyond his years, those seasons of adjustment pay dividends later in their careers.
However, more and more college athletes are trading in their final semester of high school life – along with the prom and graduation with their classmates – for early enrollment into their new schools. They enroll in January, enabling them to participate in their team's spring practice.
Clemson had five members of its 2014 recruiting class enroll in January - quarterback Deshaun Watson

Deshaun Watson
Quarterback
6-3, 190
Gainesville, GA
ESPN:


View Full Profile , wide receivers Demarre Kitt

Demarre Kitt
Wide Receiver
6-1, 195
Tyrone, GA
ESPN:


View Full Profile , Kyrin Priester

Kyrin Priester
Wide Receiver
6-2, 190
Snellville, GA
ESPN:


View Full Profile and Artavis Scott

Artavis Scott
Wide Receiver
5-11, 180
Tarpon Springs, FL
ESPN:


View Full Profile and linebacker Chris Register

Chris Register
Outside Linebacker
6-4, 210
Greensboro, NC
ESPN:


View Full Profile . Walk-on Kurt Fleming – who had been playing baseball in the Atlanta Braves farm system – makes it six.
Clemson head coach Dabo Swinney

Dabo Swinney
Head Coach
View Full Profile said Wednesday that he thinks this will be one of the best groups Clemson has signed, and pointed to the mid-year enrollees as an example of why he thinks that way.
"I don't have any doubt when all is said and done this will be one of the best groups that we've signed," Swinney said. "If not the best group. I think they're all dialed-in and focused. These mid-year guys that are here - they don't look like freshmen. They don't act like freshmen. They don't walk around here like freshmen."
Swinney said the mid-year enrollees are already adjusting to life as a student-athlete.
"Those guys are about their business," Swinney said. "I was talking to our academic guy on our mid-years and how they are handling themselves - they are doing a heck of a job. We have three wideouts. We obviously needed an influx of talent there because we lost a couple good ones. Chris Register looks like a full grown man walking around here."
He then said that that "little group" is already creating a special bond.
"It's a special little group," Swinney said. "They do everything together. They hang out together. They've got a good support system to get them ready. They're excited. They've been out working out and doing things on their own on the side and eager to get going and start the process."
The Tigers signed four wide receivers in the 2014 class, and Swinney said it was a "big-time blessing" to already have three of them on campus.
"We get a chance to coach them all spring," he said. "By the time we get to August, it should be like they were redshirted. Those kinds of guys. That's a real blessing to have Demarre, Artavis and Kyrin here. To have them here, so they can go out and make mistakes when the scoreboard doesn't count, to have them learn. That's huge. They will get chemistry with the quarterbacks, that is huge, By the time fall practice rolls around they should feel good about where they are."