| | |
| --- | --- |
| Danny Ford returns to the sideline, McDowell impresses in College All Star Bowl | |
---
| | | |
| --- | --- | --- |
| Saturday, February 15, 2014, 10:34 PM | | |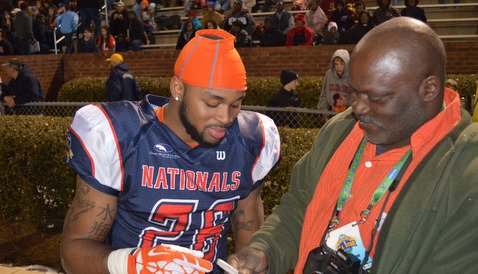 GREENVILLE – A few thousand fans, many of them wearing Clemson orange, braved chilly temperatures and a stiff breeze to see some of their favorite players in a college helmet for the last time at the second annual College All Star Bowl, which was played Friday evening at Furman's Paladin Stadium.
Clemson fans got a chance to see former head coach Danny Ford

Danny Ford
Former Head Coach
View Full Profile 's Nationals team grind to a 12-6 victory over the Americans. Ford's team included former Tigers Roderick McDowell

Roderick McDowell
Running Back (2009 - 2013)
#25 5-9, 195
Sumter, SC
View Full Profile , Spencer Shuey

Spencer Shuey
Linebacker (2009 - 2013)
#33 6-3, 230
Charlotte, NC
View Full Profile , Quandon Christian

Quandon Christian
Linebacker (2009 - 2013)
#34 6-2, 225
Lake View, SC
View Full Profile and Phillip Fajgenbaum

Phillip Fajgenbaum
Long Snapper (2009 - 2013)
#52 6-0, 220
Raleigh, NC
View Full Profile . Former Clemson quarterback Tajh Boyd

Tajh Boyd
Quarterback (2009 - 2013)
#10 6-1, 225
Hampton, VA
View Full Profile (Nationals) and former South Carolina quarterback Connor Shaw (Americans) served as honorary captains.
McDowell was one of the stars in the defensive struggle, rushing seven times for 53 yards, and he said he committed to play in the game because he simply loves the game of football.
"It was a blessing, and I went out there just to have fun and not go too crazy," McDowell said. "It was good to showcase my talent for the pro scouts. But the reason I played was just because I missed football. I hadn't played in a while, and I when I got the invite and I sat down and thought about it, and thought about how much I loved the game, so I called them back and went through with it."
McDowell said it was an honor to play with his teammates one final time – and to be coached by Ford.
"It really meant a lot to me to see so many Clemson people there, and to play with my fellow alumni," he said. "It also meant a lot to me to be coached by a legendary coach like Coach Ford. I have heard stories about him, and to have him coach me, I was honored to stand beside him. He is a cool dude."
The game is for draft eligible senior collegians from across the nation hoping to further their hopes of playing professionally.
*Boyd roamed the sidelines for much of the first half, posing for pictures with fans and signing autographs, and at halftime he was honored as the first Collegiate Player of the Year named by the S.C. Football Hall of Fame.
Following the ceremony, I asked Boyd about his thoughts on the 2014 Clemson offense.
"It's going to be an exciting spring," Boyd said. "There are a lot of positions open on the offense, and those battles will be fun to watch. Right now, we don't know about a couple of spots on the offensive line, at wide receiver, we don't know who is going to grab the tight end spot, we don't who is going to be the starting running back and we don't know who is going to start at quarterback. Those all should be fun to watch."
Boyd then told me that he was on schedule for the NFL Combine.
"I've been working out down in Boca Raton, and just fixing a lot of the little things," he said. "I am healthy, and I feel good. I am going to do everything at the NFL Combine, and do everything they ask me to do."
*The game definitely had a Clemson flavor – sideline reporter and former quarterback Patrick Sapp was one of Ford's coaches, and former Tiger Keith Jennings was a coach for the Americans. During the game, former players Brandon Ford

Brandon Ford
Tight End (2008 - 2012)
#80 6-4, 240
Wando, SC
View Full Profile , C.J. Jones

C.J. Jones
Cornerback (2009 - 2013)
#38 6-0, 185
Lincolnton, GA
View Full Profile and Malliciah Goodman

Malliciah Goodman
Defensive End (2009 - 2012)
#97 6-4, 270
Florence, SC
View Full Profile all showed up to cheer on their former teammates. Late in the first half, running backs coach Tony Elliott

Tony Elliott
Assistant Coach / Running Backs
View Full Profile showed up to cheer on McDowell.
*I spent a lot of time talking to Goodman, who just completed his rookie campaign with the Atlanta Falcons. I asked him how he felt about his season, and he told me that the speed of the game was an adjustment. However, he said that he had heard that older players don't spend much time mentoring younger players, but that defensive tackles Jonathan Babineaux and Corey Peters helped him on more than one occasion.
*Ford told me that the hamstring injury he suffered in camp with the New England Patriots last season came at the wrong time – the Patriots were dealing with the Aaron Hernandez situation and starter Rob Gronkowski was battling injuries. The Patriots later released Ford, but he told me that he has been working out and will participate in Clemson's Pro Day on March 6th.
Ford said that he was completely healthy, and that teams like the New York Jets and Seattle Seahawks have all been in contact with his agent.
Photos from College All-Star Bowl

Tags: Clemson Football
,
Brandon Ford
,
C.J. Jones
,
Danny Ford
,
Malliciah Goodman
,
Phillip Fajgenbaum
,
Quandon Christian
,
Roderick McDowell
,
Spencer Shuey
,
Tajh Boyd
,
Tony Elliott