| | |
| --- | --- |
| Clemson vs. Georgia Tech prediction | |
---
| | | |
| --- | --- | --- |
| Friday, October 5, 2012, 12:17 PM | | |
This week, it's the Bees. Georgia Tech doesn't like Clemson, and Clemson certainly doesn't like Georgia Tech. However, the Jackets have held the upper hand in this series – winning five of the last six – and many Clemson fans recount some of the gut-wrenching plays in the series – the botched snap on the punt, the Halloween catch in the back of the end zone, the two "holding" calls in back-to-back years, the ACC Championship Game in which Georgia Tech didn't punt – the list goes on and on.
Clemson has had a few bright moments – who can forget C.J. Spiller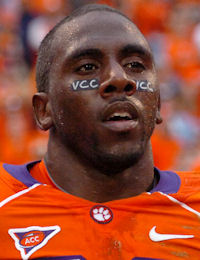 C.J. Spiller
Pro Running Back
#28 5-11, 195
Lake Butler, FL
View Full Profile 's romp in 2006 – but they have been few and far between, especially since Paul Johnson showed up in Atlanta with his option offense. It seems like the Jackets have converted every third and fourth down since he's been there.
However, the Jackets have struggled out to a 2-3 record this season, and the defense has been porous, giving up big plays and chunks of yards in the past two weeks. This week, the defense will face the best offense it has faced – and might face – all season.
What's gonna happen? Let's check it out….
GEORGIA TECH AT NO. 15 CLEMSON
WHEN GEORGIA TECH HAS THE BALL
There is no need to get too deep here – we know what Georgia Tech is going to do and Clemson defensive coordinator Brent Venables
Brent Venables
Defensive Coordinator / Linebackers
View Full Profile knows what Georgia Tech is going to do: they are going to run the football. A lot. Sure, the Jackets are throwing it a little this season, but they've also been behind in some games and have had to. They are running out of the Pistol formation some – an effort to keep the defense from reading their keys too quickly – but the nuts and bolts of this offense hasn't changed. Johnson is going to run the option, and quarterback Tevin Washington is his field general. Overall, Georgia Tech is third nationally in rushing offense (329.4 yards per game), averaging six yards per carry on 55 attempts per game – scoring 39.2 points per game. The Tech offense is designed with misdirection in mind, and Clemson's defense has failed – miserably – to effectively stop it except for in 2010, Clemson's lone victory in the last six games of the series. The key for the Clemson defense – at least in my eyes – will be stopping Washington. Washington ran through, over and around Clemson's defense last season in Atlanta, rushing for a school-record (for a QB) 176 yards and two scores. Washington leads the ACC in touchdowns this season with 11, even though his overall numbers haven't been eye-popping – he has yet to break 100 yards this season and had just four yards last week. Yes, Georgia Tech has a talented player in A-back Orwin Smith, but if Clemson wants to stop Tech, stop Washington. They key will be the defensive ends and linebackers making the right read and hitting the right player – if you have the quarterback on a certain read, then hit the quarterback, even if he pitches it. Last season, the defender that had Washington fell for the fake pitch far too many times, and the defensive linemen were running all over the field instead of staying in the gaps. Stay home. Hit somebody. Avoid the cut blocks. But it's easier said than done…
ADVANTAGE – GEORGIA TECH
WHEN CLEMSON HAS THE BALL
Clemson is averaging 40.2 points and more than 500 yards per game, and this week gets to face a defense that looked overwhelmed by Middle Tennessee St. last week. This week, that defense faces the league's leading rusher in Andre Ellington
Andre Ellington
RS Sr. Running Back
#23 5-10, 195
Moncks Corner, SC
View Full Profile and the league's leading receiver in receptions in Nuk Hopkins. Oh, and Clemson gets back that Sammy guy, who has missed three of the first five games and really hasn't had a breakout game yet. Defensive coordinator Al Groh and his 3-4 scheme have come under fire in Atlanta – even his head coach is talking about him in the media – and the meltdown's over the past two weeks against Miami and MTSU haven't helped. No Georgia Tech player has more than one sack, interception or forced fumble, and three of the defense's top six tacklers are defensive backs, which includes safety Isaiah Johnson and his team-best 32 stops. In last season's Georgia Tech win, Groh dropped eight into coverage against quarterback Tajh Boyd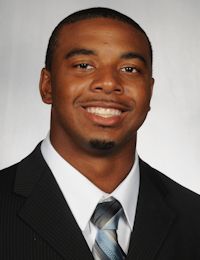 Tajh Boyd
RS Jr. Quarterback
#10 6-1, 225
Hampton, VA
View Full Profile and dared him to check down to the run. At times, he also tested Clemson's young running backs [Ellington missed the game] with a variety of blitz packages that were designed to put pressure on Boyd and the young backs. It worked, as Clemson turned the ball over five times. Outside linebacker Jeremiah Attaochu and cornerback Louis Young missed last week's game with injuries but are expected to play against the Tigers, which should give Groh a measure of comfort, but this one looks like a mismatch, at least on paper. Boyd wasn't the runner last year that he is this season, and Ellington is back and healthy. Hopkins is playing at an elite level. The offensive line is playing better than many people expected. And Watkins – after missing three games – might just be in the mood to get back into the swing of things….
ADVANTAGE – CLEMSON
SPECIAL TEAMS
Clemson did a better job in kickoff coverage last week, but the Tigers rank 11th in the ACC in kickoff coverage, while Georgia Tech is 10th. Chandler Catanzaro
Chandler Catanzaro
RS Jr. Punter / Kicker
#39 6-2, 195
Greenville, SC
View Full Profile continues to be Mr. Consistency, hitting 15 consecutive field goals dating back to last season. David Scully at Tech has hit both of his field goal attempts. Spencer Benton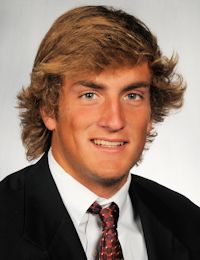 Spencer Benton
RS Sr. Punter / Kicker
#13 6-1, 195
Myrtle Beach, SC
View Full Profile has been average at punter – he's ranked ninth in the conference at 40.2 yards per punt, while Tech's Sean Poole is sixth at 41.6 yards per punt. Clemson has been using Ellington at kickoff return, but Watkins might see some action there this week as well. Orwin Smith has returned 10 kickoffs for Tech, averaging just over 21 yards per return. Tech has returned six punts this season, but Jamal Golden has three of those, one for 56 yards. Johnson hasn't shied away from using the trick play against Clemson, but the Tigers have also shown they will run the fake field goal as well. The Tigers converted one fake field goal against FSU, and sent backup QB Cole Stoudt
Cole Stoudt
So. Quarterback
#8 6-5, 205
Dublin, OH
View Full Profile onto the field last week as a holder, but the play never got off the ground. Even though the stats are fairly even, I like Chandler Catanzaro in a close game……..
ADVANTAGE – CLEMSON
WHAT WILL HAPPEN
Georgia Tech is going to score, and Clemson is going to score. The Jackets are going to run the play clock down to 1 or 2 seconds before snapping the ball, and then depend on long drives to keep Clemson's offense off the field. The Jackets have outscored opponents 60-14 in the second quarter so far this season, but I look for Clemson to turn the tables, hit a few big plays early and then we'll watch this one settle in and become a fairly good game. Don't forget – Tech had lost two straight going into last year's game, and Johnson has called out his defense this week and the Tigers are going to get the Jackets' best shot. Washington won't have the success he had last year, and I look for defensive tackles Josh Watson
Josh Watson
RS So. Defensive Tackle
#91 6-4, 285
Wilmington, DE
View Full Profile and DeShawn Williams
DeShawn Williams
So. Defensive Tackle
#99 6-1, 285
Central, SC
View Full Profile to have big games plugging the middle. The Jackets will get their yards, and they will score points. It won't be enough, however, because Clemson has too much Boyd, too much Ellington, too much Hopkins and Watkins will have his first big receiving day. Close early, and separation late.
FINAL SCORE
CLEMSON 47, GEORGIA TECH 30
---
GUEST PREDICTIONS
---
Mickey Plyler - 6-9AM on WCCP 104.9FM EST - 41-31 Clemson
Dan Scott - Charter TV on Wed at 9:00pm EST - 38-35 Clemson
El Swann - TigerNet Talk - 28-27 GT
Pigskin Prophet - 48-31 Clemson
PREDICTION TRACKER
| Game | Actual | David Hood | Mickey Plyler | Dan Scott | El Swann | Pigskin Prophet |
| --- | --- | --- | --- | --- | --- | --- |
| Auburn | 26-19 CU | 30-23 CU | 31-17 CU | 30-21 CU | 27-14 CU | 27-12 CU |
| Ball St | 52-27 CU | 47-20 CU | 44-21 CU | 52-21 CU | 49-10 CU | 48-23 CU |
| Furman | 41-7 CU | 52-17 CU | 52-17 CU | - | 55-13 CU | 46-13 CU |
| FSU | 49-37 FSU | 37-31 FSU | 30-27 FSU | 31-28 CU | 31-27 CU | 34-30 FSU |
| BC | 45-31 CU | 37-23 CU | 38-23 CU | 38-21 CU | 42-17 CU | 45-33 CU |
| Points | - | 7 | 5 | 5 | 6 | 9 |
* Points: 3 pts for best prediction of the week, 1pt for picking the correct winner