---
Ryan Harless Foundation
I want to thank everyone for the opportunity to tell you about a great organization, a great event and a way you can help the community. Please forward this to anyone who may also be able to help us.
For the past few weeks, several members of the board of directors and several friends and I have worked tirelessly to setup The Ryan Harless Foundation. I wanted to thank you in advance for taking a few minutes to read about the foundation and its mission.
The Mission
The Ryan Harless Foundation is set up to do two things. One is the goal of helping Ryan Harless in his recovery from an automobile accident. Also we will raise money to help support local charities in the upstate of South Carolina.
Our board of directors will soon meet to ratify our by-laws. The nine member board will have in front of it three main items. First, the money raised for the foundation will stay local. Second, the money raised will go mainly to charities focusing on children and those that need help with the basics like food. Finally, none of the money will go to any individual. No one will be paid any compensation except those charities that need the assistance. Everyone involved is doing so as a volunteer.
Ryan's Story
Four years ago Ryan was a passenger in an automobile and suffered devastating injuries. He was given little chance to survive. Today, he continues to beat the odds.
In order for Ryan to function in every day life he needs therapy. Insurance doesn't cover the cost for Ryan to receive the therapy he needs to get to 100%. I could not stand by and let a lack of funding be the difference in Ryan's opportunity.
So with the power of our communities, the power of the spoken word on radio and the support of the entire Upstate we are trying to raise money to help continue his progress.
Local Charities
Last year Ryan volunteered at Clemson Community Care which provides food and other items to the needy in Clemson. It made a big impact on Ryan.
We are here to bring positive change and spread the word of perseverance and determination to as many people as we can. Ryan wants to help many people in our community get back on their feet. Our slogan is "Ryan is Back and Now He is Giving Back."
October 15, 2012
On October 15th, we will host our first Ryan Harless Foundation Golf Marathon. We want to raise $40,000 for this first event. We will then host our second event in July 2013 and it will be an annual event every July. We hope to raise $200,000 in our second event and the events after. We want to impact the Upstate, we want you and your business to be tied to something local, something organic to the Upstate, and together let's bring change to as many as we can.
WCCP will be on location for the Ryan Harless Foundation Golf Marathon. We will broadcast all of our shows live from Carolina Springs Golf Course in Ft. Inn, SC. My team will tee off at sunrise and continue play through sunset with the goal of playing 100 HOLES OF GOLF. After the golf is complete, we will host all of our sponsors, listeners and anyone who wants to be a part of this great cause to a concert from the band Soul Stew, great food and some adult beverages to wrap the event up. Ryan will also be on hand to talk to the crowd to tell us why this is important to not only himself but those he wants to help. We would love you to join us at the party.
Social Media
You can find out more information at our website www.ryanharlessfoundation.com. You can also like us on facebook on the Ryan Harless Foundation page. Finally, you can follow us on twitter @rhfoundation12.
Corporate Sponsorship
We need help from businesses who want to get in with the foundation on the ground floor. We have put together three incredible opportunities for your business. They can be found on our website under sponsorship or at www.ryanharlessfoundation.com/sponsorship/.
Individual Support
Most of the financial backing will come from people who just believe in this great cause. You can donate to the cause for as little as a dime per hole (A total of $10) of golf we play on October 15th. You can help by donating at www.ryanharlessfoundation.com or on the Ryan Harless Foundation page on Facebook. The sites can take Paypal and credit and debit cards.
Questions
If you have any questions, please email me at mickeyplyler@hotmail.com. We would cherish your support of a terrific cause.
Ryan's Letter
I want to thank you again for taking time to consider the foundation. Thanks to our board of directors, our sponsors, our volunteers and everyone for their help so far.
I wanted to leave you with the following letter Ryan wrote for our website.
Dear Friends,
Thank you for considering the Ryan Harless Foundation. I wanted to start this foundation for three reasons.
1. This community has given me so much. People have been so kind and their prayers have meant the world to me. I can never repay our community for how they have supported me.
2. There are so many people in our community that need help. Good people are having a difficult time by no fault of their own. There is a big need for so much assistance in our area.
3. It is my turn to give back.
Thanks again for your support of our foundation.
Sincerely,
Ryan Harless
The Brad Hughes All-State Insurance Agency
Prayer List
We have started a prayer list on the blog. Here are the guidelines:
If you are offended by prayer or prayer lists then I apologize in advance. The blog is free and the prayer list will be on the bottom of the page so you don't have to read it.
If you would like to add someone to the list please email me at mickeyplyler@hotmail.com
*Please let me know when it is appropriate to take the person off of the prayer list.
Those who need our prayers include:Finn Brookover, Mary-Louise Pawlowski (John's daughter), Jo Ann Bachman, Kenneth Bryant, Pruitt Martin, Got igers and his family, David Rowland, Leonard, Gillespie and his family, Jim S, Daniel Rosborough, The Huffman family, Nancy Winkler, John Reeve, Ethel Southard, Vinnie Brock, Kaitlyn L, Susan Miller, Joyce Harley, Steve Proveaux, Jeffrey Greene, the Hutto family, Sherl Drawdy, Caleb Kennedy, Teresa O'Connor, Matt Jacobs,Perrin Seigler, Candee Massee, Lindsey Jordan, Sam Catoe, Tyler Felch, the Nicolopulos family, "the Jacksonville, FL guys", Kim Sims, the Coyle family, Ryleigh Tedder, Steve Lee, Kelly Trakas, Jimmy Moore, the Thomas. V Family, Emary Claire Young, Kitty Bowers,Julie Locke, the Scheider family, Lauren Kittles' family, Frank Gentry, Joyce Bussey, Stacey McKeown, Dale Childs, Larry Lentz, Jr, Carl Sharperson, Scott Hannon, William Perry, Tyler Swaney, Lillian, Mark Feit, David Frame, Chad Berry, the family of Matthew M. Watson, the Dowis family, Shervin Messer, Alan Putnam, the Olivers, Lee Tate, Ronnie Abrams, Eddie Greene, the Jackson family, Bill Vader, Jim Taylor, Tina DeWitt, Rock Horne, Christopher Tuten, Bobby Wayne Thomas, Emma and Danielle Carothers, Robert Ditty, Mr. and Mrs. Murray Smith, Dot Cartee, Ayden Mills, Millie Heatley, Lynn Martin and family, Michael Pinson, Jake David family, Angie Crowley, Ira, Mike Tolson, Poly Wells, Dr. Muriel Bishop, Jack Cunningham, Emily Jefford Meister, Zachary Stoller, Aaron Clackum, Pat James, Cortney Moore, William Moore, Angelia and Savannah Anderson, William Ross, Meredith Legg, Scott Johns, Frank Carroll, Brandon Thompson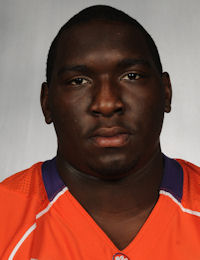 Brandon Thompson
Defensive Tackle
#98 6-2, 310
Thomasville, GA
View Full Profile , Alvin Sammons, Georgine McAlhaney, Glen Davis, Mike Price, Clay Childers, Aaron Knight, Danielle Johnston and family, Nicholas Abrams, Lana Kuykendall, Gary, Billy McLeroy, Gary G., William Huggins, Jim Bennett, Chantz Fowler, Ethel McElveen, Michele Gurganus, William Gentry, Lewis Usher and Tanya Sanders, Shon Cooper, Nick Collins, Travis Patterson, Nick Chrisley, Bud Long, Arthur R. Cressman Sr, Jennifer Chancy, Eden Chandler, Amanda Peake, Danny Hammond, Chip Turner.

Upgrade Your Account
Unlock premium boards and exclusive features (e.g. ad-free) by upgrading your account today.
Upgrade Now