---
An Encouraging Start
I watched and listened to the first baseball series from home, so this past weekend was my first time to see this 2013 baseball team in person and I have to admit I am very encouraged.
It seems like we always have to put disclaimers on expectations early in seasons and this case is no different. The season is young and so is this team. The competition has been good but not what the Tigers will see starting this weekend with South Carolina and the rest of the season in the Atlantic Coast Conference. And the key will be for this team to continue to develop and improve as the season progresses, but so far there some very encouraging signs.
Over the past two seasons Clemson recruiting coordinator Bradley LeCroy has been very excited about the young talent that signed with the Tigers in this most recent class. He talked about their athleticism and speed. This is a bigger group and a deeper unit.
In the off-season we heard about how hard this team worked in the weight room and on the field. We were told how this team worked together throughout the off-season instead of playing in a bunch of summer leagues.
We are often told a lot of positives about our favorite teams but this is one of those times where we were right in believing in the future.
This team has more athletes. Steven Duggar

Steven Duggar
Fr. Outfielder
#9 6-1, 185
Moore, SC
View Full Profile is a good hitter with pop at the plate but also speed and athleticism on defense. The true freshman has three assists from his right field position so far this season. The Byrnes High School product is hitting .350 in his first six games of his college career.
Tyler Krieger

Tyler Krieger
Fr.
#3 6-0, 160
Johns Creek, GA
View Full Profile is a talented true freshman shortstop that has played excellent defense so far. This switch-hitting athlete will get better at the plate as the season progresses.
Jay Baum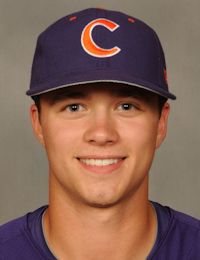 Jay Baum
So. Infielder
#13 5-11, 180
Alpharetta, GA
View Full Profile has been excellent at third base as he has played as well defensively as any Clemson third baseman in recent memory. He has also shown some pop at the plate.
Garrett Boulware
Garrett Boulware
So. Catcher
#30 6-1, 200
Anderson, SC
View Full Profile looks very comfortable behind the plate in his first season as a starter at catcher. He has a nice upside and has also had some timely hits so far.
There is an interesting battle in left field with Tyler Slaton
Tyler Slaton
So. Outfielder
#18 5-7, 195
Cumming, GA
View Full Profile and true freshman Maleeke Gibson

Maleeke Gibson
Fr. Outfielder
#1 5-9, 165
Sumter,
View Full Profile who is the fastest of the newcomers. Gibson has not looked overwhelmed at this point.
Steve Wilkerson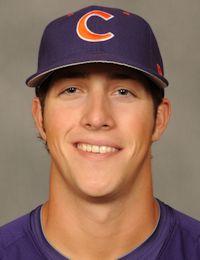 Steve Wilkerson
Jr. 2nd Base
#17 6-1, 185
Roswell, GA
View Full Profile picked up where he left off last season at second base. He leads the squad in hitting with a .478 average. The junior has two doubles, one home run, seven RBIs, five runs and three stolen bases.
Shane Kennedy

Shane Kennedy
Jr.
#11 6-2, 190
Orlando, FL
View Full Profile is a newcomer that is currently DHing but could play a couple of positions is hitting .300 and doing a nice job in the cleanup spot.
There are position battles still taking place and starters are being pushed by depth at third base, first base and in the outfield. Every coach tells you that competition is the best thing that can happen to a team and the Tigers have lacked depth for competition at many positions in recent seasons. This team has more depth that the past two or three.
The pitching has been excellent with the exception of the second game of the season and should get even better if Kevin Pohle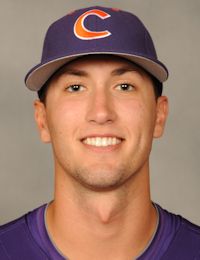 Kevin Pohle
Jr. RH Pitcher
#21 6-3, 180
St. Louis, MO
View Full Profile can get healthy enough to take over a weekend rotation spot.
Friday night starter Daniel Gossett has been everything the staff could ask for. He is 1-0 with a 0.77 ERA with 12 strikeouts in 11.2 innings. Gossett had excellent command in his first start but had to battle without his best stuff this past weekend.
Scott Firth
Scott Firth
Sr. RH Pitcher
#20 6-0, 165
Buffalo Grove, IL
View Full Profile has been incredible so far. He is 2-0 with a 0.60 ERA. Opponents are hitting just .149 against him and he has gotten through seven innings in his first start and eight this past weekend.
The bullpen has been solid with more depth there as well. Matt Campbell
Matt Campbell
Jr. RH Pitcher
#36 5-11, 185
Alpharetta, GA
View Full Profile has two saves. Jonathan Meyer
Jonathan Meyer
Sr. RH Pitcher
#28 6-0, 180
San Diego, CA
View Full Profile and Joseph Morrefield are experienced. Jackson Campana

Jackson Campana
Fr.
#29 6-6, 220
Charlotte, NC
View Full Profile , Zach Ervin and Clay Bates
Clay Bates
RS Fr. RH Pitcher
#42 5-11, 180
Rock Hill, SC
View Full Profile have pitched well so far out of the bullpen.
Finally, this team has played excellent defense behind the pitching. The range of the left side of the infield has been outstanding. The athleticism in the outfield is noticeable.
The Tigers are back in action Tuesday at home at 4:00 PM against Winthrop but weather may be a factor. Then the arch rival comes to Clemson Friday for the first of a three game set. Game two will be Saturday in Greenville and Sunday's finale will be in Columbia.
We will have a much better feeling about this team this time next week but at this point I am excited to watch this young team develop. This is a fun team to watch and one that has a big upside heading into the meat of the schedule.
The Brad Hughes All-State Insurance Agency
Prayer List
We have started a prayer list on the blog. Here are the guidelines:
If you are offended by prayer or prayer lists then I apologize in advance. The blog is free and the prayer list will be on the bottom of the page so you don't have to read it.
If you would like to add someone to the list please email me at mickeyplyler@hotmail.com
*Please let me know when it is appropriate to take the person off of the prayer list.
Those who need our prayers include: Finn Brookover, Jo Ann Bachman, Kenneth Bryant, Pruitt Martin, Got igers and his family, David Rowland, Leonard, Gillespie and his family, Jim S, Daniel Rosborough, The Huffman family, Nancy Winkler, John Reeve, Ethel Southard, Vinnie Brock, Kaitlyn L, Susan Miller, Joyce Harley, Steve Proveaux, Jeffrey Greene, the Hutto family, Sherl Drawdy, Caleb Kennedy, Teresa O'Connor, Matt Jacobs,Perrin Seigler, Candee Massee, Lindsey Jordan, Sam Catoe, Tyler Felch, the Nicolopulos family, "the Jacksonville, FL guys", Kim Sims, the Coyle family, Ryleigh Tedder, Steve Lee, Kelly Trakas, Jimmy Moore, the Thomas. V Family, Emary Claire Young, Kitty Bowers,Julie Locke, the Scheider family, Lauren Kittles' family, Frank Gentry, Joyce Bussey, Stacey McKeown, Dale Childs, Larry Lentz, Jr, Carl Sharperson, Scott Hannon, William Perry, Tyler Swaney, Lillian, Mark Feit, David Frame, Chad Berry, the family of Matthew M. Watson, the Dowis family, Shervin Messer, Alan Putnam, the Olivers, Lee Tate, Ronnie Abrams, Eddie Greene, the Jackson family, Bill Vader, Jim Taylor, Tina DeWitt, Rock Horne, Christopher Tuten, Bobby Wayne Thomas, Emma and Danielle Carothers, Robert Ditty, Mr. and Mrs. Murray Smith, Dot Cartee, Ayden Mills, Millie Heatley, Lynn Martin and family, Michael Pinson, Jake David family, Angie Crowley, Ira, Mike Tolson, Poly Wells, Dr. Muriel Bishop, Jack Cunningham, Emily Jefford Meister, Zachary Stoller, Aaron Clackum, Pat James, Cortney Moore, William Moore, Angelia and Savannah Anderson, William Ross, Meredith Legg, Scott Johns, Frank Carroll, Brandon Thompson, Alvin Sammons, Georgine McAlhaney, Glen Davis, Mike Price, Clay Childers, Aaron Knight, Danielle Johnston and family, Nicholas Abrams, Lana Kuykendall, Gary, Gary G., William Huggins, Jim Bennett, Chantz Fowler, Ethel McElveen, Michele Gurganus, William Gentry, Lewis Usher and Tanya Sanders, Shon Cooper, Nick Collins, Travis Patterson, Amanda Peake, Danny Hammond, Chip Turner, Nick Collins, Allen Steen, The Sturkey Family, the Lance family, Marcus Lattimore, Nick Chrisley's family, Allison Williams, Lt. Kyle Walker, Summer and Joel Johnson, Nicole O'Donnell, James O. Johnson, Joy Pruett and family, Patrick Heher, Bill Schmidt, Jack Bailey, Bill Early, Gardner Family, Charles Turner, Kathy Bartholomew, Ray Sanders, David and Robin Blocker, J.R. Ray, Kenneth Kowe, Lauren Sielicki, Doug Bailey and family, Johnnie Walker, Jenna Phipps, Mark Lawrence, Harlan Sullins, our great country and the men and women in uniform that protect and serve it every day plus their families.

Upgrade Your Account
Unlock premium boards and exclusive features (e.g. ad-free) by upgrading your account today.
Upgrade Now