| | |
| --- | --- |
| "Unleash it now." Elliott talks south Florida, recruiting and program culture | |
---
| | |
| --- | --- |
| Monday, October 26, 2015 5:42 PM | |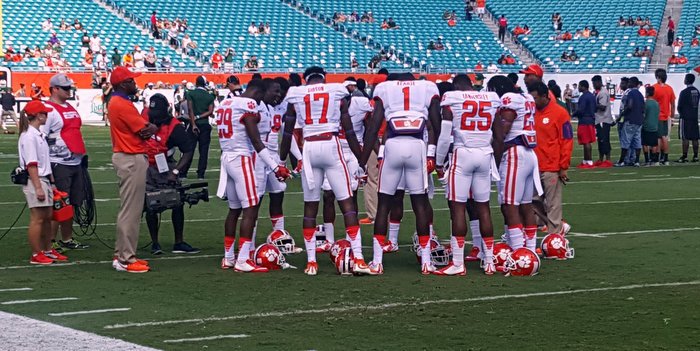 CLEMSON – Tony Elliott is quickly proving that he's one of the rising young stars in the ranks of college football coaches, and he added to his resume in a very quiet but stern way prior to the 58-0 victory over Miami Saturday afternoon in Sun Life Stadium.
The Tigers were finishing up with pregame warmups, and because there had already been a small pregame skirmish Elliott wanted to make sure that some of Clemson's leaders who hail from the region were dialed in on the game itself.
Clemson's co-offensive coordinator gathered near midfield with junior safety Jayron Kearse (South Fort Myers) and sophomore corner Mackensie Alexander (Immokalee) for a final piece of advice.
"I recruited both of those guys so I have a very good relationship with both of them. I told them that there is a reason why these chose Clemson," Elliott told TigerNet Monday. "Obviously, they understand what it means to be from south Florida and the culture and the way that football is played down there. It's like what Coach (Dabo) Swinney said at halftime, you have to have the ability to play with controlled aggression and the ability to win and lose with class. That's why they chose Clemson and I told them to not lose sight of that. I told them that everybody knows they are excited to play, but that they needed to just go out and play and not let anybody get them out of their element. And then I told them, 'Hey boys, unleash it now. Have some fun back home but also understand that you are a Clemson Tiger and you know what our standard is.'"
There were no more issues from the Clemson side of the field, and Elliott said he was proud of the way the duo responded despite playing so close to home and against a school they grew up rooting for.
"I thought they responded well. I thought that they controlled their emotions very well," Elliott said. "You look at it, Jayron at one time was committed to Miami in the recruiting process, and Mackensie is from Immokalee High School, where Edgerrin James is from. If you go there, you are going to Miami. You are going to The U. There were a lot of emotions there, but I was proud of the way they played and the way they prepared. And they didn't allow the Miami players to get them out of their game."
The victory – and the way Clemson's players handled themselves – also made an impact on several recruits Miami had invited to the game and Elliott said it's good to show the "power of the paw" in the region.
"I think so. For a lot of those guys that were at the game and were in the area, they are able to take a look at our guys and see how they stack up against the talent that they play against on a daily basis down there in south Florida," he said. "And they see that you can have success if you come up to our program, and the guys that have had a lot of success have been guys that have left the state of Florida. But it's also an opportunity for them to see that we are going to recruit down there, but we are also going to be selective because we understand what our culture is. Not everybody fits our culture. But if you are looking for something different and you're looking for football at the highest level, if you're looking for a program that is going to develop you in all levels of your life, then it's good to show off the paw that way."
A perfect example of what south Florida players can accomplish at Clemson is embodied by receiver Artavis Scott, who grew up a Miami fan but chose Clemson because of the program's culture.
"I was picking at him last week. I was telling him I wasn't going to tell anybody that he really wanted to be a Hurricane," Elliott said. "But that's the difference. I really hate it because of the situation they have going on down there, but it's all about the culture you have within your program. Each kid is looking for a different kind of culture. And the culture that we provide is football at the highest level and also a program that demands that you go to class, that you graduate, that you stay out of trouble and that you win and lose with class. Those things are actually more important to your life than your actual performance on the football field."