| | |
| --- | --- |
| Survive and Advance, and Bring On the 'Noles | |
---
| | |
| --- | --- |
| Sunday, October 13, 2013 8:17 PM | |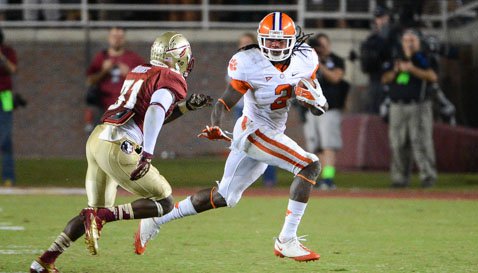 Survive and advance.
In the wacky and unpredictable world of college football, that has to be the mantra each and every week for college football teams that have BCS and title chase dreams, and Saturday's slate of games provided the perfect example as upsets ruled the day.
The day started with Texas' stunning upset of Oklahoma, and a loss by Georgia to Missouri in Athens quickly followed. Losses by Michigan and Stanford were added later in the day, throwing the polls and conference standings into turmoil.
For Clemson, it was a good day to stave off the upset, even though many fans left the stadium complaining of an "ugly win." It wasn't pretty, but don't you think that Georgia, Stanford, Oklahoma and Michigan would all love to be complaining about an ugly win this morning?
Of course they would.
The current landscape of college football almost dictates that every team is going to slip up somewhere along the way. There was exactly one undefeated team last season (Ohio St.) and they were on probation. No major school emerged from 2011 unscathed, and it was Auburn and TCU in 2010. In 2009 it was Alabama and Boise St. In 2008, only Utah was unblemished. In 2007, there were none. In 2006, it was just Boise St. In 2005, only Mack Brown's Texas team went undefeated.
Yes, even as great as Alabama has been under Nick Saban, they've only finished the season undefeated once.
Coaches aren't fans, and they have the advantage of understanding that the bookies aren't always right and that the other team has scholarship players who want to win just as much as you do, and Clemson's coaches said it best in the aftermath of the victory.
"If you want to be a good team, you have to win games like this," Clemson head coach Dabo Swinney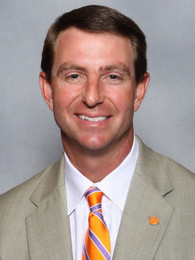 Dabo Swinney
Head Coach
View Full Profile said. "We kept fighting and overcame mistakes and it's good to get out with a win."
Offensive coordinator Chad Morris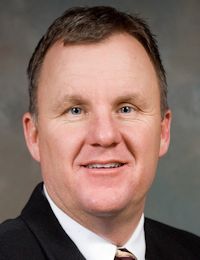 Chad Morris
Offensive Coordinator / QBs
View Full Profile scoffed at the notion of an "ugly win."
"No such thing as an ugly win," Morris said after Saturday's win. "Great win for this program and team. We may not have played as well, I thought we missed some opportunities early in the first half offensively and never really got a spark rolling, and that's what we needed, but we came back in the second half."
Defensive coordinator Brent Venables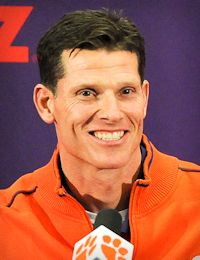 Brent Venables
Defensive Coordinator / Linebackers
View Full Profile said he has been in plenty of games where the overwhelming favorite has had to score late in order to eke out a win. His thoughts on that? It's better than losing that game.
"We shared with our guys that there are teams that Coach Swinney has been on and that I've been on and coached, and they are great teams, but you have to beat a 3-8 team on the last drive of the game," Venables said. "People don't like it sometimes and it makes everybody uncomfortable – sorry that we are making winning uncomfortable for you – but sometimes the other team has scholarship guys and quality players and good schemes and you don't play your best, and you have to find a way to win. That is certainly better than the alternative."
You survive and advance, and that's exactly what Clemson did Saturday afternoon.
Yes, Clemson made plenty of mistakes – the turnovers were head-scratchers, the missed field goal was shocking and the blown coverage on the long Eagle touchdown pass was excruciating to watch. But don't discount what Boston College was able to do. They battled toe-to-toe with Florida St. a few weeks before, and it was obvious they came in thinking they could win this game if they brought a certain physicality to it. They brought it, and the Tigers responded.
Survive and advance, and now you can concentrate on Florida St. This week's game was the big old elephant hiding in the corner during the entirety of Saturday's game. A possible visit from GameDay and a game with possible – GULP – national title implications as well as ACC title implications.
Clemson's head coach called it a "big dang game." He's right.
"It's one game. If we win it, it's not over. We've got a long way to go," Swinney said. "If you lose it, you're not out of it. You're still in a Top 10-like team, a BCS-like team and all those other opportunities are out there. Let's just face it, the winner of this game is probably going to win the division."
Biggest game in the history of Death Valley? Probably. Enjoy this week, Clemson fans. Not everybody goes undefeated, and each week that you stay in those ranks and you survive and advance is a special week. With all of the hoopla surrounding this one, it should be fun.
You thought Georgia was big?
GameDay. Night game in the Valley. Cooler weather. First- ever game between two top five teams in Death Valley history. Atlantic Division title on the line. BCS rankings on the line. National respect on the line. The Hill. The lights. The bands. Cadence Count. The Tomahawk Chop. Tiger Rag. The spear and the paw. A sold-out, fired up crowd. The fireworks. National television audience. Somewhere, Frank Howard is smiling.
Survive and advance.