| | |
| --- | --- |
| Report: Brent Venables gets an extension | |
---
| | |
| --- | --- |
| Thursday, January 1, 2015 11:07 PM | |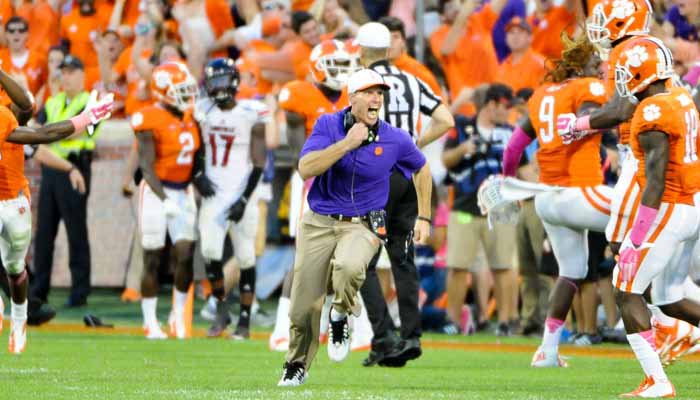 CLEMSON – It looks like Clemson's defensive staff will stay in place for at least one more season.
Defensive coordinator Brent Venables

Brent Venables
Def. Coordinator / Linebackers
View Full Profile , whose name has been linked to several openings this past season, has signed an extension that includes a raise in a story released by The USA Today.
According to the report,, the extension was signed last month.
Venables' previous deal had him making $875,000 annually, but Clemson Athletic Director Dan Radakovich

Dan Radakovich
Director of Athletics
View Full Profile said last week that a raise and an extension weren't out of the question for Venables. Former offensive coordinator Chad Morris

Chad Morris
Offensive Coordinator / QBs
View Full Profile was making $1.3 million before departing for SMU, and money would be available for Venables.
TigerNet spoke with a source late Thursday that confirmed a deal had been reached in principle before the bowl game, but said any confirmation of the deal being finalized might come from Radakovich at some point in the near future.
In an interview prior to the bowl game, Radakovich said Venables was a "priority."
"Oh, absolutely, he's a priority, no question at all. Dabo's talked about that," Radakovich said. "Once we get everything pulled together, after the real business at hand here, we'll get that done here, and hopefully we'll get it done quickly."
Venables directed the nation's top-ranked defense this season – the Tigers led the nation in total defense (260.8-yard average) in 2014 and ranked fourth in scoring defense (16.7-point average) and allowed just six points to high-powered Oklahoma in the Russell Athletic Bowl Monday.
Venables name came up in conversations at Texas A&M as the season came to a close, but the Aggies hired LSU defensive coordinator John Chavis to take over. That left the job open at LSU and Venables' named popped up as a possible replacement for Chavis with LSU.
Following Clemson's win over South Carolina at the end of November, TigerNet asked Venables if he would consider leaving Clemson for a lateral job and he said no.
"I have a great job here. Are you kidding me? No, I love where we're at, and I've only been a couple of places," Venables told TigerNet. "I am a loyal guy, and if you want to talk about somebody that is the epitome of All In, I have always been that way. I am not wired like that. Wherever that came from, that is news to me. I am just getting ready to take my wife out to dinner tonight – I am way overdue."
I asked Venables if that meant - barring a head coaching opportunity - that he would be at Clemson next season and he said yes.
"Yeah, I am a 'be here now' kind of guy," he said. "I am going to hug my wife and be with these players and my wife and some of these recruits and that's it. That's the kind of guy I am."