| | |
| --- | --- |
| Parker: I believe I give this team best chance to win | |
---
| | |
| --- | --- |
| 2010-11-03 13:15:17.0 | |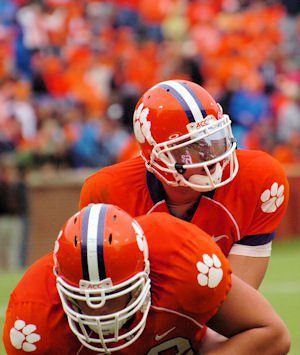 Kyle Parker talks with the media on Tuesday (MP3 Format)
CLEMSON – Kyle Parker sat down to face the media on Tuesday in the WestZone, and was immediately bombarded with questions about sharing some of his duties with backup quarterback Tajh Boyd on Saturday when the Tigers take on N.C. State.

Boyd told the media on Monday that head coach Dabo Swinney and offensive coordinator Billy Napier told him that he would see the field at some point on Saturday against the Wolfpack.

Both coaches affirmed the decision, but Parker said on Tuesday he still believes he gives his team the best chance to win.

"To be quite honest, I don't really know what Tajh was talking about yesterday," Parker said. "I have had a couple of meetings with the coaches, and we have had good conversations. Everyone is really disappointed with where we are at this point. What's being communicated to me is to keep working hard and keep leading this team."

The redshirt sophomore was asked if he feels like he has lost the confidence of the coaching staff, and his answer was an emphatic no.

"What's been communicated to me is that I give this team the best chance to win," he said. "I take that as I'm still the guy and I need to do everything to get this offense and get these players in the best position to win. We're capable of winning.

"Obviously, I need to make some smarter decisions, at times. But, for the most part, what's being said to me is that I need to prepare, continue to put the work in and continue to try to make plays out there. We obviously need to get a win, and I'm going to do everything in power to make sure we get that."

The message boards have been alive with criticism directed at Parker, but he said he doesn't pay any attention to what's said – it is all a part of playing quarterback.

"It's just part of the position," he said. "Obviously, I am in a leadership role, and whenever things are not going right, its is just part of it for people to look at me. I accept that responsibility. There are things I can do better to put our team in position to win, and I obviously need to do that.

"Honestly, I think you only hear what you listen to. There could be a lot of talk concerning me, but for the most part I am doing what I have been taught and coached to do. I look at it like there is not a lot I can change. I have tried to do what these coaches and players have asked of me."

Napier said on Tuesday that one thing he would like to see Parker do is "play better with his feet." There were several instances during Saturday's loss to Boston College in which it appeared that Parker could have run for chunks of yards, but he elected to stay in the pocket and make plays with his arm.

Parker said despite the criticisms, he still thinks the coaches believe he is still "the guy".

"I have had conversations with him, and whenever I sit down, what is communicated to me is that I give this team the best chance to win," Parker said. "I take that, as I am still the guy. I have to prepare and get these guys to where we are capable of being. I just have to make smarter decisions."

As for Boyd playing on Saturday, Parker said he hopes the redshirt freshman is successful when he gets his chance.

"I hope he goes in there and I hope he does well," Parker said. "I have done my best to prepare him and pass down the knowledge that I have. That is what you do, is you help the player next to you."