| | |
| --- | --- |
| Mackensie Alexander: I'm the best in the country | |
---
| | |
| --- | --- |
| Wednesday, August 12, 2015, 4:00 PM | |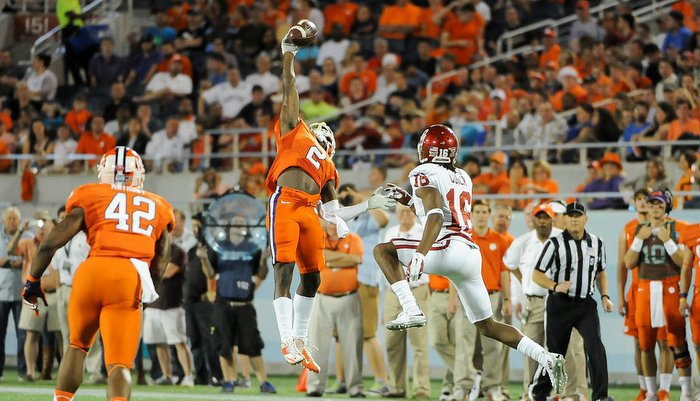 CLEMSON – Ask Mackensie Alexander

Mackensie Alexander
RS So. Cornerback
#2 5-10, 190
Immokalee, FL
View Full Profile who he thinks is the best cornerback in all of college football, and the answer is immediate and decisive: Mackensie Alexander.
The mercurial Clemson defensive back held court for 15 minutes in Death Valley early Wednesday afternoon, and while he doesn't do many interview sessions when he does decide to speak to the media it's worth it to listen.
In that regard, Alexander reminds me of the old E.F. Hutton commercial – when Alexander talks, people listen. Wednesday, Alexander said he had no doubt he was the best cornerback in college football.
"It's not even close. I think everybody that talks about Mackensie knows I'm the best corner in college ball," Alexander said. "It's not even close. Look at my body of work, look at the things I've done. It's not even close. My numbers. I don't care who they are, what league or conference they're in. If you can play, you can play."
With a little research, you find out that what sounds like braggadocio is actually backed up by the numbers. Clemson football SID Tim Bourret did a story on Alexander over the summer, and in that story Bourret said he went back and watched every play Alexander had last season. The numbers Bourret came up with are staggering:
*Opponents attempted 374 passes when Alexander was on the field, and they threw to the receiver he was assigned to cover just 57 times. In other words, they threw the ball in his area just 15 percent of the time. It is tough to get a lot of interceptions and pass breakups when you are challenged that low of a rate.
• Of those 57 opportunities, the opposing receiver caught the ball just 20 times for 280 yards. Alexander broke up six of those 57 passes, and opponents scored just two touchdowns against his coverage, none in the last nine games of the season.
• Breaking down those stats further, opponents completed just 35 percent of the passes thrown in Alexander's direction and averaged just 4.91 yards per attempt.
• Only one completion all year went for more than 20 yards, and opponents averaged just 1.5 catches for 21 yards per game against him. Nine of the 13 games, the opposition failed to gain more than 20 yards on pass plays to Alexander's man.
• During a five-game winning streak against ACC teams from the NC State game through the Wake Forest game, opponents caught just one pass TOTAL in 14 attempts for -2 yards against Alexander's man.
Head coach Dabo Swinney

Dabo Swinney
Head Coach
View Full Profile , defensive coordinator Brent Venables

Brent Venables
Def. Coordinator / Linebackers
View Full Profile and defensive backs coach Mike Reed

Mike Reed
Assist. Coach / Defensive Backs
View Full Profile all say that Alexander is in the meeting room watching film late into the night. Venables said he would leave the stadium after games last season and would notice a light on in the defensive backs meeting room, and he would find Alexander watching film of the game he just played.
It doesn't stop there: Alexander has already watched film on this season's opponents and knows the opposing receivers tendencies by heart. He even has the notes to prove it.
"I've watched Wofford, App. State, Notre Dame, Louisville, I've seen Florida State, I've watched South Carolina," Alexander said. "I pretty much watched everybody and got a good glimpse of their personnel, their best targets and best receivers. I've got my notes on all of them, I know who they are. I've got a drawer at home full of stuff. I just moved into my new place. I've got a drawer full of notes. I've even got notes on our receivers. It's not just about college. It's about the next level also. It's about preparing my mind for the next level."
Alexander knows he is the best. But he knows he isn't perfect and tries to work on his shortcomings every day.
"Sometimes I feel I do things good, but not great," he said. "I can't go into details. I'm working every day, though. I'm a hungry man. I'm never going to settle."
He is eligible to declare for the NFL Draft after this season, but he said he wants to get a degree. And a title.
"Of course. Everybody wants to get a degree. I'm here to win a national title. That's that," he said with finality. "I'm going to get my degree and win a national title. That's all we're here for. To get a national title."