| | |
| --- | --- |
| Joe Montana, Cam Newton and...Deshaun Watson? | |
---
| | |
| --- | --- |
| Friday, January 29, 2016 7:01 AM | |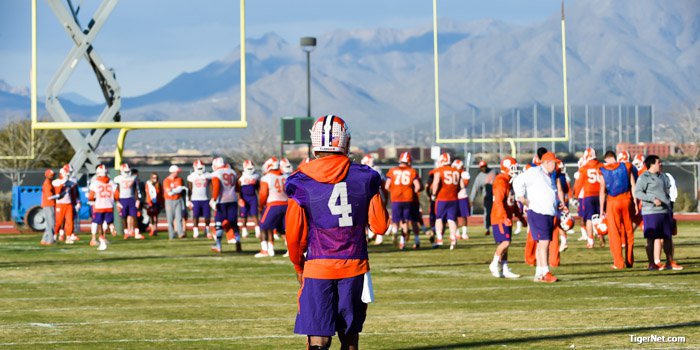 Sam Wyche knows a thing or two about quarterbacks and the NFL, so when the former head coach of the Cincinnati Bengals talks football, it pays to listen.
Wyche played quarterback at Furman University. He went on to play for four different NFL teams from 1968-76. He was an assistant coach with the San Francisco 49ers and tutored Hall of Famer Joe Montana. He later became the head coach of the Bengals team in Super Bowl XXIII that had a 16-13 lead with 3:10 left, only to see Joe lead a 92-yard TD drive that gave the 49ers the championship in what is considered to be one of the best Super Bowls ever played.
Wyche knows quarterbacks, and he was on hand Wednesday evening when the South Carolina Football Hall of Fame introduced Clemson quarterback Deshaun Watson as its Collegiate Player of the Year. Wyche took a moment to re-introduce himself to Watson, throwing in the fact that he "used to coach a little bit" before sitting down with TigerNet to explain what makes Watson special.
Watson mentioned that if he gets his degree on time and the NFL wants him he could move into the professional ranks after his junior season, and we asked Wyche if Watson could be a good quarterback on the next level. Wyche said yes and said that quarterbacks like Watson are what the NFL wants.
"He's a prototype quarterback because the quarterbacks today that are moving into the NFL are quarterbacks that move. I think (Peyton) Manning is going to finish his career as a pure passer and pocket passer, but you see more and more teams getting into the teams with a quarterback that can get out of the pocket," Wyche said. "The first thing people say, 'Well, he's going to get hurt.' He probably is, so it's going to be stamina, endurance - those are the things he has to work on in practice. Fast recovery from the previous play. Recovery time is conditioning. If I can recover in 12 seconds from the previous play and it's taking you 30 seconds, I can wear you down by snapping the ball in 20 seconds.
"The quarterback is always part of it because he's got the ball first. He's either got to hand it off, throw it or run it. That would be my advice to him, practice your stamina, your endurance, increase your leg strength, and work on that knee and all of that that you'll get plenty of help doing. The other thing is understanding the defensive theory. You'll grow into that. He has great coaching over that; I can tell you that right now. Experience teaches you beyond what the coaches tell you. You have to be able to do it and have instant recall and experience is the only way to get that. Practice experience helps, too. It's not just game experience."
Wyche then detailed what NFL scouts and coaches are looking for in quarterbacks.
"He's got good pace on the ball. Here're two things I always tell my scouts before the draft about a quarterback - he's got to be smart, and he's got to be accurate. Accurate in the NFL is between me and you [small spaces], that's open, and you've got to be able to hit that guy if he's open," he said. "He's got to be accurate and get the ball above the waist so there can be a run after the catch and not always diving for the catch. He's got be smart and smart means you have to have poise when the clock is running down. You've got to know when to clock it and when to call timeout. You've got to know when to change the formation and when to get them out of a bad play.
"There's a lot involved. Understanding defensive theory, which isn't as scary as it sounds - the defense is always talking to you and telling you what they're about to do. If they're inside technique, and they're bending at the knees, and the cornerbacks are doing that, it's man-to-man coverage. If they're standing outside the receiver and they're bending at the waist, it's zone. He can't chase that guy if they're bending at the waist. They're telling you things if you know what to look for, but you don't have time to spend. It has to register, and you have to know what you're doing and know that this play will work or go to something else. That's experience too."
Wyche said that Watson reminds him of two quarterbacks.
"I was Joe Montana's first coach. All of the good ones remind me of Joe because Joe was good at everything I thought. Joe makes you a good coach if you stay out of his way and let him do it. Instincts are a big part of it," he said. "I said smart and accurate, but everything after that makes you even better - instincts, strong arm, height, got visibility - you don't ever look over people because you have throwing lanes, but still you have to have height to get over the shoulder blades and the shoulder pads - good follow through. He's got big hands. He's going to be fine in the winter time in the NFL when you're playing all of these December and January games.
"The quick feet, he's got good COD - change of direction - which you generally want that in a cornerback, linebackers, wide receivers, and, of course, the running back, but this guy has a way of looking like he's going to the right and being able to immediately accelerate to the left and make a run off the pass rush. Who does he remind me of? Cam Newton is bigger than he is but they do similar things. I didn't know they were best buds. They would have similar experiences to share, I'm sure. Cam seems like a first rate person. Deshaun is a first rate human being, and that's important. You've got a good representative in the National Football League that represented the Clemson Tigers, the ACC and football in general. It's easy to destroy that with one bad apple."
So what is the one thing that Wyche thinks makes Watson special?
"I think it's his ability to make a good play out of a bad situation. The play that should look pretty good but the coverage is just stronger, or maybe the pass rush is over, he can make the play work," Wyche said. "He can gain yardage. 2nd-and-5, he doesn't get sacked very often. He's got good protections, but when the pressure comes he can escape the pressure. I think good quarterbacks can do that and while all of that is going on keep their concentration down the field and their fingers on the laces of the ball. That's tough to do. You want to put the ball under an arm and hold to where you don't fumble, but if you're a good quarterback, and you can just tuck it under there and keep your eyes and scramble and all of a sudden pull it back and throw it - which he can do. Cam Newton does it. You see him do that same thing the other day against Arizona. He's going to be a really good player."