---
| | |
| --- | --- |
| Sunday, August 30, 2015 12:14 PM | |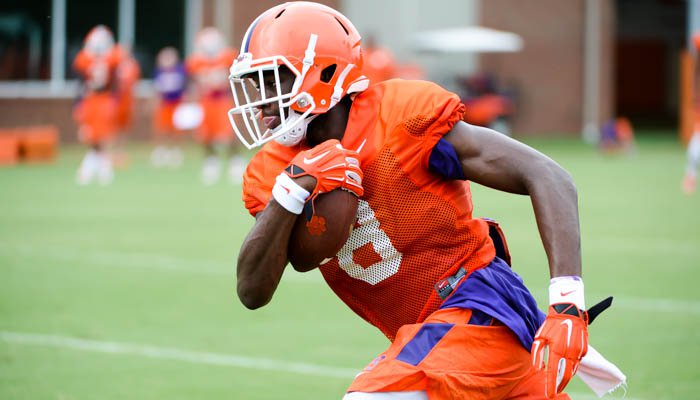 CLEMSON – With over 40 true freshmen and redshirt freshmen on the roster the Clemson coaching staff is having to walk a fine line in "growing up" the youngsters.
The Tigers have plenty of talent on the roster, and a lot of the young guys will be counted on early in the season to make plays on both offense and defense. Players like Mitch Hyatt

Mitch Hyatt
Fr. Offensive Line
#75 6-6, 270
Sugar Hill, GA
View Full Profile , Ray-Ray McCloud

Ray-Ray McCloud
Fr. Wide Receiver
#34 5-9, 175
Land O' Lakes, FL
View Full Profile , Garrett Williams

Garrett Williams
Fr. Tight End
#44 6-4, 225
Orlando, FL
View Full Profile , Christian Wilkins

Christian Wilkins
Fr. Defensive Tackle
#42 6-5, 305
Longmeadow, CT
View Full Profile , Mark Fields

Mark Fields
Fr. Cornerback
#24 5-10, 185
Cornelius, NC
View Full Profile and Greg Huegel

Greg Huegel
Fr. Punter / Kicker
#92 5-11, 180
Blythewood, SC
View Full Profile are all expected to contribute to the Tigers' success.
How does the staff balance introducing the youngsters to college football, coaching them hard and giving them enough praise to keep their confidence up?
Offensive coordinator Jeff Scott

Jeff Scott
Co-Offensive Coordinator / WR
View Full Profile says the task is more difficult than you might expect.
"I think there's a fine line. With those talented guys you know where they're going to be in a year or two so it's really important right now that you coach them extremely hard, and you put them through that pressure cooker because when those guys get a little bit older, it's easier for them," Scott told the media earlier this week.
Not only are the freshmen learning to play football on the college level, but they're also learning how to be college students – a task that requires a lot of time management, even for the normal, non-athlete.
"They're getting put through it right now and then you add school on top of it and they're trying to figure out how to get over here for weights in the morning, how to get to class and how to get over here for the meeting," he said. "Before they ever get to the practice field they've got a lot of things they're trying to figure out because it's the first time they've ever done it. That's typical for a freshman, but it gets easier for them as they go."
Sometimes it takes the student-athlete making a mistake before they learn the art of time management. Take McCloud for instance, who had to learn the hard way that you have to make time to eat despite your busy schedule.
"He had a freshman day," Scott said about McCloud recently. "It was the first day he has ever had to go to class and come over here and go to practice and just trying to figure out his schedule. I don't think he ate anything until he got in our meeting room, and a little pack of crackers and that wasn't nearly enough. So it's a learning process. Even when guys are gifted as freshmen, they still have to figure out the timing of being a student-athlete and understanding their day. The good thing is he can learn from it today. He has got two weeks to kind of get it right. But it is good for them sometimes too. Whenever it is real easy for them sometimes you got to get to the game before they learn a few lessons. So I think today was a little eye-opening for him, but I got no questions that he will back and be fine and ready to go this year."
Scott said that he and the coaches have to choose when it's time to have a teaching moment and when it's time to give a little extra encouragement.
"There's a break in process that has to go on. Typically a freshman doesn't know how intense a college gameday is so we've got to put them in that situation in practice and make them feel a little bit of pressure in practice, but at the same time they are just learning, and they're freshmen and you don't want them to lose their confidence," Scott said. "There is a fine line, and you pick and choose your spots, but you're challenging them one minute and then the next you're praising them and helping them. Whenever they do something right, you're encouraging them as well. It's back and forth, and it's a struggle for those guys."