| | |
| --- | --- |
| Clemson's win over the Hokies heightens battle for in-state standout | |
---
| | | |
| --- | --- | --- |
| Tuesday, October 3, 2017, 7:01 AM | | |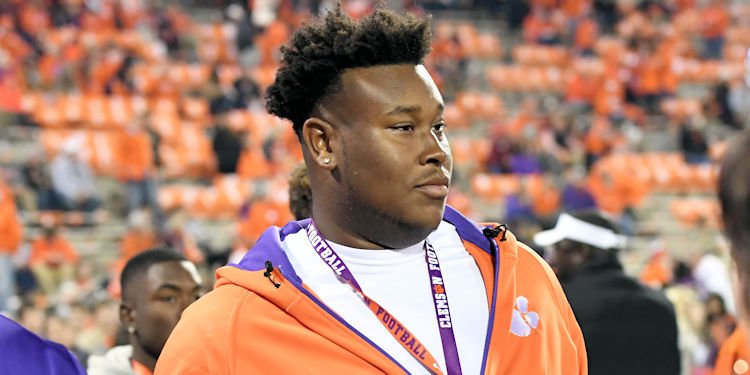 Clemson and Virginia Tech settled the score Saturday night in Lane Stadium, but the rivalry between the Tigers and Hokies is far from over as the battle continues for one of the Palmetto State's top prospects.
Roebuck (SC) Dorman 3-star offensive lineman Jordan McFadden committed to Virginia Tech in July, but a Clemson offer in August forced his recruitment back open and now he's torn between loyalty and living out his childhood dream.
McFadden attended Clemson's last two home games as well as the Tigers' 31-17 victory over the Hokies Saturday night. While the outcome didn't go Virginia Tech's way, he came away impressed with the atmosphere and environment at Lane Stadium.
"There were a lot of people there and it was loud," McFadden told TigerNet Monday evening. "I had a lot of fun watching the game. The atmosphere was really crazy because there were a lot of people there. The fans were really into the game. It was fun. It was just a good place to be that night."
The 2018 prospect also came away impressed with how Clemson's defensive line was able to handle Virginia Tech's potent offense.
"I think they just went out there played well on both sides of the ball. Their defensive line looked pretty good Saturday night," McFadden said.
During the visit, McFadden spent time with the Virginia Tech coaching staff and players, but he said Clemson really never came up in the conversation.
"They didn't really talk about Clemson that much," he said. "They just told me they were happy to get me there and to get me to a game. They were just happy to spend some time with me and get me around some of the other players."
Saturday's visit didn't do much in the way of swaying McFadden one way or other. It only muddied the waters further.
"I'm kind of in the middle and going day-by-day and seeing how I feel," he said. "Clemson is close to home and is the school I've wanted to go to since I was young. I've been to games. I've seen them on TV. Having the opportunity to play there would be kind of hard to pass up. On the other hand, Virginia Tech has been good to me. They've been there for me. They were really close. I'm just in the middle and taking it day-by-day."
What's next for McFadden as he continues to sort out his options? More trips to Clemson and Blacksburg.
"Clemson wants me to come down this weekend to watch them play Wake Forest," he said. "I have not decided if I'm going to go there yet because I've been at games for the past three weeks so I may just stay home this weekend. Virginia Tech wants me to come to the North Carolina game, so I'm going to try to make it to that game."