| | |
| --- | --- |
| Brownell says rules changes will impact the game | |
---
| | |
| --- | --- |
| Monday, June 15, 2015 9:08 AM | |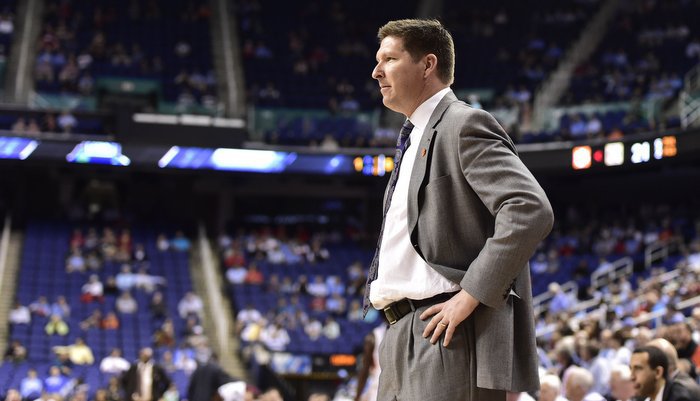 CLEMSON - Familiar won't be the name of the game for Clemson basketball next season as Brad Brownell

Brad Brownell
Head Coach
View Full Profile 's squad will practice at different places on campus and play its home games in Greenville. Add in some significant rules changes in place for the 2015-16 season, and there will be a different feel around college basketball in Clemson.
The NCAA Playing Rules Oversight Panel met recently and voted to change several rules for the upcoming 2015 basketball season in an effort to shorten the game and eliminate the stoppages in play that often times take place at the end of contests.
Rules changes for 2015-16
*30 second shot clock
*Teams can only use three timeouts in the second half (down from four, previously)
*Any timeout called within thirty seconds of a media timeout will take the place of that scheduled break (so no double timeouts around the 4-, 8-, 12-, and 16-minute marks)
*Coaches no longer allowed to call timeouts during live ball situations
*Officials can use the monitor to review a potential shot clock violation on made field goals throughout the entire game.
*Making Class B technical fouls (hanging on the rim and delaying the resumption of play, for example) one-shot technical fouls. Previously, two shots were granted for these types of technical fouls.
*Eliminating the five-second closely guarded rule while dribbling the ball.
*Removing the prohibition on dunking in pregame warmups and at halftime.
*Allowing a total of only 10 seconds to advance the ball to the front court (with a few exceptions).
*Extending the restricted area underneath the basket from 3 feet out to 4 feet out.
Brownell – who is entering his sixth season as Clemson's head coach – told TigerNet recently that he was a little surprised by all of the changes that were passed by the panel.
"The shot clock being the one that we all thought would be the first big one," Brownell told TigerNet last week. "Some of the other ones are things that have been thrown out there and talked about a little bit. There are probably a couple of the rule changes that got passed that are a little bit surprising, but I think a lot of it has all been done to try and increase the pace of the game, not only while it's being played - in terms of the shot clock - but limiting the timeouts and shortening the game even when you have to make a substitution for someone that fouls out. As much as you can eliminate the stoppages of play that seem to make the game seem long at the end. I think that's all been things the rule committee was going to look at."
However, because of all of the attention the media placed on the lack of scoring during the regular season and even in the NCAA Tournament, Brownell knew there would be some tweaking of the game.
"There were probably even a few more than I thought were going to get through," Brownell said. "Well, I don't know if I saw it coming. I know there's been a lot of talk and rule changes only happen every couple of years, so it almost feels like there are times when we get to these situations and there has been a lot of talk from certain media folks and they've been disappointed with the state of college basketball, quality of play and the lack of scoring and so I guess we all kind of anticipated that there was going to be some things happen this year."
In years past, teams have played with a 35-second shot clock, however for the NCAA experimented with a 30-second clock in post season play (NIT, CBI, etc,) and the panel decided the five second deduction had enough of an impact that they voted to keep the shortened shot clock.
Brownell said the 30-second clock will make it more difficult for teams to run set offenses.
"It could a little bit. I think you need to be a little more free-flowing as much as you can be and it makes a little more difficult at times to call as many sets - to walk the ball up and call a set," he said. "You can obviously do it but you're not going to have as much time at the end with the shot clock, especially if somebody is pressing you and they press you for eight or 10 or 12 seconds early in the possession and get you out of rhythm. If you want to call a set play afterwards, it doesn't leave as much time to kind of get into the flow of your set. I think being able flow smoothly in conversion or transition from a made basket or a miss. The miss won't be as difficult but I think the made basket will be the key to being a little bit better offensively."
The panel made two other adjustments pertaining to the clock – the 10-second backcourt clock will not reset when a timeout is called and the five second closely guarded rule has been eliminated.
Teams like Clemson who place so much of an emphasis on defense will have to employ more double teams to force an offensive player to give up the ball now that there will be no five second rule.
"It makes a guy who can handle the ball under duress even more valuable because he can keep the ball in his hands without having to worry about that closely guarded rule," he said. "It makes that guy very valuable offensively. He can really dictate the way the game is going to be played on certain possessions, if he can handle the ball. If the guy is an outstanding ball handler, it may force teams to run double him. I'm thinking now about late in games when you have a late lead and you're just trying to milk the clock, there's no fear of the five-second closely guarded rule, you might have to send two people to a good player to get the ball out of his hands."
The addition of a sixth foul is something he was surprised to see put in action this year.
"I don't know if I'm for that right now," he said. "I think that's part of the strategy of the game - foul trouble and having to manage it. I get the idea that people want to see the best players and if the best players are out there more there will be more scoring. That's one I was a little surprised that it made it to the tryout this year. We're going to look at that this year and see how it goes in some of the post season tournaments, but I wouldn't be shocked for that rule to pass at some point, because I think there are some coaches that are certainly in favor of that."