| | |
| --- | --- |
| Tigers stick to the plan, let Boyd drive the bus to BCS bowl win | |
---
| | |
| --- | --- |
| Sunday, January 5, 2014, 8:12 AM | |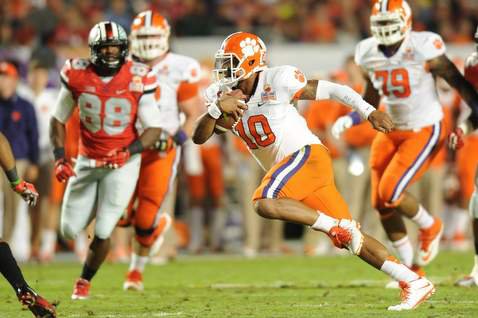 Chad Morris

Chad Morris
Offensive Coordinator / QBs
View Full Profile was stopped by senior running back Roderick McDowell

Roderick McDowell
Gr. Running Back
#25 5-9, 195
Sumter, SC
View Full Profile just outside the Clemson locker room early Saturday morning, and McDowell thanked his offensive coordinator for putting the team in a position to be successful.

Morris hugged the Florence native, and said, "I've been telling you guys all along that if you just stick to the plan, we would we successful. We just had to stick to the plan."

The "plan" churned out 40 points and 576 yards of total offense as the Tigers rallied to defeat No. 7 Ohio St. 40-35 in the Orange Bowl, making Clemson the only team to beat top ten teams in bowl games each of the last two seasons. The Buckeyes have also scored 35 or more points 286 times in program history, and Friday's night loss was the first time they have lost in those 286 games.

All because the players bought into what Morris was selling.

"Our guys believed in the plan. They never quit," Morris said in the jubilant locker room. "Our guys believed in what we were doing. They had not stopped us. Give them credit because they have a really good team. They're a play or two away from playing for the national championship but we knew our guys were executing at a high level. We were executing our plan."

The Tigers might have scored more points and added more yards without the kind of head-scratching plays that have defined the career of quarterback Tajh Boyd

Tajh Boyd
RS Sr. Quarterback
#10 6-1, 225
Hampton, VA
View Full Profile , however. Boyd tried a lob pass near the goal line in the second quarter that was intercepted by Ohio St.
"We had a great game plan. I thought our guys knew the plan and they were executing the plan," Morris said. "Tajh - he just made an impulse decision down there near the goal line. He had a first down and we were going in to score. Those things frustrate you, but to see him pick himself back up, that was great. We were able to do some things, we got a couple of turnovers and tried to capitalize on those. "
The Tigers did fight back, and held a tenuous 40-35 lead late in the game when Boyd threw another interception – this time on a third down when he should have just run the ball – leaving Morris shaking his head.
"I'm just so proud of the way our guys fought all the way until the bitter end. Heck at the end we had a quarterback draw called," he said. "Last thing we told him was, 'Tajh don't throw the football. Don't throw the football. You keep it and don't take it out of your hands.' And he saw him wide open and overthrew him. And we hated that. But like I said, we don't make things easy."
Morris said his advice to Boyd earlier in the game was to just get the ball to his playmakers.
"I told Tajh, 'Hey, just drive the bus. You don't have to drive it recklessly. Just drive it because we've got guys around you making plays. Let's let them go make plays," he said.
Boyd drove the bus well enough for a win, and Morris said the win should cement Boyd's legacy as one of the greatest players to don the paw.
"Well obviously you take tonight out and he's already done so much for this university. I've said it over and over and over that his legacy - if he never took another snap, including this game, was unbelievable anyway," Morris said. "But with a win tonight, to come in and win a big BCS game in front of a grand stage in his last game, he's tied the record for all-time wins by a quarterback here, it's just unbelievable. What a great way to end his career. I'm proud of him. I'm going to miss him. I already miss him. He's ready. I can't wait to watch the rest of his career."