| | |
| --- | --- |
| Thompson draws fist pumps from coaches during afternoon commitment | |
---
| | |
| --- | --- |
| Sunday, January 19, 2014 8:55 PM | |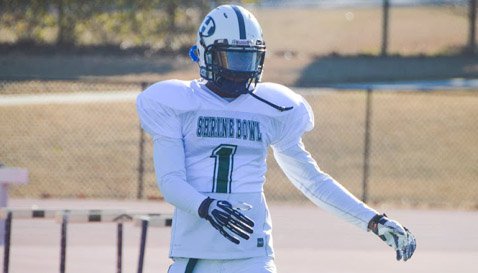 Wide receiver Trevion Thompson

Trevion Thompson
Wide Receiver
6-3, 190
Durham, NC
ESPN:


View Full Profile draws a crowd whenever he steps foot on the football field, but he also managed to draw a crowd inside of Clemson head coach Dabo Swinney

Dabo Swinney
Head Coach
View Full Profile 's office Sunday afternoon.
Thompson, out of Durham (NC) Hillside, was in Clemson for an official visit this weekend, and he sat down with Swinney and some of the other coaches for his final conversation before heading back to North Carolina.
And, much like he does on the football field, he stole the show when he gave his verbal commitment to Swinney and the assembled coaches, becoming the Tigers' 19th commitment of the 2014 recruiting cycle.
Thompson (6-2, 185) is ranked as the No. 20 wide receiver in the country by ESPN, and he sits at No. 152 on ESPN's Top 300. During his senior season, Thompson caught 57 passes for 987 yards and 14 touchdowns. He chose Clemson over N.C. St., Ohio St., West Virginia, Florida, South Carolina and North Carolina.
As a junior, Thompson hauled in 42 passes for 735 yards and five touchdowns, and as a sophomore he caught 40 passes for 700 yards and seven touchdowns.
In an exclusive interview with TigerNet Sunday evening, Thompson detailed his reasons for choosing Clemson.
"The main reason was that I just had a good feeling about Clemson and being here," Thompson told TigerNet. "It was a feeling I had, like this is the place I should be. My very first time going there, it was like 'wow' as soon as I stepped in that facility. It blew me away. That was just the feeling I had, this big wow moment."
Thompson said he also felt at home in Clemson.
"I would say that the visits I took to games and spring games and over the summer, those really set Clemson apart," he said. "It was the right place for me."
Thompson said he felt like he waited until the perfect moment to tell the coaches.
"I kind of already knew what I wanted to do," he said. "It was just a matter of doing it at the right time. I left Clemson today around noon, so I told Coach Swinney in his office before I left. I told him and the other coaches, and they were all fired up, pumped up and excited. They were all giving fist pumps, like 'yeah!' "
Thomson said he spent the weekend with his player host – former high school teammate Korrin Wiggins – and getting to know his future teammates and coaches.
"I spent most of time just hanging around the coaches and players and getting to know them and getting a feel for them," he said. "It was good being around all of them for more than just a couple of hours, and just being able to hang with them."
Wiggins was also able to dispense some brotherly advice.
"I see him (Wiggins) as a big brother," he said. "We had talked previously, and to sum up his message to me, he told me that if you come in and play hard, practice hard and show them that you are willing to work hard, they will play you."
Thompson said the Clemson coaches have told him he is versatile enough to play any of the receiver positions, but they see him slipping into the "9-man" spot recently vacated first by DeAndre Hopkins and then Martavis Bryant.
He also said the receiver he is compared to most often also played in the ACC.
"I feel like I am an all-around receiver, and if the ball is in my vicinity I am going to catch it," he said. "Sometimes people tell me I remind them of Calvin Johnson, and I have also gotten comparisons to Jerry Rice and Torry Holt. But the one comparison I get the most is Calvin Johnson. I feel like I am a good fit for Clemson's offense – they are explosive and throw the ball a lot."