TigerNet

is the oldest and largest Clemson Community online with 154,283 members, 58,744 news articles and 29M forum posts.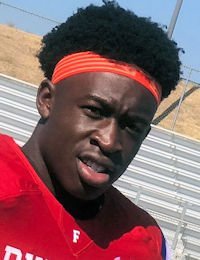 Joe Ngata
Wide Receiver
Position:
Wide Receiver

Rankings Updated: 2020-05-18

Year:
Class of 2019
Hometown:
Folsom, CA
High School:
Folsom
Ht./Wt./40:
6-3, 205 lbs
Status:
Signed with Clemson on 2018-12-19
TigerNet:
4.55
ESPN:
#159 Overall, #23 WR, #20 CA
Rivals:
#27 Overall, #5 WR, #4 CA
24/7:
#43 Overall, #6 WR, #7 CA
Top Schools:
Clemson
B I O
Ranked as a five-star recruit by Rivals.com, which listed him as the 21st-best overall player in the nation, fourth-best player from the state of California and fifth-best wide receiver … 247Sports ranked Ngata as 39th-best overall player, the ninth-best from California and eighth-best wide receiver … listed as 28th-best overall player in the nation by Tom Lemming … ESPN.com rated him as its No. 159 overall player … led his team to the state championship each of his final two years … led Folsom High in the 2018 state championship victory on Dec. 14 with nine receptions for 103 yards and a score … his touchdown catch with under two minutes left sent the game into overtime … team finished 14-1 in 2018 … for his high school career, had 188 receptions for 3,682 yards and 55 touchdowns … team had a 39-3 record in his three years on the varsity … had a touchdown catch in 36 of 42 career games … also had 17-yard average on rushing plays (17-236) … in 2018, had 66 catches for 1,272 yards and 22 scores, a 19.3-yard average … had six 100-yard receiving games … caught a touchdown in each of his last 10 games and 13 of the 15 games in 2018 … added 8-86 rushing … in 2017, had career-high 81 receptions for 1,777 yards and 26 scores … averaged 22 yards per catch … led team to a 16-0 record with seven 100-yard receiving games, including two games with at least 200 yards … had 12-202 against Oakdale High in 2017 … had 8-213 and career high four touchdowns against St. Mary's in 2017 … caught at least one TD pass in 14 of 16 games … had 41-633 receiving and seven touchdowns as a sophomore … had 9-139 receiving in his first career high school game in 2016 … had a touchdown catch in seven of 11 games in 2016 … played his high school football at Folsom High School for Kris Richardson … primary Clemson recruiter was Jeff Scott … will be first Clemson signee from California to matriculate to Clemson since Bobby Forbes in 1991 … attended same high school as Washington quarterback Jake Browning … wore No. 10 in high school … will play in All-American Bowl … committed to Clemson on July 28, 2018 … plans to enroll at Clemson in January 2019 … last name pronounced: enn-GOT-uh.


COLLEGE CHOICES

| School | Offered (24) | Visit Date |
| --- | --- | --- |
| Clemson | Yes (01-11-2018) | |
| Alabama | Yes | |
| Auburn | Yes | |
| California | Yes | |
| Colorado | Yes | |
| Florida | Yes | |
| Florida State | Yes | |
| Georgia | Yes | |
| Michigan | Yes | |
| Nebraska | Yes | |
| Nevada | Yes | |
| Notre Dame | Yes | |
| Ohio State | Yes | |
| Oregon | Yes | |
| Oregon State | Yes | |
| Penn State | Yes | |
| San Diego State | Yes | |
| Texas A&M | Yes | |
| UCLA | Yes | |
| USC | Yes | |
| Utah | Yes | |
| Vanderbilt | Yes | |
| Washington | Yes | |
| Washington State | Yes | |

VIDEO HIGHLIGHTS
Latest Joe Ngata News