---
| | | |
| --- | --- | --- |
| Wednesday, November 7, 2012, 11:14 AM | | |
The Tiger Ten returns with a look back at the Duke game and a look ahead to Maryland. We start with a look at Clemson's offensive explosion at Duke.
The Tiger Ten:
10.) This past Saturday, Clemson's 487 yards in the first half was better than 87 other FBS teams total offensive output for the entire game. The Clemson offense had its second best offensive output (and its best offensive output on the road) in Clemson history. The offense had 339 rushing yards and 384 passing yards for a total of 718 yards. The record was against Wake Forest on Halloween in 1981 when Clemson rushed for 536 yards and passed for 220 yards for a total of 756 yards.
9.) DeAndre Hopkins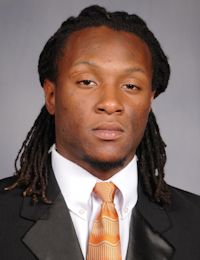 DeAndre Hopkins
Jr. Wide Receiver
#6 6-2, 205
Central, SC
View Full Profile had his 5th 100+ receiving yard game this season and the 11th for his career. He has broken the career record for 100+ receiving yards by passing Rod Gardner. Between 1997-2000, Gardner had nine 100+ receiving yard games. The single season record for 100+ receiving yards is held by Tony Horne. In 1997, Tony Horne had six 100+ yard receiving games. Hopkins is only 81 yards behind Aaron Kelly's career receiving yard record of 2,733 yards and 182 yards behind Sammy Watkins
Sammy Watkins
So. Wide Receiver
#2 6-1, 205
Fort Myers, FL
View Full Profile single season record of 1,219 receiving yards. It will be difficult to break, but Hopkins is 567 yards behind Tory Holt's ACC single season receiving record.
8.) DeAndre Hopkins is also creeping up on Jerry Butler
Jerry Butler
Wide Receiver
# 6-0, 180
Ware Shoals, SC
View Full Profile 's record of consecutive games catching a pass. Between 1975 and 1978, Jerry Butler caught a pass in 36 consecutive games. Going back to the Georgia Tech game in 2010, Hopkins has caught a pass in his last 30 games. Over that span, Hopkins has 173 receptions for 2,537 yards and 21 touchdowns.
7.) Clemson leads the ACC and is currently T-3rd (with UGA) in the nation in plays of 20+ yards. This season, Clemson has had 61 plays of 20+ yards which is good for just under seven 20+ yard plays per game. Currently, Texas A&M leads the nation with 68 plays of 20+ yards. Clemson had a season high of 14 plays of 20+ yards against Duke. Clemson also had as many 10+ yard rushes against Duke as the Tulane offense has had all season. Clemson had a season high 13 rushes of 10+ yards this past Saturday.
6.) DeAndre Hopkins currently leads the ACC and is 2nd in the nation in receiving touchdowns. Hopkins' 3 first quarter touchdowns against Duke brought him to a total of 13 touchdowns for the season. He is only 4 touchdowns behind the ACC single season receiving touchdown record. In 1989, Clarkston Hines had 17 touchdowns for Duke. Hopkins now owns the Clemson career record for receiving touchdowns. In the first quarter against Duke, he passed Aaron Kelly's career record of 20 receiving touchdowns and now has 22 career touchdowns.
5.) Chandler Catanzaro
Chandler Catanzaro
RS Jr. Punter / Kicker
#39 6-2, 195
Greenville, SC
View Full Profile has been named a semifinalist for the Groza Award (presented to the top college football place kicker). Catanzaro has only missed 1 FG (12 of 13) this season and has a 92.3% field goal percentage, which is the 2nd best in the nation (there are 3 kickers who have not missed a FG this season. The Clemson single season record for field goal percentage was set back in 1984 when Donald Igwebuike went 16 of 17 for a 94.1% field goal percentage.
4.) Clemson will be facing its second toughest defensive opponent this Saturday against Maryland. Maryland currently has the 11th ranked total defense in the nation allowing just over 301 yards per game. Maryland is allowing just over 110 yards rushing per game and just over 191 yards passing per game. Maryland also has the nation's 33rd ranked scoring defense allowing just under 22 points per game. In Maryland's wins this season the defense has only allowed 98.8 ypg rushing and only 1 rushing touchdown for the season. However, in their losses, they have allowed 119.2 ypg rushing and a total of 7 rushing touchdowns.
3.) One player to watch on Saturday will be Maryland's star freshman wide receiver Stefon Diggs. Diggs is currently 2nd in the ACC and 7th in the nation in All Purpose Yards. He is averaging just over 80 receiving ypg, has 65 yards on 12 rushes, averages over 10 yards per punt return, and averages 27 yards per kickoff return. Diggs also has three 100+ receiving yard games this season.
2.) Clemson will be looking to set the record for consecutive home wins in Death Valley on Saturday against Maryland. Clemson has won 11 straight home games going back to the Troy game last season. Also, Tajh Boyd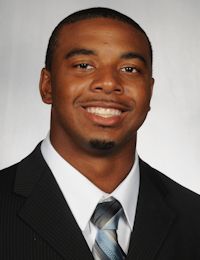 Tajh Boyd
RS Jr. Quarterback
#10 6-1, 225
Hampton, VA
View Full Profile has been the starting quarterback during this streak and is 11-0 at home. Clemson's only other 11 game win streak in Death Valley was between the 1989 and 1991 seasons. Clemson started the streak in 1989 with a win over North Carolina State and the streak ended with a tie against Virginia in 1991. The all time home winning streak is 12 which dates all the way back to the 1927-30 seasons (Death Valley hadn't been built).
1.) The Clemson secondary will be facing Maryland's fifth string quarterback Saturday. Due to injuries, true freshman Shawn Petty had to be converted from linebacker to quarterback. His first game in college was this past week against Georgia Tech. He went 9 of 18 for 115 yards, 2 touchdowns, and 1 interception. He also rushed the football 17 times for 56 yards. However, he was sacked 4 times for a loss of 32 yards, which brings his net rushing down to 24 yards. Maryland is currently 116th in the nation in sacks allowed, allowing just over 3.5 sacks per game. The Clemson defense has 11 sacks over their last 3 games.