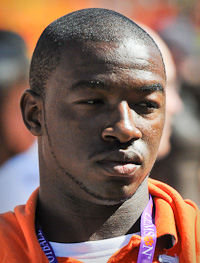 B I O
Tore his ACL in the sixth game of his junior season. Coming into his senior season, he has accounted for 6,202 passing yards, 2,001 rushing yards and 81 touchdowns. He also has Clemson orange bloodlines – his second cousin is Tye Hill. His team finished the season with a 8-3 record. The last game was a 37-13 loss at Timberland. His season stats were 1009 yards passing with 19 touchdowns and one interception. He also had 496 yards rushing and 9 touchdowns. On special teams, he had 80 yards on a kick return for a touchdown. On defense, he had 5 tackles, 1 tackle for a loss, and a sack in 11 games. Smith to the Times and Democrat: "I tell everybody, the whole recruiting thing, you can have 30 offers or 50 offers, but you can only take one. The only real offer I had was Clemson, and some of the other teams, when I hurt my knee, they stepped back and wanted to wait until I started playing again. Clemson didn't. They believed in me, and they said I was their guy. They told me if I blew out my other knee they would still sign me. Knowing that, and just to prove I can come back and play, it feels good to go out there and show them I'm still the same guy that is going to come and give you 110 percent every time."
Junior Highlight Film
S T A T S
All-around good athlete that projects to be a safety at Clemson.
COLLEGE CHOICES

| School | Offered (1) | Visit Date |
| --- | --- | --- |
| Clemson | Yes | Friday, 1/7/2011 |

VIDEO HIGHLIGHTS
Latest Robert Smith News
Robert Smith FAQ
What high school does Robert Smith play for?
Robert Smith plays for Woodland HS
What position does Robert Smith play for Woodland HS?
Athlete
What are Robert Smith's top college choices?
Robert Smith's top college choices are ,Clemson
What school did Robert Smith sign with to play football?
Clemson
What is Robert Smith's national rank?
0
What is Robert Smith's overall rank?
0
What is Robert Smith's Athlete rank?
0
What is Robert Smith's state rank in SC?
0
How tall is Robert Smith?
Robert Smith currently stands at 5-11
How much does Robert Smith weigh?
Robert Smith currently weighs in at 195 pounds
What state is Robert Smith from?
SC