---
Dan Radakovich
Clemson announced the hiring of Dan Radakovich as its new athletic director yesterday. I spent much of Monday calling, texting and emailing contacts Below are a few comments from those that responded:
A source close to several athletic directors across the country said, "This is a grade A hire. Dan is highly respected among his fellow athletic directors across the country. This hire will be one that is met with few being surprised. People in this industry that know him, know what he is about and know Clemson is the kind of program he was looking for. It was not a secret that he was looking around and this move makes sense."
One Atlanta source said, "I think he had a bunch of ups and downs at Tech. The NCAA issue has to be a concern. He made a big mistake there and some Tech people will always hold him responsible. Also you have to look at the overall program. Not many of their programs have been conference championship teams. Some will point out a big debt issue at Tech. That concerned some. But others liked him and thought he did good job. Some things were out of his control. He had no choice on the Hewitt contract. That set Tech back more than people realize. Paul Johnson looked like a great hire until this season. So I think you saw both good and bad when he was here."
One source told me, "Radakovich was the top choice at Texas A&M before they hired Eric Hyman. They could not get together on the money part and A&M had some other good candidates, so they moved on pretty quickly, but he was their guy up front. There was also a family issue at the time. I think his son is a senior in high school and they wanted to stay in the area for the rest of the school year. I am not sure what happens now."
One long time Georgia Tech booster says, "I have nothing but great things to say about Radakovich, We knew for some time that he was going to be gone soon because Georgia Tech does not have the resources or the mindset to match up with this guy. He did not have a whole lot to work with over at Tech. We knew the last couple of years that he was going to be going somewhere. He has an SEC mindset and needed to be somewhere that fit that vision. He is aggressive and impatient with losing."
Another Tech booster was not as complimentary. "I don't think you can classify his time here yet, or at least you can't say he was a success or failure. It's not that simple. I think he did some good things here," the booster said. "I think his entire story is not written yet. If the football program and basketball program turn it around then he will get more credit. But we have lost more than our fair share around here lately. Some of it is the president and some of it is the academic standards. You have to realize that Tech is not supported by the city of Atlanta but someone has to take the blame for awful attendance at football and basketball games. I am hopeful the new basketball arena sparks more interest."
Another source added, "This hire makes sense in that there will be no learning curve in the ACC. Radakovich already knows the landscape in the conference and the issues Clemson faces within the league. Anytime you take a new job there are things about the job that are unknown and every job has different challenges, but in this case there should be less unknowns from both sides. I would think that Clemson's president has worked with him on some things and is familiar with his personalty and vice versa. Tech and Clemson are different schools but geographically they are close and there should be no surprises when it comes to the landscape of the challenges he will face. Also think about the turnover throughout college athletics. In this case he does not have to work with a new commissioner, a new conference office, etc. The transition should be a little easier because of the familiarity."
Finally a coach that worked under him as an assistant says, "Dan is a good guy. He is a good guy to work for. He is a good communicator. He lays out the expectations which for the most part is winning. Dan is a highly competitive personalty. He is very clear about that. The guy wants to win and he wants to win at the highest level. I liked that about him. He made it clear that winning was very important. I knew we were to win within the rules and we were to graduate players and we were to help mold our student-athletes into good citizens, but I also knew we were there to compete at the highest level."
The Brad Hughes All-State Insurance Agency
Prayer List
We have started a prayer list on the blog. Here are the guidelines:
If you are offended by prayer or prayer lists then I apologize in advance. The blog is free and the prayer list will be on the bottom of the page so you don't have to read it.
If you would like to add someone to the list please email me at mickeyplyler@hotmail.com
*Please let me know when it is appropriate to take the person off of the prayer list.
Those who need our prayers include:Finn Brookover, Mary-Louise Pawlowski (John's daughter), Jo Ann Bachman, Kenneth Bryant, Pruitt Martin, Got igers and his family, David Rowland, Leonard, Gillespie and his family, Jim S, Daniel Rosborough, The Huffman family, Nancy Winkler, John Reeve, Ethel Southard, Vinnie Brock, Kaitlyn L, Susan Miller, Joyce Harley, Steve Proveaux, Jeffrey Greene, the Hutto family, Sherl Drawdy, Caleb Kennedy, Teresa O'Connor, Matt Jacobs,Perrin Seigler, Candee Massee, Lindsey Jordan, Sam Catoe, Tyler Felch, the Nicolopulos family, "the Jacksonville, FL guys", Kim Sims, the Coyle family, Ryleigh Tedder, Steve Lee, Kelly Trakas, Jimmy Moore, the Thomas. V Family, Emary Claire Young, Kitty Bowers,Julie Locke, the Scheider family, Lauren Kittles' family, Frank Gentry, Joyce Bussey, Stacey McKeown, Dale Childs, Larry Lentz, Jr, Carl Sharperson, Scott Hannon, William Perry, Tyler Swaney, Lillian, Mark Feit, David Frame, Chad Berry, the family of Matthew M. Watson, the Dowis family, Shervin Messer, Alan Putnam, the Olivers, Lee Tate, Ronnie Abrams, Eddie Greene, the Jackson family, Bill Vader, Jim Taylor, Tina DeWitt, Rock Horne, Christopher Tuten, Bobby Wayne Thomas, Emma and Danielle Carothers, Robert Ditty, Mr. and Mrs. Murray Smith, Dot Cartee, Ayden Mills, Millie Heatley, Lynn Martin and family, Michael Pinson, Jake David family, Angie Crowley, Ira, Mike Tolson, Poly Wells, Dr. Muriel Bishop, Jack Cunningham, Emily Jefford Meister, Zachary Stoller, Aaron Clackum, Pat James, Cortney Moore, William Moore, Angelia and Savannah Anderson, William Ross, Meredith Legg, Scott Johns, Frank Carroll, Brandon Thompson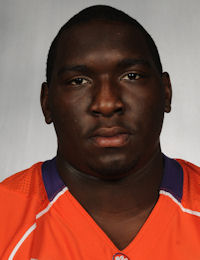 Brandon Thompson
Defensive Tackle
#98 6-2, 310
Thomasville, GA
View Full Profile , Alvin Sammons, Georgine McAlhaney, Glen Davis, Mike Price, Clay Childers, Aaron Knight, Danielle Johnston and family, Nicholas Abrams, Lana Kuykendall, Gary, Billy McLeroy, Gary G., William Huggins, Jim Bennett, Chantz Fowler, Ethel McElveen, Michele Gurganus, William Gentry, Lewis Usher and Tanya Sanders, Shon Cooper, Nick Collins, Travis Patterson, Bud Long, Arthur R. Cressman Sr, Jennifer Chancy, Eden Chandler, Amanda Peake, Danny Hammond, Chip Turner, Nick Collins, Allen Steen, The Sturkey Family, James Caylor, Ron Johnson, John Ellis Haddad, the Lance family, Marcus Lattimore, Nick Chrisley's family, Allison Williams.

Upgrade Your Account
Unlock premium boards and exclusive features (e.g. ad-free) by upgrading your account today.
Upgrade Now