TigerNet

is the oldest and largest Clemson Community online with 154,108 members, 58,680 news articles and 29M forum posts.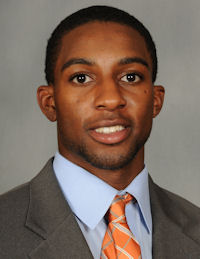 #2
Demontez Stitt
Guard
| | |
| --- | --- |
| Position: | Guard |
| Ht./Wt.: | 6-2, 180 lbs |
| Hometown: | Matthews, NC |
| High School: | David W. Butler |
| Class: | Graduated |
| Exp: | 4VL |
| Years: | 2007 - 2010 |
| Major: | PRTM |
B I O
Overview:
Starting point guard for the Tigers in his first three seasons at Clemson...has played in 94 career games with 81 starts...has led Clemson to 68 victories and three consecutive appearances in the NCAA Tournament...holds career averages of 9.6 points and 3.3 assists per game...needs just 98 points as a senior to reach 1,000 in a Clemson uniform...should certainly be an All-ACC candidate as a senior...possesses outstanding quickness and ability to penetrate to the basket...named the team's Defensive Player-of-the-Year as a sophomore...enters his senior season with 120 career steals, he needs 25 to move into the top 10 in Clemson history in that statistical category...has cut down his turnover total each of the past two seasons, he will look to continue that trend as a senior...found consistency in his jump shot as a junior...entered his third year with the program shooting just 27 percent from the three-point line, but he shot a team-high 39 percent from long distance as a junior...showed an ability to take over games from the offensive end as his junior year progressed...provides stability at the free throw line, he is a career 74 percent shooter...as a freshman, established himself as a clutch free throw shooter after drilling six in a row in the final minute of his first collegiate road game...continued to show his clutch abilities from the charity stripe in 2009-10, hitting a pair of game-winning free throws over a Butler team that advanced to the championship game of the NCAA Tournament...2007 Mr. Basketball winner in the state of North Carolina, one of two players on Clemson's roster to be named Mr. Basketball of their respective state...shares the same birthday, March 16, as fellow point guard Andre Young...he and Young are tied for most career three-pointers (8) in NCAA Tournament games by a Tiger...he is 8-for-10 in three career tournament games from behind the three-point arc.
In 2009-10:
Played in 30 games, with 29 starts at the point guard position...missed two contests (at Boston College, Maryland at home) due to a mid-foot sprain that affected Clemson's team performance for a five-game stretch during the ACC regular season...second on the team with 11.4 points per game...scored double figures 17 times, a career high for a single season...upped his scoring average to 12.2 points per game during the ACC regular season, he reached double figures in nine of the 14 games he played...posted three 20-point games, second on the team behind Trevor Booker...led the team with 94 assists...vastly improved his shooting percentages as a junior...increased overall field goal shooting from 41 percent as a sophomore to 45 as a junior...improved by 12 percent to a 39-percent clip from three-point range...led the Tigers in three-point accuracy...made one less three-point goal as a junior (33) than he had in his two previous seasons combined...led the team in charges taken (14) for the second straight season...second on the team with 44 steals, a big reason Clemson ranked in the top 15 nationally as a team in steals per game...shot 78 percent from the free throw line, his most consistent season performance to date...hit 87 percent (20-23) from the line inside the final five minutes of games, further support for his ability to deliver in the clutch...led the team in plus-minus ratio for the season, Clemson was +9.6 points per game when he was in the ball game.
Best Games of 2009-10:
Most memorable moment may have come against No. 10 Butler when he sank the game-winning free throws with 3.3 seconds left; he totaled 19 points and hit 7-of-15 shots, including 3-of-7 from three-point range...matched career-high in the final game of the season versus Missouri in the NCAA Tournament, he posted 21 points and hit 7-of-11 shots and 4-of-5 from long range...tallied 20 points and hit 8-14 field goals in win over North Carolina, a sweet moment for the native of the Tar Heel State...also recorded 20 points in Clemson's home finale against Georgia Tech, he made 4-of-6 from three in that contest...added seven assists and four steals in a fine all-around effort against the Yellow Jackets...posted 16 points and five assists in win over Long Beach State in the 76 Classic...scored 15 in loss to Illinois, while collecting three steals...added 14 points on 5-of-8 shooting, with five assists and two steals, against South Carolina...tallied 10 points and eight assists versus Western Carolina...scored 15 of his team-high 17 points in the second half at Duke...scored 14 of his 15 points in the first half against Boston College at home...scored nine points in 23 minutes at NC State, but sprained his left foot midway through the second half...played through injury against Georgia Tech and Duke, scoring 10 in both games in mid-January...scored 15 points and added six assists in home win over Miami...again tallied 15 points in Clemson's loss at Maryland...posted 18 points, all in the second half, at Wake Forest as he overcame foul trouble.
In 2008-09:
Started all 32 games of the season at the point guard position...averaged 8.7 points and 3.8 assists per game in his second season with the Tigers...played an average of 25.9 minutes per game...ranked sixth in the ACC in both assists per game and assist-to-turnover ratio (1.5)...posted double figure scoring efforts 12 times...led or tied for the team lead in assists in 19 games...took 18 charges on the season, most by a Clemson player since Jerry Pryor (21) in 1987-88...sixth-most in a single-season in school history...ranked second on the team with 110 free throw attempts, which supports his ability to get to the basket offensively...ranked second on the team with 48 steals, which demonstrated his progress on the defensive end of the floor...combined with his 18 charges drawn, he took the ball away from the opposition 66 times...improved his rebounding as a sophomore to 2.4 per game, up from 1.6 as a freshman...numbers improved during ACC play, he averaged 9.3 points per game and had a 1.6 assist-to-turnover ratio during the regular season as well.
Best Games of 2008-09:
Best game of the season was in the ACC/Big Ten Challenge game at Illinois, where Clemson overcame an eight-point halftime deficit...scored 18 points on 8-11 shooting and added six assists and four steals...top scoring game was at Wake Forest to end the regular season, he posted 21 points on 8-14 field goals and 4-6 free throws...added three steals in that contest with the Demon Deacons...posted 15 points and hit 3-6 three-pointers in the win over Maryland at home...scored 14 points and added five assists, two blocks, and two steals against Virginia Tech at home...posted 13 points in home matchup against Wake Forest, he made 6-11 shots in that game and added a career-high five steals...posted 11 points against TCU in the second game of the season in the Charleston Classic...played well in front of hometown family and friends at Charlotte...tallied 16 points and hit 4-7 shots and 6-7 free throws...posted career-high 11 assists in win over Liberty, which tied for second-most by an ACC player all year...committed just one turnover against the Flames, his 11-1 assist-to-turnover ratio was tied for the best single-game mark in the ACC all season...tallied 10 points, five assists, and three steals in comeback win at Miami to begin the ACC season...scored 11 points in road win over Boston College...scored 12 points at Virginia, where he added four assists against only one turnover in 37 minutes of play...notched seven assists versus one turnover in 23 minutes at Georgia Tech...hit 3-5 field goals and 5-7 free throws for a total of 11 points versus the Yellow Jackets in the ACC Tournament.
In 2007-08:
Started the first 20 games of the season at point guard...did not play against Boston College, then at Virginia due to arthroscopic surgery...returned against North Carolina on the road and showed little to no effects from the surgery...averaged similar numbers before and after the surgery...ranked sixth on the team in scoring at 8.8 points per game...finished second on the squad with 97 assists...also was second on the team in free throw shooting at 76.1 percent...sank 15 consecutive free throws at one point, best on the team...posted 28 steals, fifth-best on the team...showed an ability to get to the basket, as he shot 109 free throws as a freshman which ranked second on the team in terms of attempts...reached double figures in scoring in 15 games, including the NCAA Tournament first round matchup with Villanova...led or tied for the team lead in assists in 11 games...played well on the road, where he averaged 9.9 points per game and had a positive assist-to-turnover ratio...had a higher scoring average (9.5) and better field goal percentage (41.8) in ACC play than he did in non-conference games.
Best Games of 2007-08:
Ended the season on a high note with 14 points in the NCAA Tournament against Villanova...sank 4-4 three-pointers, his season-high for outside shots made...also started the season strong, scoring eight points on 8-8 free throw shooting at Mississippi State...made six in the final minute under pressure to give Clemson an important road victory...scored 13 points against South Carolina on Dec. 1 in a head-to-head matchup with Gamecock point guard Devan Downey...made 9-10 free throws in that game...scored 13 points at East Carolina and added five assists versus the Pirates...posted 14 points and five assists against DePaul in the second game at the San Juan Shootout...hit 5-7 shots and 5-5 free throws in home win over Samford for a total of 15 points...scored 11 points and added four assists in overtime loss at home to North Carolina, as he held his own against Tar Heel point guard Ty Lawson...scored 13 against hometown school Charlotte...hit 6-9 shots and totaled 15 points at Duke...also had 15 on the road against Miami...returned from injury at North Carolina to post 13 points and five assists in 21 minutes off the bench...followed with 13 points on 4-5 shooting and 5-6 free throws against Georgia Tech...sank the game-winning free throws with 3.8 seconds left in the Senior Day win over Virginia Tech...scored 12 points against the Hokies...tallied 11 points and four assists in the ACC Tournament championship game against North Carolina.
In High School:
Listed as one of the top 150 prospects by HoopsReport.com and Prepstars...ranked as the #81 overall prospect according to Prepstars...ranked as the #18 point guard prospect by Scout.com...a top-five prospect in the state of North Carolina by Rivals.com...named Mr. Basketball in North Carolina...first-team All-Area according to the Charlotte Observer...first-team All-Mecklenburg County...Co-Player of the Year in Mecklenburg County...named to the N.C. Associated Press All-State team...had a strong showing in the Pro-Am All-Star Classic with 15 points, three assists, and two rebounds...Co-MVP of the Pro-Am All-Star Classic...averaged 24 points, seven rebounds, and seven assists his senior year despite missing four weeks due to a broken thumb...helped lead his team to a Southwestern AAAA championship...averaged 21.2 points, 5.1 assists, and 4.7 rebounds as a junior...Southwest AAAA Player-of-the-Year his junior and senior seasons...an all-tournament selection at the Bojangles Shootout in December of 2005...played for coach Kurt Wessler at Butler...chose Clemson over offers from Memphis, Georgia, Penn State, Virginia Tech, George Mason, and Charlotte...born March 16, 1989...majoring in sport management.
Stitt Career Statistics

Year

GP-GS

Min/Avg

FG-FA

Pct

3FG-FA

Pct

FT-FTA

Pct

Off/Reb/Avg

A-T

BS-ST

PF-D

Pts/Avg

2007-08

32-20

728/22.8

91-223

.408

16-58

.276

83-109

.761

14/50/1.6

97-89

10-28

85-3

281/8.8

2008-09

32-32

829/25.9

93-225

.413

18-66

.273

74-110

.673

17/77/2.4

121-81

14-48

90-1

278/8.7

2009-10

30-29

863/28.8

119-262

.454

33-84

.393

72-92

.783

22/80/2.7

94-80

8-44

58-1

343/11.4

Totals

94-81

2420/25.7

303-710

.427

67-208

.322

229-311

.736

53/207/2.2

312-250

32-120

233-5

902/9.6
Stitt Career Highs
Points: 21 vs. Wake Forest, 3/8/09; 21 vs. Missouri, 3/19/10
Field Goals Made: 8 vs. many (3), last vs. North Carolina, 1/13/10
Field Goal Attempts: 15 vs. Butler, 11/29/09
Field Goal %: (.800, 4-5) vs. Miami, 2/27/08; (.800, 4-5) vs. College of Charleston, 12/19/09
3-Pointers Made: 4 vs. many (3), last vs. Missouri, 3/19/10
3-Point Attempts: 7 vs. Charlotte, 1/9/08; 7 vs. Butler, 11/29/09
Free Throws Made: 9 vs. South Carolina, 12/1/07
Free Throw Attempts: 10 vs. many (3), last vs. Hofstra, 11/14/08
Rebounds: 6 vs. Duke, 2/4/09
Offensive Rebounds: 3 vs. Maryland, 2/24/10
Assists: 11 vs. Liberty, 12/7/08
Blocked Shots: 2 vs. many (6), last vs. South Carolina, 12/6/09
Steals: 5 vs. Wake Forest, 1/17/09
Minutes: 37 vs. Virginia, 2/15/09

*Courtesy Clemson Media Guide
| | |
| --- | --- |
| | VIDEO HIGHLIGHTS |
Latest Demontez Stitt News
Click the link below to read more!