| | |
| --- | --- |
| Dabo Sunday teleconference | |
---
| | | |
| --- | --- | --- |
| Sunday, September 4, 2011, 7:30 PM | | |
CLEMSON – Clemson head coach Dabo Swinney hosted his first Sunday afternoon teleconference of the season on Sunday, and he spoke with members of the media about the Tigers' 43-19 win over Troy in Saturday's season opener.
Swinney said that he was pleased with how disciplined his team played despite so much youth being on the field.
"We got the win. I think we had an opportunity to play a lot of guys who drew a lot of valuable experience from playing," he said. "I'm most proud of the fact that they handled some adversity, being down at the half. They really exploded out in the second half. Offensively, defensively and special teams. Also, just the discipline that our team played with, to have just two penalties, I just thought that was really good. No defensive penalties. One of the big things you look at is turnover margin and the big plays. When we can win the turnover margin and have two more big plays than the opponent we have a good chance to win and that was the case yesterday. Seeing all of the freshmen was good.
"We had a few records set. But definitely a lot we can learn from. I will say this - playing 24 new guys, I want to credit the coaching staff. I thought it was a better opener this year than last year and against a better team. I am really pleased from that standpoint. From this point on, it's about getting better and seeing if we can go get this next one."
On the health of the team.
"Health-wise, I think we're pretty good. The only questionable one we have is Rashard [Hall]. He said he felt good today, and had done some running. We won't really know for sure until they check him out thoroughly tomorrow. He's the only one right now I'm still concerned about."
Glad to get the first one out of the way?
"Definitely. You can only accomplish so much in practice. At some point you have to play somebody to really get a true gauge. To get the win was even better. Defensively, I thought we got better as we went. We held their quarterback to 57-percent, and if that offense they run is outstanding for us. We did a good job versus the run except for that long one they had. Tajh was really poor in the first half, but got better as we went along. He ended up getting player of the game and we look for more out of him as we move forward."
What made Tajh the Player of Game?
"He was 20-for-30, and the way he responded. He played very, very well in the second half. To be honest with you if he doesn't play better, we probably have a hard time wining that game. He made some really nice throws and showed some really good composure in that second half. I don't know what it was, but he settled down and I give him a lot of credit. He brought us back. That's what good players do and that's what winners do. I'm proud of him for that."
On the performance of the offensive line.
"We did okay. We had three sacks, but two of those were on our quarterback. The pass protection was pretty solid. The disappointing thing was that we didn't score down there on fourth-and-inches. We have to get more physical. Give Troy some credit too. They did a lot of twisting and moving."
On play of Phillip Price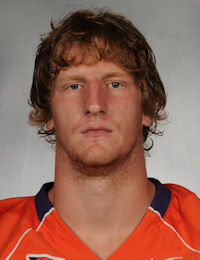 Phillip Price
RS Sr. Offensive Line
#79 6-5, 300
Dillon, SC
View Full Profile , who was awarded Offensive Lineman of the Game.
"He played well. In fact he was O-Lineman of the week for us. I thought he did a really good job. All those front five guys did grade a winner, each one of them."
On how hard it was for him to stay out of the offensive huddle.
"It wasn't hard at all. I'm always on my headset wherever I am, whether we are on offense or defense. I'm always involved. I love having Chad down there. That's very helpful; to have someone that you can look in the eye. I thought he did a great job, and I thought that was really good from an operation standpoint."
On the play of the true freshmen.
"I expected them to play well, but I don't know if I expected three of them to have 260-something yards of our 468 yards. That's pretty impressive. And then on defense you look up and see Stephone Anthony
Stephone Anthony
Fr. Linebacker
#12 6-2, 220
Wadesboro, NC
View Full Profile stepping up. You see Grady Jarrett
Grady Jarrett
Fr. Defensive Tackle
#50 6-2, 282
Conyers, GA
View Full Profile and Tavaris Barnes
Tavaris Barnes
RS Fr. Defensive End
#6 6-3, 265
Jacksonville, FL
View Full Profile and DeShawn Williams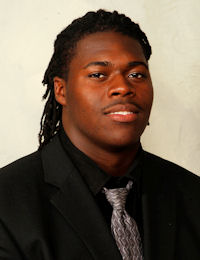 DeShawn Williams
Fr. Defensive Tackle
#99 6-1, 295
Central, SC
View Full Profile , Tony Steward
Tony Steward
Fr. Linebacker
#7 6-2, 225
Hastings, FL
View Full Profile , a lot of guys play and play early. I knew they would be a factor. I didn't really have an expectation. I just wanted them to play well and try to get better."